WikiLeaks releases 8th batch of emails from Clinton chair Podesta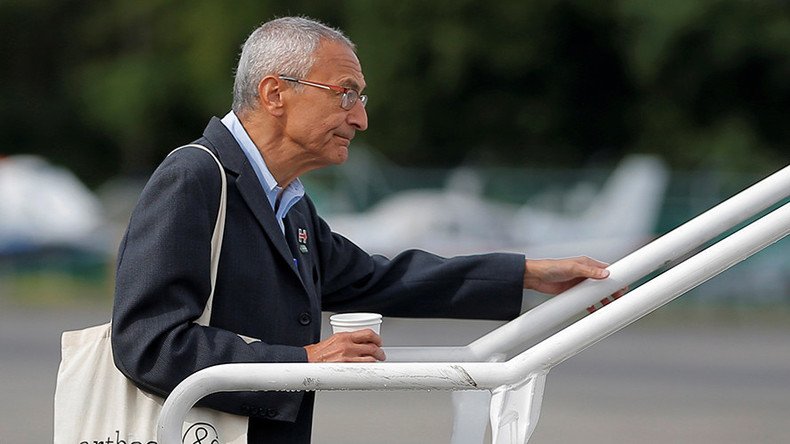 WikiLeaks has uploaded a new batch of 1,000 emails from Hillary Clinton's campaign chair, John Podesta.
The latest, eighth, release of emails brings the total number of files released to over 11,000.
These emails shed more light on the Clinton campaign's efforts to control and shape media coverage of Hillary, their monitoring of Bernie Sanders' campaign, and discussions on assault allegations made against Bill Clinton.
Attacking Sanders
Clinton supporter and political pundit Brent Budowsky wrote to Podesta in September 2015 following reports that a Clinton Super PAC was set to 'go negative' on her party rival Bernie Sanders. Budowsky warned that such a move could significantly impact Clinton's campaign - and threatened to withdraw his support if that strategy was adopted.
READ MORE: Game not over: Bernie Sanders could slip 'write-in' to presidential election victory
"I strongly, strongly, strongly, strongly, strongly, strongly, advise against this and please tell Mrs. Clinton that if this continues I am going to withdraw my support, and it would not matter if I do anyway, the reaction will be so severe," he wrote.
Bill Clinton allegations affidavit
Personal attorney for the Clintons during the Monica Lewinsky scandal David Kendall wrote to Podesta early this year regarding historical sexual assault allegations made against Bill Clinton in the 1990s.
In the email, dated January 7, 2016, Kendall mentions a call between himself and Podesta the night before and attaches documents containing the "History of Juanita Broaddrick Allegations".
The email suggests that these documents include a 1998 affidavit written by Broaddrick, one of Bill's accusers, in which she wrote that her allegations of sexual assault in the 1970s were "untrue".
Broaddrick has since claimed that then-Arkansas Attorney General Bill Clinton did assault her, and later recanted her affidavit.
'Framing' information for 'news hyenas'
Clinton's senior aides discussed ways to take the lead over, or "frame", a news story set to break about "missing" emails, passed on to investigators by long term Clinton confidant Sidney Blumenthal.
The discussion came a day before the US State Department - investigating Clinton's alleged violation of government protocol - confirmed 15 emails given to the Benghazi Select Committee by Blumenthal had not been part of the 30,000 turned over by Clinton.
In an email dated June 24, 2015, Clinton's traveling press secretary talks about the impending US State Department announcement, saying the campaign team should work with the Associated Press to circulate their response.
"... we think it would make sense to work with State and the AP to deploy the below [response]. So assuming everyone is in agreement we'll proceed. It would be good to frame this a little, and frankly to have it break tomorrow when we'll likely be close to or in the midst of a SCOTUS decision taking over the news hyenas," Nick Merrill writes.
Press secretary Brian Fallon also suggests both "on-the-record" and "off-the-record" responses to the media.
"OFF RECORD, if pressed on whether we are essentially admitting the possibility that she deleted emails: Look, we do not know what these materials are, or where they came from. Just take a look at them: many of the documents are not even formatted as email.
"For all we know, it could be that, in the course of reproducing his emails after his account was hacked, Sid misremembered which memos he actually forwarded to her and which he did not," Fallon says.
Courting billionaire Fred Wilson
In July 2015, venture capitalist Fred Wilson wrote a blog post supporting Clinton's stance on the 'gig economy', prompting her campaign staff to debate via email whether they should contact Wilson directly to thank him for his comments.
Clinton aide Huma Abedin said that she found Wilson's phone number and indicated that Clinton would personally call him.
In the exchange, Wilson is described as "the godfather of the NY tech scene", while former innovation adviser to Clinton when she held the secretary of state post, Alec Ross, points out that Wilson is usually "allergic to partisan politics".
One point made during the call was that it was Wilson's "chance to get behind something where he is listened to, taken seriously and the outcomes matter." It was also noted that getting Wilson on side could mean a big donation: "If she draws him out it produces a seven figure return," Ross wrote.
Banking reform concerns

Emails between Hillary Clinton's advisers and speechwriters reveal she considered endorsing the reinstatement of a Depression-era act to curb risky Wall Street banking.
Senior communications adviser Mandy Grunwald put forward her concern over whether Clinton should throw her weight behind the Glass-Steagall Act, limiting commercial banks' involvement in the speculative world of investment banking.
The act was repealed during Bill Clinton's administration in 1999. According to an email dated October 2, 2010, Grunwald was troubled that opposing Glass Steagall – or failing to mention it all in a Wall Street reform op-ed – would "antagonize" Democratic Senator Elizabeth Warren and lead her to endorse Sanders.
Warren had advocated a new version of the act to prevent future financial meltdowns, such as in the 2007-2008 financial crisis. "We are not including Elizabeth's core point about this – that the five biggest banks are now 30 percent bigger than they were five years ago. And, of course, by not embracing a new Glass Steagall, we are not separating 'everyday' banking from 'risky' banking," Grunwald wrote.
Grunwald added that Hillary Clinton may have given Senator Warren the impression she was "leaning toward endorsing Glass Steagall" and suggested the campaign may face "phoniness charges if we 'change' our position now".
"I worry about Elizabeth deciding to endorse Bernie," Grunwald also wrote.
In an op-ed later published in the New York Times, Clinton did oppose Glass Steagall. Warren publically endorsed her in June of this year.
'Presenting an alternative view'
There's also discussion on appeasing a journalist who was threatening to write a negative article about Hillary Clinton's "worst pre-campaign in history" in an email dated January 7, 2014.
In the correspondence, a writer warns ad agency owner and Clinton supporter Roy Spence: "Don't be surprised if I write a column soon that Hillary is going to blow it, and is repeating her mistakes of 2008."
The writer continues that Clinton has said "virtually nothing important about what Democrats stand for, while the most admired person in the world is the pope for saying the kind of things she should be saying."
Philippe Reines, Clinton's former Senate and State Department aide, and who has reportedly acted as a stand in for Donald Trump in her debate preps, replies in the email chain, "who sent you that original e-mailing saying they were about to write a column? It's awfully belligerent. But if it's someone serious, we should start by presenting an alternative view."
Hillary 'letting loose'
Clinton's policy director during her ill-fated 2008 presidential campaign suggested that pictures of the Democratic presidential candidate having a beer and "letting loose" go viral to boost her public image.
The "crazy idea" came from Neera Tanden in a leaked email from September 2015. "Hillary could have a party for the staff in the headquarters… and say she's grateful for everyone's hard work for her," wrote Tanden, who is also president of the Center for American Progress think tank.
"And if some staff take pictures of her with a beer and letting loose to some music - that end up going viral and eventually on tv - so much the better."
Thousands of emails
WikiLeaks released a group of emails yesterday with further details about Clinton's email scandal, the Benghazi hearings, and her campaign team's efforts to direct media coverage of their candidate.
So far, this week's releases have offered an insight into the operations and concerns of the Clinton campaign team, including efforts to move the Illinois primary and noting that Clinton's difficulty with apologizing is her "Achilles heel".
They have also indicated that Clinton knew Islamic State (IS, formerly ISIS/ISIL) received "clandestine" support from key US Middle East allies Saudi Arabia and Qatar.
Some of the more stunning revelations that have come to light over the last seven data dumps include Hillary's apparent dislike of "everyday Americans" – or at least the term.
"I know she has begun to hate everyday Americans, but I think we should use it once the first time she says, 'I'm running for president because you and everyday Americans need a champion,'" Podesta wrote to Clinton's Director of Communications Jennifer Palmieri in April 2015.
They also pointed out Clinton's interest in keeping 'backroom deals' from the public. These should be hidden from voters because "if everybody's watching, you know, all of the back room discussions and the deals, you know, then people get a little nervous, to say the least. So, you need both a public and a private position," said Clinton during a speech to the National Multi-Housing Council, for which she earned $225,000, according to the Washington Examiner.
In 2011, Chelsea Clinton acted "like a spoiled brat kid who has nothing else to do but create issues to justify what she's doing because she, as she has said, hasn't found her way and has a lack of focus in her life," according to Doug Band, a lawyer who helped create the Clinton Global Initiative.
Podesta's Twitter and newer email accounts were hacked following Wednesday's release of leaked emails.
You can share this story on social media: