Brent Budowsky to RT: 'Washington has evidence Russia hacked US'… no proof though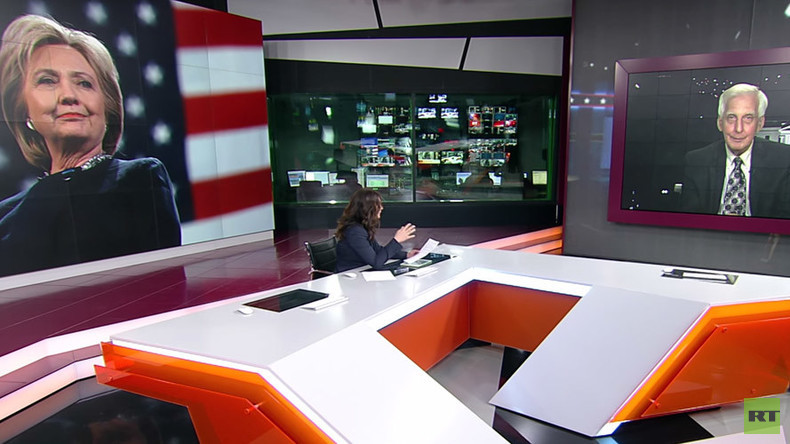 US intelligence has "evidence" that links Russia to meddling in the US elections, The Hill columnist Brent Budowsky told RT, yet failing to name exact facts, not disclosed by American authorities either.
Speaking to RT, Budowsky, whose email exchange with Hillary Clinton's campaign chair John Podesta, was leaked by WikiLeaks on Saturday, said that Russia is behind the recent hacking of US officials' and organizations' emails. A respective accusation was published in a joint statement from the Department of Homeland Security and the Office of National Intelligence on October 7. No proof was attached to the paper, though.
"I believe that espionage directed against the American election by the Russians, which is the opinion by almost everybody in American law enforcement, everybody in American intelligence... is a terrible mistake. I think it is horrible thing to do," Budowsky told RT.
After stressing it several times in the interview, the columnist was asked whether he had any proof for the allegation. Yet Budowsky claimed only that the US intelligence as well as its global partners "believe" and are "totally convinced that Russia is behind much of the hacking." While saying he "urged" American law enforcers to disclose the information "for intelligence reasons, as Americans and Russians both understand, they are reluctant to do it."
Russian officials have repeatedly denied involvement in the hacks, calling them "so absurd it borders on total stupidity."
"This is yet another fit of nonsense! Tens of thousands of hackers [try to break into] President Putin's website daily. Many of these attacks can be traced to the United States. Yet we do not blame the White House or Langley every time," Presidential press secretary Dmitry Peskov said earlier in October.
Dealing with terrorists in Aleppo vs. Mosul
The question of Syria and how to deal with Islamic State jihadists has been also raised in the email exchange between Budowsky and Podesta. When talking on the matter to RT, the columnist accused Syrian President Bashar al-Assad and Moscow of killing civilians during their bombings, including of Aleppo.
"I believe that Bashar Assad is a war criminal. I believe that Bashar Assad and Putin's Russia are killing many civilians, most of the civilians were killed by them with the bombing in Syria."
Moscow has repeatedly stressed that its airstrikes in East Aleppo targeted terrorists. East Aleppo is held by some 900 Jabhat al-Nusra terrorists, according to the UN envoy for Syria Staffan de Mistura, as well as various rebel groups, including those backed by the US. The west of the city is currently under Syrian government control.
Moscow has slammed Washington on numerous occasions for failing to force "moderate" opposition in the area to separate themselves from jihadists such as Al-Nusra Front. A respective agreement is part of Russia-US deals clinched in February and September of this year.
In an interview to Russia's Channel One earlier in October, Foreign Minister Sergey Lavrov voiced his frustration over the US inability to stick to its promises and attempts to hamper Russian strikes on Al-Nusra Front.
"Don't touch Al-Nusra, because it is not humane in relation to the normal guys [moderate opposition], and we will fight Al-Nusra later," he said, describing Washington's position. Yet according to Lavrov, "this 'later' never comes. They [US] promised to separate these normal guys from Al-Nusra back in February."
In the interview to RT, Budowsky stressed that Syria needs a "safe zone" for the refugees fleeing violence in Aleppo. On October 18, Russia and Damascus halted their strikes of East Aleppo and two days later established six safe corridors for civilians and militants willing to exit the ravaged part. Yet in the three days of the humanitarian pause, which expired on October 22, not a single civilian was allowed to leave East Aleppo.
Instead "rebels and jihadists shelled the crossings," RT's correspondent Murad Gazdiev, who is at the scene, reported. According to International Red Cross representative Ingy Sedky, the evacuation of civilians was "impossible" due to the poor security situation on the ground.
While blaming Moscow and Damascus for alleged crimes against humanity in Syria, Budowsky showed himself less critical over the ways of tackling terrorists in Iraq. The local government, backed by the US-led coalition is currently conducting a full-scale operation to liberate the country's second-largest city of Mosul from Islamic State fighters.
"We are seeing the battle for Mosul, I hope it goes well. But we have to stop the bloodshed and the killing in Aleppo. It is a crime against humanity, it must stop now," Budowsky said.
Such a split assessment of what's happening in Mosul and Aleppo can be traced back to the US officials as well. In a recent comment the US State Department spokesman John Kirby stressed that the bombing of the Syrian city "needs to stop." Yet in the case of Mosul his colleague from the White House Josh Earnest said that any idea of delaying the operation because of "concern about the humanitarian situation in Mosul doesn't make sense."
On October 18, the UN warned of a looming "humanitarian catastrophe" in Mosul and that hundreds of thousands can be displaced in the wake of the military offensive.
Speaking to RT, political analyst Dan Glazebrook says that it's "a fantasy" that the West can conduct "clean wars" with no collateral damage.
"The West always tries to sanitize its wars and make it out as if it can lead these clean wars in which only bad guys and soldiers, militants get killed, and that's a fantasy," he said.
"The Western media would rather focus on the horrific scenes in Syria" compared to the pictures from Iraq "following the US and British airstrikes."