'Slaughter Donald for Putin bromance': #Podesta15 emails reveal ISIS strategy diversion for Clinton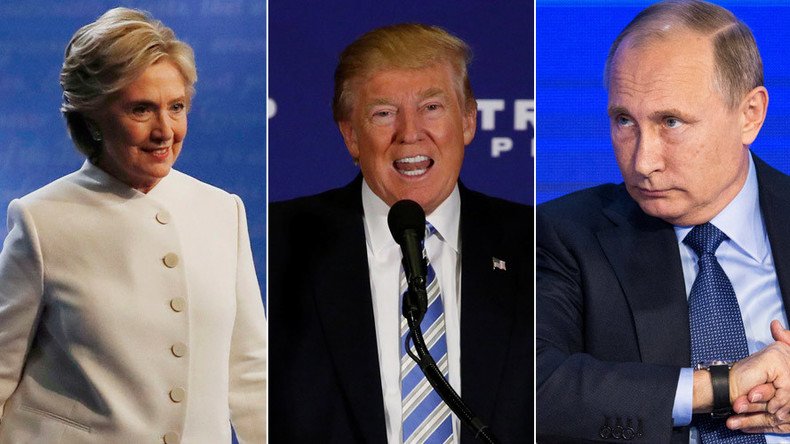 Newly leaked emails show that Hillary Clinton's campaign team was advised to link Russian President Vladimir Putin with Donald Trump in an apparent bid to distract voters from Clinton's strategy on Islamic State (IS, formerly ISIS/ISIL).
The exchange of emails between Clinton campaign chair John Podesta and Clinton ally and columnist Brent Budowsky was among the batch of around 1,000 emails from Podesta's account released by WikiLeaks on Saturday.
In a December 21, 2015 email, Budowsky slates Clinton's position on fighting ISIS before advising Podesta to draw Putin into her attacks on US presidential election rival Trump.
Budowsky's email follows a discussion with Podesta on how to best position the former secretary of state on the issue of tackling ISIS.
Budowsky warns that Clinton is not coming down strongly enough on fighting ISIS and that her support for President Barack Obama's approach is a potential "death ray to her candidacy in a general election."
"Walk back and escape from her statement that 'finally we are where we need to be' against ISIS. We are not where we need to be, we are far from it, most voters do not believe it, and when the next terror attack comes in America – which it certainly will – she will be branded in hot iron with that statement," Budowski warns.
"She will never state what I believe we need to do – at least 20,000 ground troops with 3,000 American and at least 10,000 from Sunni Muslim nations – because she is consumed with keeping Obama's goodwill and afraid of liberal backlash."
Podesta counters: "Her reference was not to ISIS but to going after Assad diplomatically because of UNSC resolution passed Friday. We will make that clear. She has given two major speeches about how we are NOT where we need to be on ISIS."
"That's good, sooner it's clarified the better, and the stronger the better," Budowski replies, later adding: "Best approach is to slaughter Donald for his bromance with Putin, but not go too far betting on Putin re Syria."
Speaking to RT after the emails were released by WikiLeaks on Saturday, Budowsky suggested that parts of the emails had been fabricated, denying that he ever wrote anything about "branding with a hot iron."
"I don't talk that way; I wouldn't say that, and that was not in any of the emails," he said. "So whoever added that, fabricated that."
"As far as 'slaughtering Donald Trump,' about it, yes, I said that," Budowsky added. "And the rest of it – fundamentally – does reflect my point of view."
Throughout the campaign, the Clinton camp has repeatedly accused Russia of meddling in the US presidential election through its alleged involvement in hacks and leaks, despite the lack of evidence to support this position.
READ MORE:'Clinton campaign blames Russian hackers as Assange promises more leaks'

Members of her team have also openly accused RT of involvement in the Podesta email hack due to its swift reporting on the WikiLeaks email releases, which have been shared publicly by the website around the same time every day over the past fortnight.
On July 22, 2016, WikiLeaks released over 19,000 emails and some 8,000 attachments from the US Democratic National Committee (DNC), which formed part one of what the whistleblowing site called the "Hillary Leaks" series.
The release prompted accusations of Russian involvement in the hack from Clinton herself.
"We know that Russian intelligence services hacked into the DNC and we know that they arranged for a lot of those emails to be released and we know that Donald Trump has shown a very troubling willingness to back up Putin, to support Putin," Clinton told Fox News.
Meanwhile Clinton's running mate, Tim Kaine, also associated both Trump and Russia with the DNC hack during an ABC News interview in September: "He has openly encouraged Russia to engage in cyber hacking to try to find more emails or materials, and we know that this cyberattack on the DNC was likely done by Russia."
You can share this story on social media: