No one allowed to leave: Militants shell East Aleppo exit route as humanitarian pause ends
Not a single civilian has been able to flee militant-held East Aleppo as the third day of a humanitarian ceasefire initiated by Moscow and Damascus came to an end, RT's correspondent on the ground reports. Terrorists also bombed the humanitarian corridor.
"There were ambulances, buses waiting for civilians, waiting for the sick, nobody was allowed to leave," RT's Murad Gazdiev, who is currently in Aleppo, reported on Saturday.

Instead, "rebels and Jihadists" shelled the crossings designated to allow free passage to those willing to exit the encircled part of Aleppo.
Read more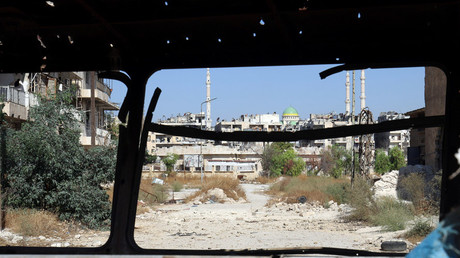 On October 18, Moscow and Damascus halted their anti-terrorist strikes on East Aleppo. Starting from October 20, a humanitarian ceasefire saw an opening of four corridors for civilians and two for militants to offer a safe way out. The UN and other aid groups were supposed to bring humanitarian aid through the respective corridors as well. On Thursday, militants opened fire on one of the routes, injuring three Russian officers at the El-Masharka government checkpoint, Moscow said.

The evacuation of civilians was "impossible" due to the poor security situation on the ground, Ingy Sedky, spokeswoman for the International Committee of the Red Cross (ICRC), was quoted as saying by Deutsche Welle.

Russian Foreign Minister Sergey Lavrov earlier put the blame for the misery on former Al-Qaeda affiliate the Al-Nusra Front and allied militants. Their fighters "explicitly shell those routes through which such humanitarian aid can be delivered," Lavrov said Friday.

Lavrov's statement is supported by Gazdiev's reports from the frontlines in Aleppo, where an RT crew witnessed the black banners of Al-Qaeda. "Today we actually got very close to the frontline, we had actually a direct line of sight of East Aleppo. And we saw again the black flags of Al-Qaeda waving over the city," Gazdiev said. In early October, the UN special envoy for Syria, Staffan de Mistura, estimated that some 900 fighters for the Al-Nusra Front – designated a terrorist group by the UN – are standing their ground in East Aleppo alongside other militants.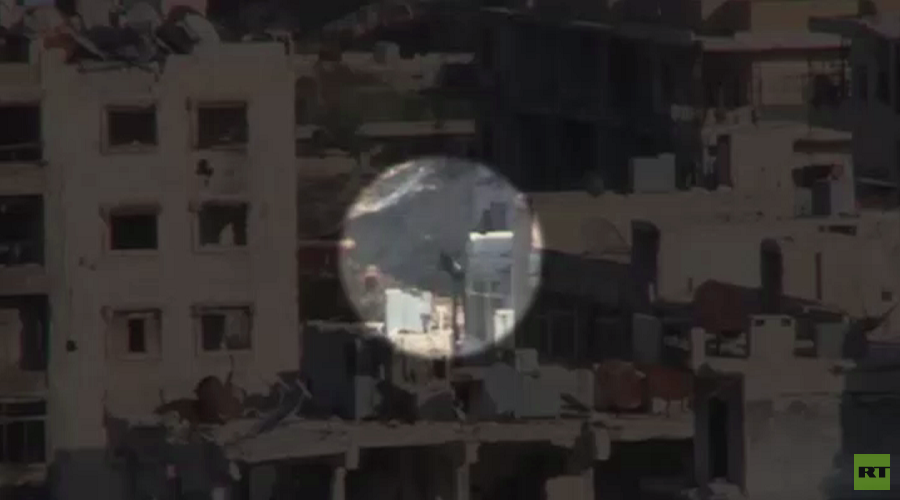 On Saturday, Al-Nusra Front terrorists executed a local imam in East Aleppo after he tried to persuade militants to leave the district, RIA Novosti reports, citing local Syrian militia. The news agency adds that on Thursday, jihadists also killed 14 civilians in the Bustan al Qasr district for trying to use one of the humanitarian corridors.
Read more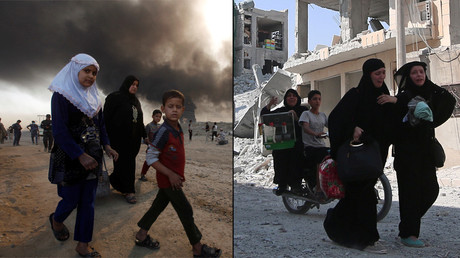 The RT crew managed to speak to people in the government-held part of Aleppo who have relatives in the militant-held districts. A woman, whose three children are living with their grandmother in East Aleppo, said that "they are doing very badly."

"They do not have food or drink – nothing," she said.

"It's bad, it's very bad. They [militants] take their food, their money, beat them and do whatever they want," another woman told RT.

On Friday, the UN Human Rights Council voted to start an independent inquiry into alleged human rights abuses in Aleppo. "Armed opposition groups continue to fire mortars and other projectiles into civilian neighborhoods of western Aleppo," a statement by the Office for the UN Commissioner for Human Rights said. However, the body has put most of the responsibility for the civilian casualties on Damascus and its allies, of which Moscow is a key one.

On Saturday, the spokeswoman for the Russian Foreign Ministry, Maria Zakharova, lambasted the move, issuing a statement on her Facebook page, calling the accusations "cynical" and "dishonorable."
"The worst thing is that the very countries that hysterically cried foul over the humanitarian situation in Aleppo, they know (do not assume, but rather know) that the delivery of humanitarian assistance to the civilian population of the city is blocked by militants, [to whom] they in turn regularly provided assistance," Zakharova said.