'They're cowards hiding behind women's backs': Aleppo locals tell RT of terrorist atrocities
More reports of militants shooting at and torturing people trying to leave the besieged Syrian city of Aleppo have emerged, as locals waiting for their relatives by humanitarian corridors share their horrific stories with RT.
Fighters from the Free Syrian Army (FSA) and Al-Nusra Front terrorists "open fire or beat and torture everyone once he or she tries to leave the city," Wahid Hammami told an RT crew on Friday, while desperately waiting for news from his family at the safe end of a humanitarian corridor.
Hammami explained how his relatives had become trapped in eastern Aleppo, meaning his son-in-law has had to go back into the militant-occupied part of the city to rescue his mother and brothers.
"We call on everyone, including the UN, to secure passages from the city for innocent elderly people, women and children. Yes, there are some Aleppo civilians who demand freedom [from the government]. We are not against them, but we are against their ways and means. If they want freedom, they should demand it honorably, and let all the trapped people who are suffering there go," Hammami said, adding that "there is no food" in the city.
READ MORE: Al-Nusra 'not priority', State Department says as terror group shells civilians in Syria
Terrorists shoot at those who choose to leave, he said, "because they [the terrorists] are scared, they are cowards."
"If they were real men, they would leave themselves, and not shoot at civilians," he continued. "Is hiding behind the elderly and women's backs and using them as a human shield what the freedom which they demand looks like?"
A woman waiting by the passage with a girl also told RT people trying to flee are being "shelled and fired at." She said her niece was still in eastern Aleppo, and speaking to her by phone is the only connection they have.
"I've spoken to her. Life there is very hard. They have no food at all, as well as no water and no electricity. They have no fuel. She has a little daughter with no milk for her. They've got nothing," she told the RT crew.
READ MORE: 'My mom is sick, can't leave Aleppo:' Local girl tells RT of fleeing violence in Syrian city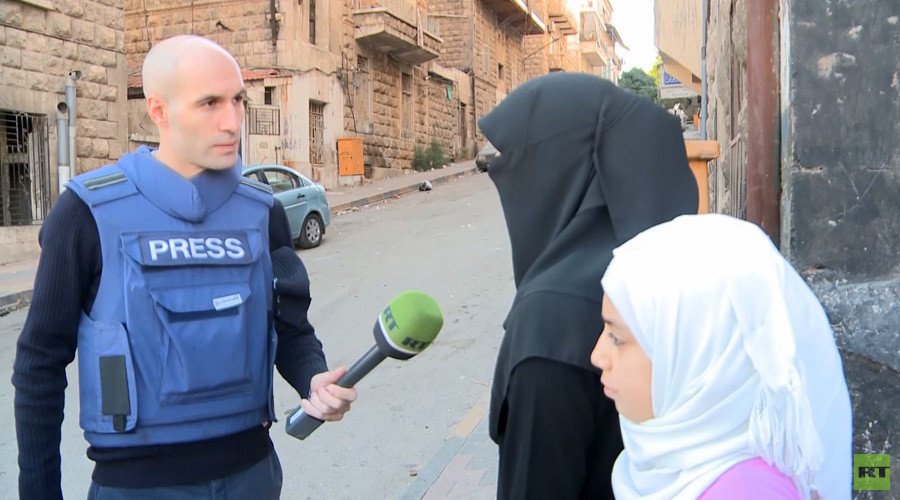 On Friday, a UN humanitarian agency said it was unable to conduct medical evacuations from Aleppo due to a lack of security.
Earlier this week, both Damascus and Moscow stopped carrying out airstrikes in eastern Aleppo and opened a number of humanitarian corridors for those who want to escape the areas of the city controlled by terrorists and rebels. Despite the humanitarian pause having been prolonged several times, with the current one in effect till Saturday evening, militants have reportedly sabotaged the ceasefire efforts.
READ MORE: Al-Nusra Front & allies sabotage humanitarian aid delivery efforts to east Aleppo - Lavrov
Terrorists have been shelling the humanitarian corridors, killing civilians, the Russian Defense Ministry reported. Over a thousand heavily-armed fighters have massed near eastern Aleppo, seemingly in preparation for a new offensive on the city.
"We count on all the parties concerned to somehow influence the militants and save civilians of eastern Aleppo, who have practically become the terrorists' hostages," a Friday statement by the Russian Army said.
You can share this story on social media: