'My mom is sick, can't leave Aleppo:' Local girl tells RT of fleeing violence in Syrian city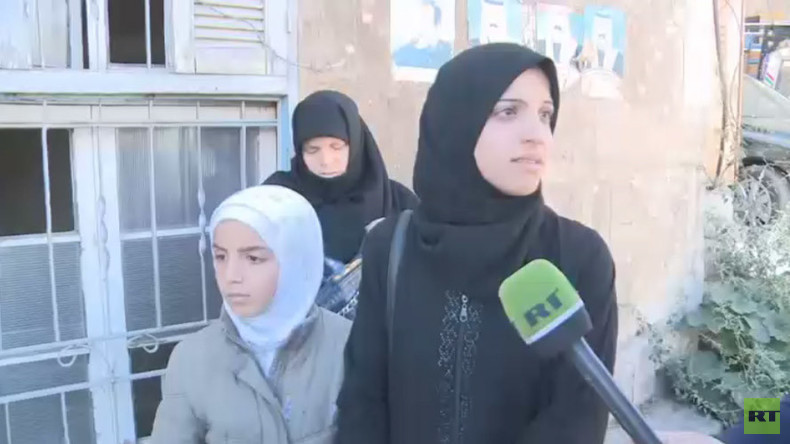 As humanitarian corridors were opened in Aleppo to allow civilians to get out of the eastern part, RT's crew on the ground caught up with a local girl who talked about the hunger in the embattled Syrian city and explained why her mother cannot leave.
"My mother is inside [the occupied Aleppo], she can't get out," the girl, who didn't give her name, told RT. The brief interview, which took place near a humanitarian corridor, was interrupted by shelling.
READ MORE: Mortar shell hits near RT crew filming in Aleppo humanitarian corridor (VIDEO)
The girl said she had managed to escape the besieged city, but her sick mother wasn't able to and remains in Bustan Al-Qasr, a rebel-held area in eastern Aleppo.
"My brother wants to take her away. But there is no one who can help him. He told me to find some help, but I told him 'I don't know whom I can ask for help. You'll have to lift her from the chair and take her away,'" she said.
Although her mother feels very bad, she can't get out because fighters from the Free Syrian Army, who Washington considers 'moderate' rebels, have taken control of their neighborhood, the girl said, explaining "they open fire [on those who try to flee]."
"I just want them to get out. They are hungry. The hunger is so severe. This is humiliating – no food, no drinking water," she added.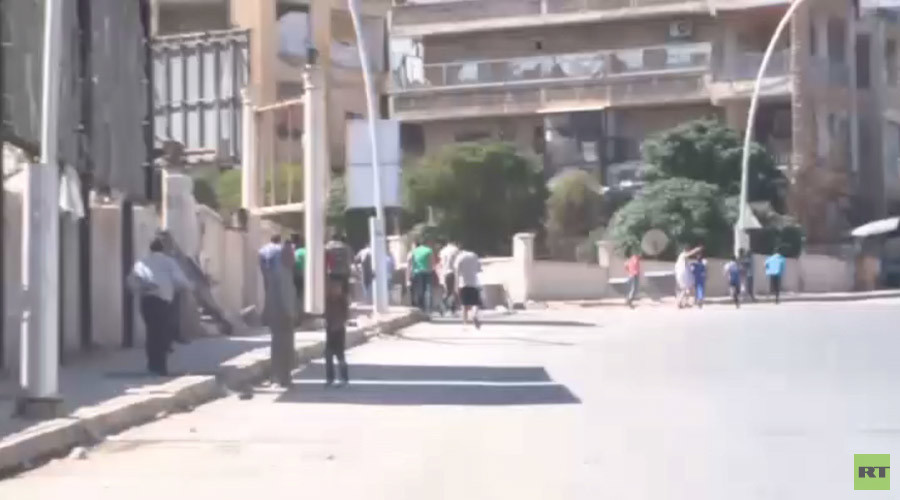 Russia stopped carrying out airstrikes on eastern Aleppo on Tuesday in the hope that the break will lead to a complete ceasefire later in the week. A humanitarian pause began on Thursday, when six corridors were opened for civilians who want to escape the part of the city controlled by rebels and terrorists, as well as to allow for aid to be delivered. Two corridors have also been opened for rebels, who will be allowed to leave with their weapons.
Later on Thursday, the humanitarian pause around Aleppo was extended for another 24 hours, Russian Defense Minister Sergey Shoigu said. The move was met by full approval in Damascus.
UN Special Envoy for Syria Staffan de Mistura welcomed the humanitarian pause, while urging that it be extended for three more days. However, aid deliveries and medical evacuations were hampered by shelling inside the city on Thursday.
"The 11-hour unilateral pause, we welcome it and we consider it a good decision, and we consider it a part of… a response to a request by the UN weeks ago following the bombing of hospitals," de Mistura said, as cited by Sputnik news agency. "The package is clear, Nusra needs to declare they are ready to go, or others can do on their behalf, and at the same time that there is a commitment by the (Syrian) government to respect the local administration."
The US and its European allies accuse Russia of carrying out indiscriminate attacks in Aleppo, while Moscow says the civilian casualties have been caused by terrorist groups such as Al-Nusra Front, which are using the city's residents as human shields and derailing all attempts to curb the violence. Moscow, in turn, says Washington has failed to fulfill its promise to separate the so-called 'moderate rebels' from the terrorists in control of Aleppo, which is why a truce between Damascus and the rebels collapsed last month.
You can share this story on social media: