Planned humanitarian pause in Aleppo extended by 3 hours, 8 corridors to open – Russian military
Published time: 19 Oct, 2016 14:37
Edited time: 20 Oct, 2016 12:39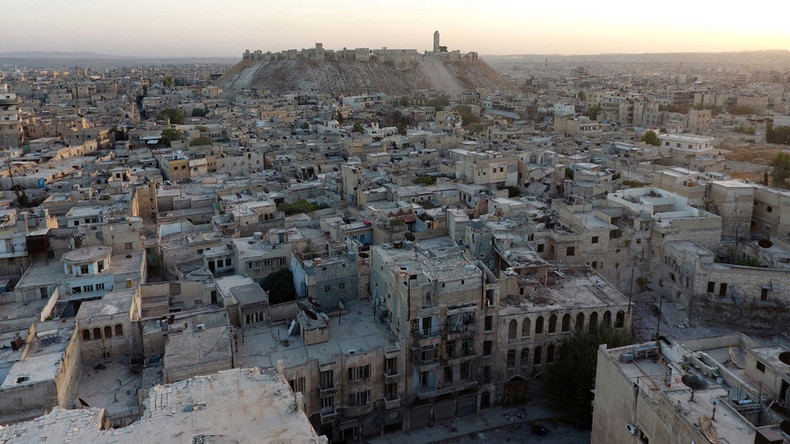 Russia is extending by three hours the humanitarian pause in Aleppo, Syria, planned for October 20, citing requests from international humanitarian organizations. Two of the eight corridors that are to open will be meant for use by the rebels.
"On October 20, starting at 8am, a humanitarian pause is to be introduced in Aleppo to allow civilians to escape and sick and injured people to be evacuated, and for militants to leave the eastern part of the city," Lt. Gen. Sergey Rudskoy said.
He added that the people leaving eastern Aleppo would be monitored in real time via web cameras and surveillance drones.
The footage will be broadcast on the Russian Defense Ministry's website.
The general said it took measures to inform Aleppo residents of the opportunity to leave the city by airdropped leaflets, loudspeakers, mobile phone text messages and through Internet.
There are eight corridors in Aleppo, with six of them for civilians and humanitarian aid deliveries, Rudskoy said.
Two of the corridors are meant for the rebels, who would be able to leave armed. One of those corridors is in the direction of the Turkey-Syria border, while the other leads to Idlib.
Syrian government forces have already ordered a withdrawal from those routes, according to the Russian top brass.
Syrian officials confirmed the extension of the pause and the pullout of government troops announced by the Russian general.
"All conditions have been met to allow the militants to leave the eastern part of the city," announced the Syrian army.
During the pause Russian and Syrian warplanes will stay at least 10km away from Aleppo, Rudskoy said.
"Russian and Syrian jets keep a 10km distance from the city," he said, adding that the air forces of the two countries had not struck targets in the area since October 18.
Russia hopes that during the ceasefire humanitarian organizations, including the UN and Red Crescent, will be able to complete all the necessary plans to accommodate refugees leaving the city.
READ MORE: Rebel shelling in western Aleppo kills 3, injures 27 amid humanitarian pause
On Tuesday, Russia declared a pause in the offensive on eastern Aleppo in the hope that it will lead to a complete ceasefire later in the week. So far, some of the armed factions controlling the east of the city have continued their shelling of the government-controlled western part, according to a report from the scene by RT's Murad Gazdiev.
READ MORE: US & UK fire 'war crimes' accusations at Moscow as rebels shell Aleppo civilians
The US and its European allies accuse Russia of indiscriminate attacks in Aleppo. Russia says the civilian casualties are due to terrorist groups such as Al-Nusra Front using residents of the city as human shields and derailing all attempts to curb the violence. Moscow says Washington failed in its promise to separate so-called moderate rebels from terrorist groups, which was the reason why a truce between Damascus and the rebels collapsed last month.