Humanitarian pause in Aleppo extended for another 24 hours – Russian military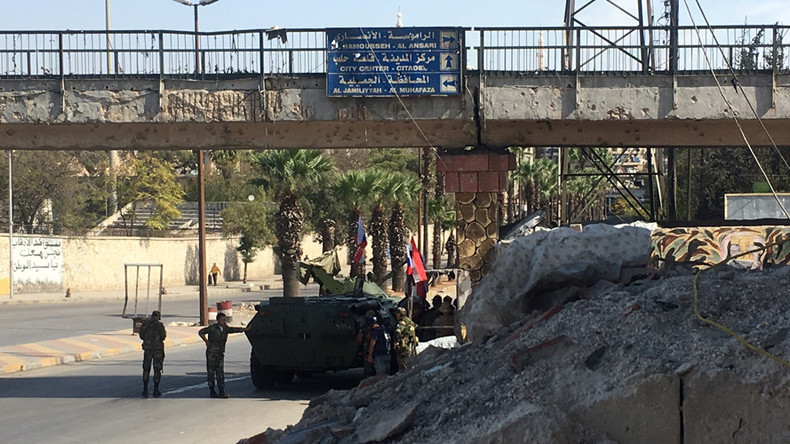 No airstrikes will be carried out in Aleppo for another day, as the humanitarian pause for the region has been extended until Saturday evening. Meanwhile, terrorists have been preparing to launch an offensive there, Russia's Defense Ministry says.
President Putin has ordered that the temporary ceasefire in Aleppo be extended for another day. The humanitarian pause will be in effect from 8am to 7pm local time on Saturday, Sergey Rudskoy, chief of the Russian General Staff's main operations directorate, announced on Friday.
Moscow stopped carrying out airstrikes in eastern Aleppo earlier this week in order to pave the way for a complete ceasefire in which a number of humanitarian corridors have been opened for those who want to escape the areas of the city controlled by terrorists and rebels.
To fulfill their obligations aimed at normalizing the humanitarian situation in Aleppo, the Russian and Syrian Air Forces have for four days not conducted any flights closer than 10km (6.2 miles) to the city, the official said.
However, the militants have used the opportunity to launch a new offensive, according to the Russian army official.
More than 1,200 militants equipped with tanks, armored vehicles, and portable heavy machine guns have amassed for an attack on Aleppo from the southwest, Rudskoy said, adding that there are also some 30 suicide bombers within their ranks.
It has also been reported that the terrorists have recently begun receiving shoulder-fired missiles.
The Syrian government has been informing both civilians and rebels on ways to safely leave the terrorist-controlled part of the city via half a million leaflets it has spread throughout eastern Aleppo, containing information on the humanitarian corridors. Texts containing such information are also "constantly" being sent via mobile phones.
However, "the terrorists are doing everything possible to prevent civilians and members of militant rebel groups from leaving eastern Aleppo," the Russian Army's statement said.
Militants continue to shell the humanitarian corridors in western Aleppo, Russia's Defense Ministry reported, saying that at least eight civilians were killed and over 30 injured during the course of a day. On Thursday, Islamist terrorists publicly executed 14 local public officials who had been calling on the residents of Aleppo's eastern neighborhoods to use the humanitarian corridors to leave.
A UN humanitarian agency announced earlier on Friday that it could not conduct medical evacuations from eastern Aleppo or deliver aid to the besieged part of the city because the situation in the area was too unsafe.
READ MORE: Al-Nusra 'not priority', State Department says as terror group shells civilians in Syria
"All of our appeals to our American colleagues to positively influence the so-called 'opposition' militants to stop the shellings and allow peaceful civilians to leave have gone unanswered. As a result, the humanitarian corridors are still being blocked by the terrorists and are under aimed fire," the Friday statement read, adding that civilians have practically become the terrorists' hostages in eastern Aleppo.
You can share this story on social media: