'Politics of Zika are garbage': Florida lawmaker brings 100 mosquitoes onto House floor
To overcome the unwillingness of Congress to pass a bill to combat Zika, Representative David Jolly (R-Florida) decided to put the fear of God ‒ or, more specifically, disease-bearing mosquitoes ‒ into his fellow House lawmakers.
"I rise today to talk about Zika," Jolly began, holding a clear, plastic container filled with water on the House floor. "And I rise with about a hundred mosquitoes straight from Florida."
The Aedes aegypti mosquitoes he brought with him are not active carriers of the disease, he promised. "But they could be."
"Can you imagine, colleagues, the fear and anxiety in this chamber if these 100 mosquitoes were outside this jar, not inside this jar?" Jolly asked. "Members of Congress would run down the hall to the physician's office to be tested, they would spray themselves before coming down here. This is the fear of Floridians, right here."
The mosquitoes, which are found in 30 states, represent the fear of millions of Americans, especially those in Florida, which is ground zero for non-travel related transmissions of Zika, Jolly told his fellow lawmakers.
"In that fear, they are demanding action, and they are seeing inaction. And in that inaction, they are angry. Angry! And they should be," he said. "It is not our job to try to explain to the American people why we know better. It is our job to respond to the fear and the anxiety and the anger of a population concerned about a pending public health crisis. Concerned about mosquitoes."
Travel-related Zika arrived in the US via Hawaii in January, but became sexually transmitted later that month. Nearly 17,000 cases of the disease in the US and its territories have been reported to the US Centers of Disease Control and Prevention (CDC), up from around 4,000 cases seven weeks ago. In the country itself, there are more than 2,500 cases, including 634 pregnant women.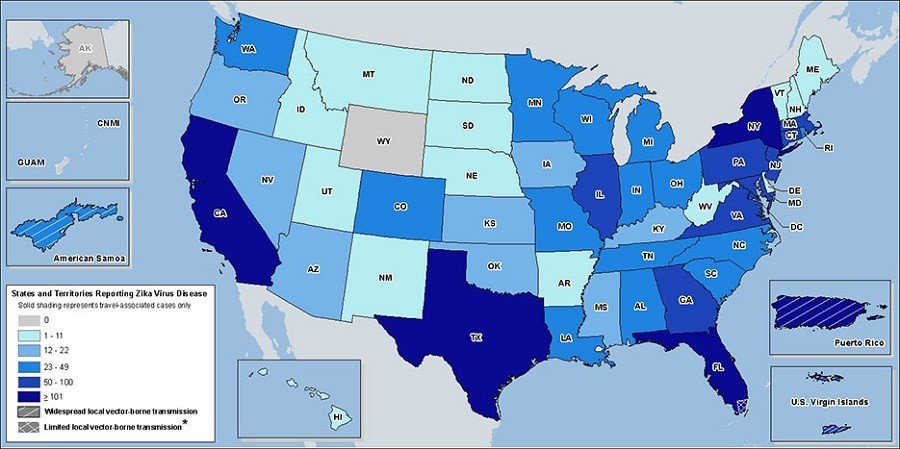 Of the 542 Zika cases in Florida as of the end of August, 35 were locally acquired. The first mosquito-transmitted cases in the US ‒ meaning it was not travel-related or spread through sex ‒ occurred in the Miami area, Florida Governor Rick Scott (R) confirmed at the end of July.
Zika can spread through infected mosquitoes or sexual contact. It is particularly dangerous to pregnant women and future mothers as it may cause microcephaly, a neurological birth defect that can cause a newborn's head and brain to turn out smaller than normal, among other developmental issues.
Although politicians say they are eager to combat the disease that is frightening their constituents, partisan bickering has delayed government action.
"The politics of Zika are garbage right now," Jolly said.
In February, President Barack Obama offered a proposal to combat Zika, asking for $1.8 billion in funding, $828 million of which would go to the CDC to develop mosquito control techniques, vaccines, diagnosis testing, and educational programs, as well as provide resources for at-risk, low-income pregnant women.
Obama's plan was "not perfect" because, among other things, it would expand Medicare for non-Zika related health care, Jolly said.
"Why would we dilute Zika-related emergency funding?" he asked.
In June, Senate Democrats blocked a $1.1-billion Republican proposal to counter Zika, arguing that the measure was chocked full of unrelated measures and that funding restrictions for reproductive health outlets was "a backdoor way of restricting care from women's health providers like Planned Parenthood and family planning centers that would have serious consequences for women's health," the Democratic leadership said.
With no agreement in place, the government is moving funds around to prevent escalation from other epidemics. In April, the White House moved $589 million in Ebola funding to help fight Zika, two-thirds of which was for domestic purposes. With that money set to run out by the end of August, $34 million previously committed toward researching illnesses such as Alzheimer's disease, diabetes and cancer was reallocated. Funding to combat the substance abuse epidemic has also been hit.
Compromise is no longer an option, Jolly argued. Action is the only option.
"We are wasting time. That is why I'm joined by these mosquitoes today," he concluded.
Jolly is the most vulnerable congressman this election cycle, according to Roll Call. He faces a tough reelection campaign against former Governor Charlie Crist, a Republican-cum-Democrat.
First elected to Congress in a special election in 2014, Jolly is now running for a second full term in the House. Until June of this year, he had focused on running for the US Senate, but dropped out of that race when the incumbent, Senator Marco Rubio (R), decided not to retire after all.
You can share this story on social media: