Hawaii baby with deformed head becomes first US case of mosquito-transmitted Zika virus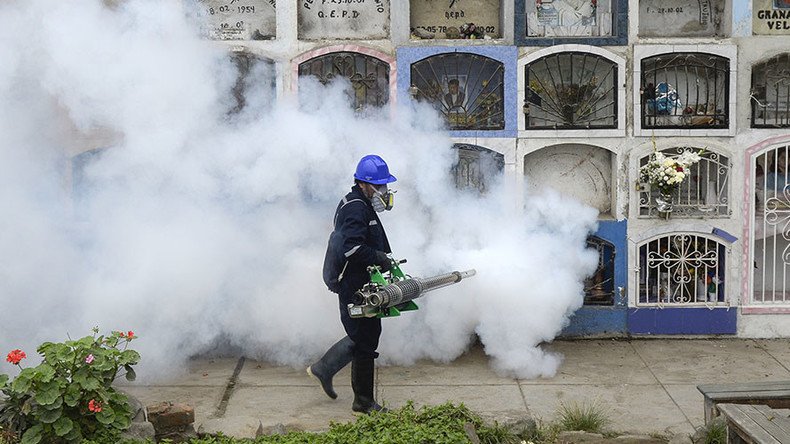 US health officials have confirmed that a baby born with brain damage in Hawaii tested positive for the mosquito-transmitted Zika virus that has been sweeping Latin America and the Caribbean. Pregnant women are advised to postpone traveling plans.
Zika is believed to cause microcephaly, or a dramatically shrunken head, in newborns, which prevents babies' brains from developing properly.
There is no vaccine or treatment for the virus as of yet and what makes matters worse is that the symptoms in infected pregnant women are not that obvious: a slight fever, headaches and a rash that last up to a week.
The problem is worsened by the fact that initial ultrasounds of a fetus could be normal and the microcephaly is only detected toward the end of the pregnancy.
"These are newborns who will require special attention their entire lives. It's an emotional stress that just can't be imagined," Angela Rocha, a pediatric infection expert at Oswaldo Cruz Hospital, told CNN in December.
The first newborn to be born with the virus in the US was tested for Zika after he had been born with microcephaly. It is thought the mother became infected with the virus while in Brazil in May 2015. The diagnosis was confirmed Friday.
So far, six people have tested positive for the virus in Hawaii and although US health officials state that these people are not infectious, there is caution that the situation may change.
"It's important for us to understand that there are going to be imported cases of Zika to the United States and we won't be surprised if we start to see some local transmission of the virus," the US Centers for Disease Control and Prevention spokesperson, Tom Skinner, told Reuters.
The CDC strongly advises pregnant women to avoid traveling to Brazil, Colombia, El Salvador, French Guiana, Guatemala, Haiti, Honduras, Martinique, Mexico, Panama, Paraguay, Suriname, Venezuela and Puerto Rico. The travel alert was issued Saturday.
Near the end of 2015, six Brazilian states had to declare a state of emergency and ask people to postpone having children.
"This is an unprecedented situation, unprecedented in world scientific research," the Brazilian Health Ministry said on its website, estimating the latest outbreak between 0.5 and 1.5 million cases in the country altogether.
READ MORE: 'Don't get pregnant,' Brazilians urged as 2,700 born with brain damage linked to virus
The pathogen, known as Zika virus, was first discovered in Uganda in the 1940s in forest monkeys. The transmitter of the Zika virus, Aedes aegypti mosquito, is also known for spreading such diseases as chikungunya fever, dengue fever and yellow fever.
You can share this story on social media: