'Don't get pregnant,' Brazilians urged as 2,700 born with brain damage linked to virus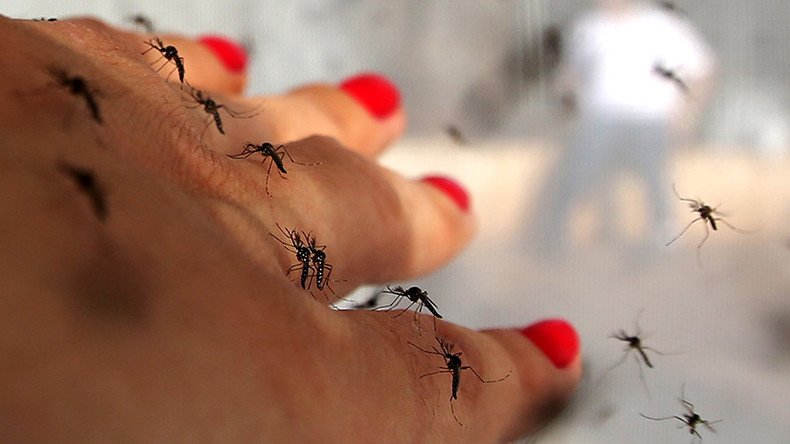 An outbreak of a virus that doctors believe causes microcephaly in newborns has forced Brazilian health officials to appeal to withhold from getting pregnant. Zika virus is believed to already have caused over 2,700 cases of birth defects.
Putting off pregnancy has become a necessity in Brazil, particularly in the northeast, where a dangerous virus transmitted by Aedes aegypti mosquitoes dwelling in tropical climates cause microcephaly, according to doctors. It is an otherwise rare condition which causes dramatically shrunken skulls in newborns.
With over 900 cases reported, Pernambuco state has become the most affected territory. After the number of reported cases nationwide sharply increased from 147 in 2014 to over 2,400 in 2015, six Brazilian states have declared the state of emergency. Related deaths of 29 infants are currently being investigated.
The presence of Zika virus in a newborn was established on November 28 during an autopsy of a baby born with microcephaly, Brazil's Health Ministry reported.
The problem is worsened by the fact that initial ultrasounds of a fetus could be normal and the microcephaly is determined towards the end of the pregnancy.
"This is an unprecedented situation, unprecedented in world scientific research," the Brazilian Health Ministry said on its website, estimating the latest outbreak between 0.5 and 1.5 million cases in the country altogether.
The pathogen, known as Zika virus, was first discovered in Uganda in the 1940s in forest monkeys. In most cases, the virus causes mild symptoms, like slight fever, rash and headaches, yet it can have serious neurological complications that could lead to death.
While endemic in certain parts of Africa, the Zika virus has since spread to the South Pacific and Asia, most recently emerging in Latin America. In Brazil it was first detected in 2015. Brazilian medical experts believe the virus could be transferred to the country by guests of the football 2014 World Cup.
The transmitter of the Zika virus, Aedes aegypti mosquito, is also known for spreading such deceases as chikungunya fever, dengue fever and yellow fever.
Initially the Zika virus cases were registered in northeastern Brazil in states like Pernambuco, but more cases of microcephaly have since been detected in regions to the south, in densely populated states of Rio de Janeiro and Sao Paulo. Today, Zika virus cases have been registered in 20 out of the nation's 27 states.
"These are newborns who will require special attention their entire lives. It's an emotional stress that just can't be imagined," Angela Rocha, a pediatric infection expert at Oswaldo Cruz Hospital, told CNN. "Here in Pernambuco, we're talking about a generation of babies that's going to be affected."
"It's a very personal decision, but at this moment of uncertainty, if families can put off their pregnancy plans, that's what we're recommending," Rocha said.
Summertime, with its rainy season, is only beginning in Brazil, so medics expect further growth in the number of Zika cases. With Rio de Janeiro hosting 2016 Olympic Games, Brazilian authorities are making extensive efforts in trying to bring the outbreak under control, disinfecting stagnant pools that serve as the breeding ground for mosquitoes, including the Aedes aegypti, with truckloads of larvicide insecticide.
Hundreds of pregnant women with suspected Zika syndrome are being monitored right now, while other pregnant women are strongly recommended to stay indoors and use insect repellant.
The World Health Organization has issued an alert about the Zika situation in Brazil.
You can share this story on social media: