Pregnant women should keep off Miami Beach due to Zika virus spread – official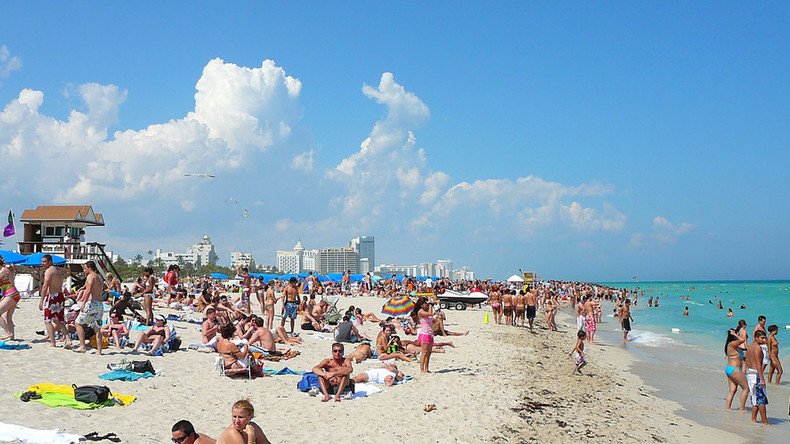 The Zika virus has officially hit Miami Beach – one of the most popular tourist destinations in the US. Pregnant women and their partners should try to avoid trips, federal authorities said, as the number of infected people by local mosquitoes increased.
"We believe we have a new area where local transmissions are occurring in Miami Beach," Florida Gov. Rick Scott said at a press conference on Friday. He added that five people have already been infected by Zika in the area, including three tourists from New York, Texas and Taiwan.
"I ask every Floridian to take proper precautions," Scott added. "We all have to do our part to wear bug spray and dump standing water," where mosquitoes breed. "If you see standing water, no mater how small, dump it."
The governor, who turned to the Centers for Disease Control (CDC) and Prevention for help to deal with the outbreak, said that officials are taking active steps against mosquitoes.
READ MORE: Freak of nature: FDA approves genetically engineered mosquitoes to combat Zika virus
The recently-issued warning by CDC says that though Zika is most often transmitted through mosquito bites, it can also be caught via sexual intercourse.
Pregnant women and their partners living in Miami or travelling there should take extra precautions against mosquitos such as using insect repellent.
Those who may have been exposed to mosquitos in Miami since July should see a doctor and get tested for Zika, CDC advised. Couples "should consistently and correctly use condoms to prevent infection during sex or avoid having sex for the duration of the pregnancy."
"Active transmission is happening between 8th and 28th streets, an area just under 1.5 (square) miles," Rick Scott also noted.
READ MORE: Zika virus strikes US troops & family members overseas
The rather small area in South Beach includes a district popular for its restaurants and sidewalk promenades.
The first zone of active Zika transmission in Miami is located in the Wynwood neighborhood.
The CDC, however, noted that "it is possible that other neighborhoods in Miami-Dade County have active Zika transmission that is not yet apparent," since the virus incubates for two weeks, often has no symptoms while diagnosis takes several weeks.
Most of 2,200 Zika cases registered in the US are related to travelling or sex with a partner who was infected abroad.
Pregnant women are especially at risk since the virus can cause irreversible changes in fetus, including brain damage.
You can share this story on social media: