#HackingHillary: Coughing fit causes concern over Clinton's health, sparks sarcastic viral hashtags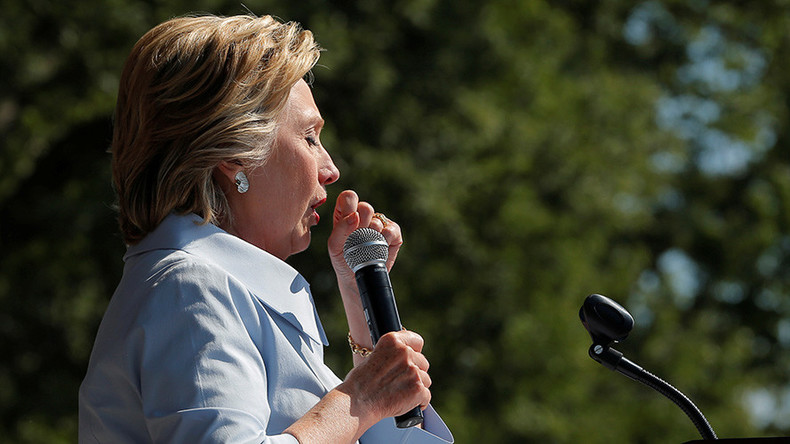 The hashtags for Democratic presidential nominee Hillary Clinton and VP pick Tim Kaine sound like a pediatrician's superheros: #HackingHillary and #CoughDropMan. After Clinton suffered two coughing fits, though, they're being used to question her health.
From concussions to coughing, Clinton has long been dogged by concerns over her health, and whether it will prevent her from being an effective leader in the White House. On Monday, those questions again came to the forefront of the election cycle after she suffered two coughing fits on the campaign trail.
READ MORE: Photo of Clinton having trouble with stairs fuels rumors of bad health
During a speech in Cleveland, Ohio, the marathon hacking attack almost killed her speech before Clinton really got going.
"I've been talking so much," she said with a hoarse voice. "Every time I think about Trump, I get allergic."
The hoarseness and coughing persisted for several minutes. After the speech, campaign staffers blamed the fit on allergies, NBC News reported.
By the time she hacked up a lung a second time while talking to reporters aboard her campaign plane, the #HackingHillary hashtag was born.
And no, it's not the blame-the-Russians kind of hacking that the Democrats seem to love.
In a time of WebMD, however, everyone is a doctor. A recurring rumor is that Clinton is actually suffering from Parkinson Disease (PD), a progressive disorder of the nervous system that affects movement. Symptoms include tremors, impaired posture and balance, speech changes ‒ and difficulty swallowing, often marked by coughing or throat clearing. The leading cause of death in Parkinson's is aspiration pneumonia due to swallowing disorders, according to the Michael J. Fox Foundation for Parkinson's Research.
Regardless of whether or not Clinton has the potentially devastating disease, Republicans took the coughing fit as another way to attack their favorite whipping girl, as well as the mainstream media for neglecting to cover Clinton's questionable health.
Of course, there is a theory that questioning Clinton is bad for one's own health…
Clinton's rival, GOP presidential nominee Donald Trump, also questioned the mainstream media's absence on Clinton's coughing.
Another rival, Green Party nominee Jill Stein, was left wondering whether there's any presidential decorum left in this race ‒ and she's not the only one.
The real winner out of all of this may be Kaine, aka #CoughDropMan. After all, if Clinton wins and she does have Parkinson's, he's a cough away from the Oval Office...
A fact that did leave people wondering what exactly he was so eager to hand her during her fit in Cleveland.
Until November ‒ even if Clinton releases her medical records ‒ questions about her health are unlikely to disappear… no matter how much she may try.