Clinton, Kaine release tax returns to put pressure on Trump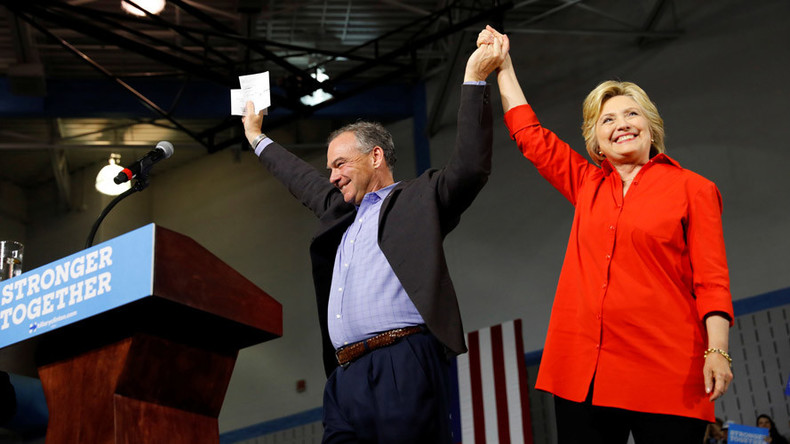 Democratic presidential nominee Hillary Clinton and her running mate, Tim Kaine, have pledged to release a batch of tax returns in an effort to put pressure on Donald Trump to do the same.
On Thursday, Clinton released her tax returns for 2015, while Kaine and his wife released their tax returns for the last 10 years. The returns are available on the campaign website.
The Democratic nominee's effective tax rate is around 35 percent, while her charitable donations make up 10 percent, CNBC reported.
Earlier in her campaign, Clinton released the tax returns from 2007 to 2014 of her and her husband, former President Bill Clinton.
In 2015, Kaine and his wife's effective tax rate was 20.3 percent.
"Hillary Clinton and Tim Kaine continue to set the standard for financial transparency as she releases her 2015 personal tax return and builds on the Clintons' tradition of making their returns public since 1977 and Kaine releases 10 years of his returns," the campaign's communications director Jennifer Palmieri said in a statement. "In stark contrast, Donald Trump is hiding behind fake excuses and backtracking on his previous promises to release his tax returns. He has failed to provide the public with the most basic financial information disclosed by every major candidate in the last 40 years. What is he trying to hide?"
Trump has so far declined to release his tax returns, saying that it would be a bad move, since he has been under a routine audit from the IRS. Democrats, however, have said that this is just an excuse to keep his tax returns private because they might show a lack of charitable giving.
The IRS has said Trump that is still able to release the records despite an audit.
Trump's campaign chief, Paul Manafort, has said Trump likely won't release his tax returns before the election in November. If he doesn't, the real estate magnate would be the first presidential nominee in the last 40 years to not release his returns during election season.
Most voters are interested in seeing candidates' tax records – 67 percent according to Rasmussen Reports.
Clinton might not be out of the woods yet, however. Fifty-nine percent of voters support candidates releasing their health records, up from 39 percent in 2014, when question about Clinton's health were first raised.