Chicago cops shoot at someone every 5 days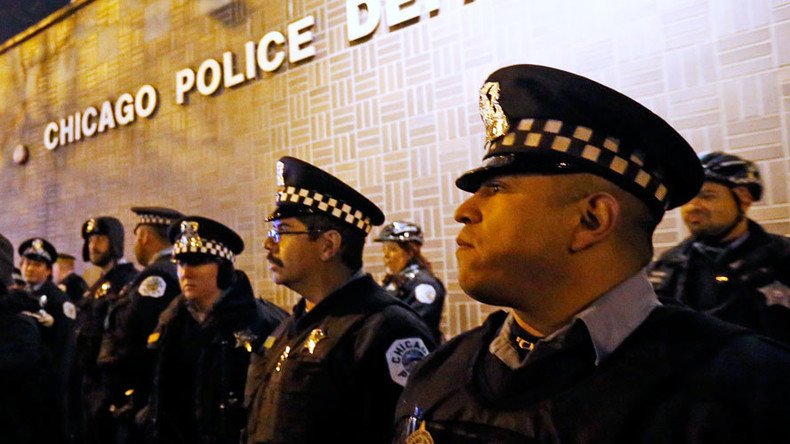 Over the last six years, police in Chicago, Illinois have fired 2,623 bullets at citizens, killing 92 people and injuring 170 others, according to a new database by the Chicago Tribune. The department has drawn intense criticism for its brutality.
Between 2010 and 2015, the Chicago Police Department was involved with 435 shootings, many of which never caught the public's attention. In those officer-involved shootings, police fired at least 2,623 bullets. At least one person was struck in 235 shootings, while officers missed hitting anyone in 200 instances, the Chicago Tribune found.
The victims of the shootings were overwhelmingly ‒ about 80 percent ‒ African-American males. About half of the 520 officers involved in the 435 shootings were African-American or Hispanic. On average, the police officers, regardless of race, had almost a decade of experience on the job. More than 60 officers were repeat offenders, firing their weapons in more than one incident.
Among the African-American males shot during the time period covered by the Chicago Tribune's database was 17-year-old Laquan McDonald, who was struck by 16 bullets during a confrontation with police in October 2014. Just over a year later, Officer Jason Van Dyke, a 14-year veteran of the department, was charged with murder in the incident, the first time a cop in Chicago had faced such charges for an on-duty shooting. Later that day, the Chicago PD released dashboard camera footage of the shooting.
Here are some of the other recent incidents involving Chicago police that RT has covered:
The McDonald shooting was a turning point for the Chicago PD, as it forced the city to become more transparent about officer-involved shootings and complaints of police brutality. In another response, Mayor Rahm Emanuel announced "fundamental" changes to police practices and created a new accountability task force.
In June, police released footage of more than 100 cases of excessive force, although some may be missing. In July, after the threat of a lawsuit, the Chicago Tribune's seven-month battle to get the police department to turn over data about shootings came to an end when it received the requested information.
Chicago has been plagued by violence, and police aren't the only ones firing weapons. Shootings in the Windy City are taking place at the highest rate since the 1990s: So far in 2016, there have been 2,818 shooting victims in Chicago, compared to 2,988 for all of last year, according to a separate database compiled by the Chicago Tribune. Through April 17, a total of 161 people had been killed, up 64 percent compared to 2015.
The Windy City is not the only municipality experiencing a spate of officer-involved shootings. In 2015, more than 1,100 people were killed by police nationwide, according to the Mapping Police Violence project, which relied on grassroots rather than federal data.
The project also found that 321 African-Americans were killed by police, making them three times as likely to be the victim of an officer-involved killing than white people. Of those, 33 percent of black victims were unarmed, compared to 18 percent of white victims, while 71 percent of the victims were killed during non-violent encounters with police, such as a traffic stop, or a family's call for help.
There is some good news for Chicago, however. The number of shootings by police, regardless of whether they struck someone or not, has declined since a high of more than 100 in 2011 to 44 in 2015. Yet the Windy City still outpaces Los Angeles, California and New York City ‒ both of which have higher populations than Chicago ‒ when it comes to the number of officers firing weapons while on duty, the Chicago Tribune found.
You can share this story on social media: