Police killed over 1,100 people in US in 2015 – report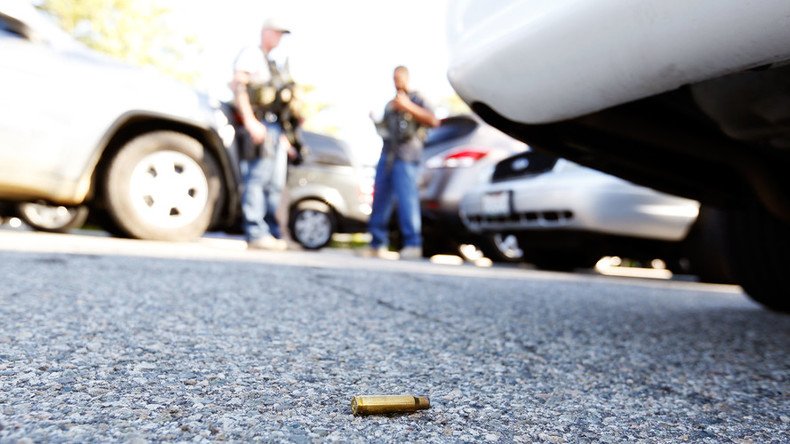 Relying on grassroots rather than federal data, the Mapping Police Violence project said over 1,100 people were killed by US police in 2015. It also found that 321 African-Americans were killed by police in numbers disproportionate to their populations.
Mapping Police Violence, a research group, said the data showed that African-Americans were three times more likely to be killed by police than white people per million, with 321 deaths recorded in 2015. In the killings, 33 percent of black victims were unarmed, compared to 18 percent of white victims, while 71 percent of the victims were killed during non-violent encounters with police, such as a traffic stop, or a family's call for help.
The project compiled data on the use of fatal force due to gunshot, asphyxiation, vehicles or Tasers. It also included data on unintentional kills, such as those that resulted from a medical emergency while being arrested or restrained, and off-duty incidents.
Other findings were that charges against police officers who used deadly force were rare, with 98 percent of cases resulting in no one being held accountable. Additionally, the group found that lethal force doesn't appear to be related to violent crime rates in an area.
Other findings were that African-Americans are six more times likely to be killed in Oklahoma than Georgia. The police departments with the highest rate of police killings per capita were Bakersfield, California; Oklahoma City, Oklahoma; Oakland, California; Long Beach, California; New Orleans and San Francisco.
In the top 60 largest police departments, African-Americans were 41 percent of all victims despite being only 20 percent of the population living in these cities, the data showed.
Instead of federal statistics, Mapping Police Violence relied on a crowdsourced databases such as FatalEncounters.org, US Police Shootings Database, and KilledbyPolice.net, and the Guardian's recently created database The Counted. The raw data came from media reports, social media, obituaries, police reports and other sources. The federal Death in Custody Reporting Act, which mandates law enforcement record deaths, was only just recently signed into law and is yet to show results. Prior to that, police-involved death reporting was voluntary.
According to The Guardian's The Counted, there were 1,103 people killed by police this year.
Some of the deaths were news headlines and became focus of many of the Black Lives Matter protests in 2015 in cities across the US. One such victim was Sandra Bland, 28, an African-American pulled over for an alleged traffic violation in Texas, taken into custody, and who authorities claim hung herself in her cell three days later.
Another case was that of Zachary Hammond, a white teen on his first date buying ice cream who police shot thinking he was buying drugs. The family's lawyer said police murdered Hammond.
Others on the list are perhaps less innocent. There is the teenager Faisal Mohammad, who stabbed four people in November at University of California, Merced campus. He is alleged to have planned to hold his classmates hostage and systematically kill them before he was killed by police.
Also included is the engineering student, Mohammad Abdulazeez, 24, who open fired on two military institutions in Chattanooga, Tennessee in July. He shot and killed four Marines on the spot, while one navy sailor died of his wounds two days later. He injured two others before being killed by police.
The Justice Department has open investigations with 22 police departments over possible civil rights violations, some begun as far back as 2009. Their most recent investigation involves the Chicago Police Department for civil rights violations following the release of police dashcam footage of the police shooting death of African American Laquan McDonald.
You can share this story on social media: