First in Chicago history: On-duty cop charged with murder ahead of video release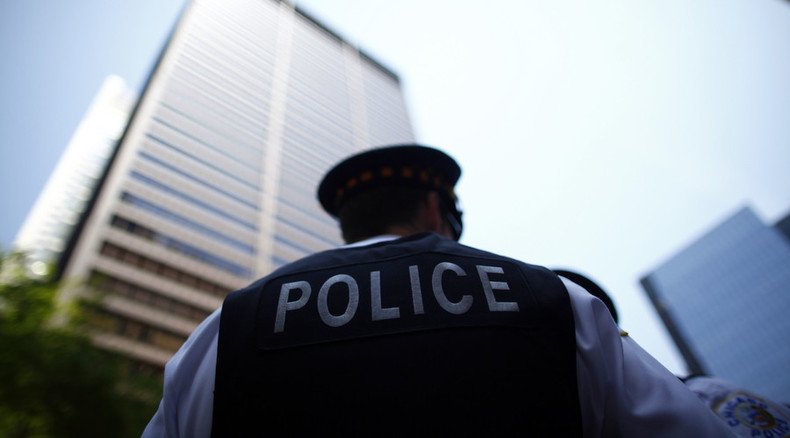 A Chicago police officer who fatally shot a black teenager 16 times has become the first on-duty Windy City cop to be charged with first-degree murder. The charges come one day before the dashcam video of the killing will be released to the public.
Chicago Police Officer Jason Van Dyke, a 14-year veteran of the department, killed Laquan McDonald, 17, on October 20, 2014. McDonald's body was riddled with bullets from the neck to the upper leg in what witnesses have called an execution-style murder.
The indictment by the Cook County state's attorney means Van Dyke, a 37-year-old white man, is the first Chicago officer to be charged with first-degree murder for an on-duty shooting, according to the Chicago Tribune.
"One individual needs to be held accountable," Chicago Mayor Rahm Emanuel said, according to WLS. "Now that the judge has made the decision, the prosecutors need to wrap up their investigation so we can go as a city and begin the process of healing."
The night of McDonald's murder, police were responding to reports of a man acting erratically and breaking into vehicles in the city's Archer Heights neighborhood. Officers allege McDonald was holding a 4-inch knife, used to puncture a tire of a police squad car. They said the teen, a ward of the state whose mother was in the process of regaining custody, posed "a very serious threat," according to reports by the Chicago Tribune and Chicago Sun-Times.
McDonald was ordered to drop the knife, but he did not. Police said the teen lunged at the officers, while attorneys for McDonald's family, as well as eyewitnesses, said McDonald was walking away when he was shot. No officers but Van Dyke opened fire.
"It was super exaggerated. You didn't need that many cops to begin with. They didn't need to shoot him," said eyewitness Alma Benitez. "They didn't. They basically had him face-to-face. There was no purpose why they had to shoot him."
An autopsy found McDonald was shot in the head, neck, chest, arms, and legs. McDonald was also found to have PCP in his system when he was killed. He did not have a criminal record, but was arrested on juvenile complaints, according to reports.
In April, the city approved a $5 million settlement to the family while maintaining that it would not release the video of the shooting.
Yet a lawsuit filed against the Chicago Police Department by independent journalist Brandon Smith has compelled the release of the footage. Last week, Cook County Judge Franklin Valderrama ordered the release. The footage is set to be released on Wednesday, November 25.
The city is now bracing for outrage once the video of McDonald's murder is released. City and faith leaders are calling for peaceful protest, as Emanuel reportedly met with community members and activists to try to tamp down any potential anger the video may unearth.
"I want to definitely say that this is a political public relations move to pacify the residents of the City of Chicago and Cook County," activist William Calloway told The Daily Beast, adding that the indictment will do little to alleviate the pain the video is expected to trigger.
"At this point in Chicago, it makes no difference whether he was going to be indicted or not," he said. "Because it's not only what he did, but what 300 or some other officers have done prior to that in killing mostly unarmed black men."
Calloway referred to some 300 police shootings of Chicago civilians since 2010, both fatal and nonfatal. As of July, Chicago's Independent Police Review Authority (IPRA) had investigated 400 such shootings since 2007, according to a Better Government Association analysis. The IPRA found only one was unjustified. The same report found that from 2010 to 2014, Chicago police fatally shot 70 people, nearly all male and mostly black, the most among large US city police departments.
Groups like the Black Youth Project have called for the immediate firing of Van Dyke – the officer has been on administrative desk duty with pay since the shooting – and police Superintendent Garry McCarthy. The Chicago Police Department has not disciplined Van Dyke.
Cook County State's Attorney Anita Alvarez has stayed mum about her department's investigation of McDonald's murder. Federal officials are also investigating the incident. The IPRA has yet to release findings of its investigation of McDonald's killing.
Personnel records indicate Van Dyke has been the target of 18 citizen complaints, eight for excessive force and others for use of racial epithets and use of a firearm, according to the Invisible Institute, a police watchdog nonprofit.
"He's scared to death of the possible outcomes" when the video is released, Van Dyke's attorney Daniel Herbert told The Daily Beast.
Herbert told reporters on Friday that Van Dyke "believed in his heart of hearts that he was in fear for his life, that he was concerned abut the lives of [other] police officers," the Sun-Times reported.
The officer is expected to be processed, fingerprinted, and charged before appearing at a 1 p.m. ET bond hearing. Criminal charges must be filed by Wednesday.
You can share this story on social media: