Ferguson swears in African-American police chief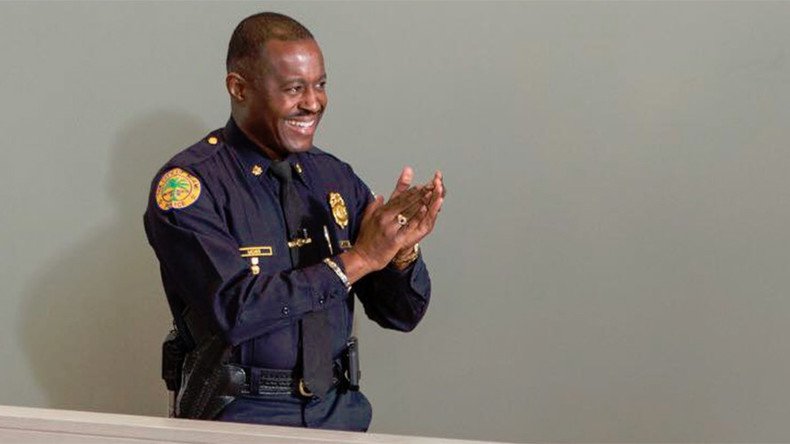 The Missouri city of Ferguson, site of protests after the 2014 shooting of a black teen by a white police officer, has sworn in a new police chief. Delrish Moss will head a mostly-white police force in a community that is two-thirds black.
Most recently the supervisor of public information and community relations for the Miami Police Department in Florida, Moss, 51, was sworn-in as Ferguson police chief on Monday afternoon. He will be the second black chief of police in Ferguson, a 21,000-resident inner suburb of St. Louis, after Interim Chief Andre Anderson resigned in December.
Moss's first day comes on the heels of a federal judge's approval last month of an agreement between the city and the US Department of Justice over police reform in Ferguson. Moss, a former homicide detective, said Monday that he is ready to approach the issues in Ferguson with patience and collaboration.
"I don't think I come in here offering some magic pill or magic solution curing all the problems of Ferguson," Moss told the St. Louis Post-Dispatch.
Ferguson city officials have said Moss's role as spokesman for the Miami Police Department contributed to his hiring.
"I think one of the things Ferguson has missed out on is telling our story," Ferguson City Manager De'Carlon Seewood told the Post-Dispatch.
Protesters are expect to demonstrate outside the city's municipal court building on Monday, though city attorney Stephane Karr and the city's courts are the protesters targets, not Moss.
In March 2015, seven months after police officer Darren Wilson fatally shot Michael Brown, the DOJ issued a scathing report on the Ferguson Police Department and the city's judicial practices.
In its report, the DOJ found a pattern of unconstitutional behavior in the Ferguson PD, noting that while African-Americans represented 67 percent of Ferguson's population, they accounted for 90 percent of traffic stops and arrests. The government also found that Ferguson police officers have routinely detained and arrested residents without probable cause or suspicion, and have all too frequently resorted to using excessive force.
After contentious negotiations, the final agreement reached between Ferguson and the DOJ requires the city to hire a police monitor, institute police diversity training, and spend money on software and staff to keep track and analyze information on arrests, use of force incidents, and other police matters. The agreement also lays out a plan to revise Ferguson's Municipal Code. This includes repealing penalties for failure to appear upon arrest or summons, as well as repealing an authorizing fee for the withdrawal of a complaint.
Ferguson's police chief amid the protests over Brown's killing, Thomas Jackson, resigned in March 2015 after the DOJ report was issued.
Moss, whose hiring was announced last month, was one of the more than 15 applicants for the city's police chief position. Six of them were interviewed by multiple panels of residents, police executives, and criminal justice experts.
"Our officers have worked extremely hard to implement community policing and community engagement in their daily practices," Seewood, Ferguson's city manager, said at the time of the hiring. "Mr. Moss is the right man for the job to continue those initiatives."
Moss "has my support to make whatever changes that are necessary," Seewood told the Post-Dispatch on Monday.
A St. Louis County grand jury declined to indict Wilson, the police officer who shot Michael Brown, in November 2014. Upon release of its report on Ferguson, the DOJ also announced that it would not charge Wilson with civil rights violations related to the incident.
Brown's death touched off mass demonstrations in Ferguson and across the US against racial profiling, police brutality, police impunity, and the judicial system in America, especially in communities of color.
A recent analysis by the Pittsburgh Tribune-Review found that, from 1995 to 2015, federal prosecutors chose not to levy charges against US law enforcement officers alleged to have committed civil rights violations in 96 percent of relevant cases.
You can share this story on social media: