FBI to modify its 'travesty' system for tracking number of civilians killed by cops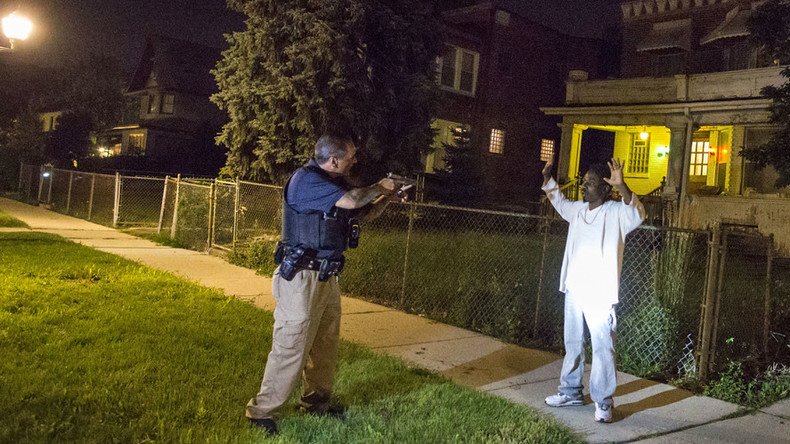 The FBI will revamp its heavily criticized system for tracking fatal police shootings in the US. For the first time, the bureau will release data about all incidents that result in severe injury or death to civilians at the hands of police.
"We are responding to a real human outcry," Stephen L. Morris, assistant director of the FBI's Criminal Justice Information Services Division, told the Washington Post. "People want to know what police are doing, and they want to know why they are using force. It always fell to the bottom before. It is now the highest priority," he added.

Morris, who described the agency's current system for tracking fatal police shootings as a "travesty," said the data would be "much more granular" than in the past. It's likely to include such details as the gender and race of law enforcement officers and suspects involved in the incidents, the level of danger the officer faced, as well as the kind of weapons wielded by either party, be it a pepper spray or just a fist.
READ MORE: FBI admits using Stingrays, hacking computers and software

Most importantly, the data will be collected and shared with the public in "near real-time," as the incidents occur, Morris said, instead of being mentioned only at the end of the year.

David Klinger, a former police officer and a long-time advocate of a better system, said he was skeptical about its implementation.

"The devil is in the details," Klinger noted.

"When agents of the state put bullets downrange in citizens, we need to know about that. In a representative democracy, we need to know about that. We are citizens, not subjects. We also need to understand the circumstances of the shootings, so we spot trends, so we can improve training," he told the Washington Post.
Getting reliable data on fatal officer-involved shootings in the US has proved to be a real challenge, amid the ongoing debate about the appropriate use of force by police. Calls from activists for expanded official data on killings were triggered by protests following the fatal shooting of Michael Brown, an unarmed black teen in Ferguson, in August 2014.

The FBI gathers the data, relying on local police departments to voluntarily share information about officer-involved shootings. The program only collects data on the number of so-called "justifiable homicides" reported by police, as well as information about the felonious killing and assault of law enforcement officers.
Since 2011, less than three percent of the 18,000 state and local police agencies across the US have done so, the Guardian reported.

The new FBI database (set to be launched by 2017) will continue to rely on voluntary reports, however, with FBI officials saying they currently lack the legal authority to make reporting mandatory.

Several outlets are attempting to keep track of police shootings or non-shootings that end in civilian deaths. By December 8, a Guardian database published since 1 June, had recorded 1,058 deaths caused by law enforcement officers so far this year. A Washington Post database restricted to fatal shootings by officers, published since 1 July, had counted 913 of those this year alone.




A new FBI report on officer-involved shootings, released in mid-October, also lacked adequate data and included errors, according to the Guardian. The data was collected on a voluntary basis from local police departments, but 99 percent of them did not actually volunteer anything. Information regarding whether the victim was armed or not wasn't included either.

Notorious cases, including Eric Garner (a 43 year-old father of four, choked to death by a New York Police Department officer in 2014), Tamir Rice (a 12-year-old boy killed by police in a Cleveland park last November) and John Crawford (the 22-year-old black man shot dead by police in an Ohio Wal-Mart in 2014), were not featured at all.
You can share this story on social media: