Trump: Bernie, g'head, run as an independent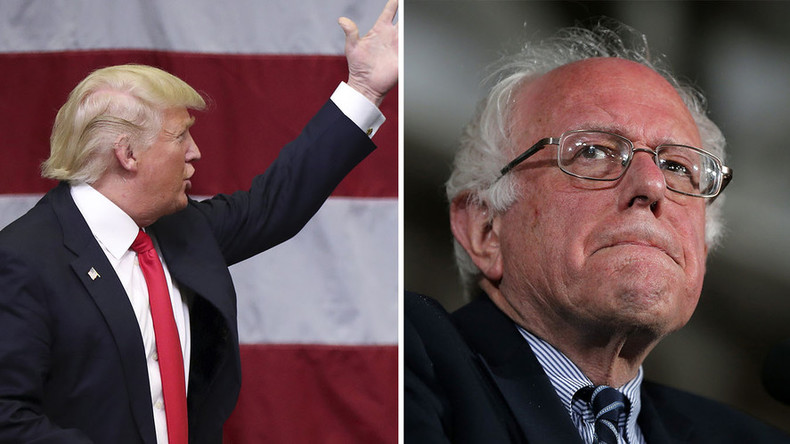 Republican presidential candidate Donald Trump took time out of a busy primary day to opine that Democratic presidential candidate Bernie Sanders, currently trailing rival Hillary Clinton, should run as an independent in the general election.
In a tweet likely issued with at least some dose of tongue-in-cheek sentiment, Trump said "Bernie Sanders has been treated terribly by the Democrats—both with delegates & otherwise. He should show them, and run as an Independent!"
In a recent interview with NBC's 'Meet the Press,' Sanders said he has been treated unfairly by the Democratic Party during his challenge against the more establishment candidate, Clinton.
"The fact that we had debates that were scheduled — pretty clearly, to my mind, at a time when there would be minimal viewing audience, et cetera, et cetera," Sanders said. "But you know, that's the way it is. We knew we were taking on the establishment. And here we are. So not complaining."
Trump has declared that the primary system is "rigged," as voting ultimately comes down to delegates and not the public should no candidate receive enough delegates needed to win the nomination on the first ballot.
Trump, the frontrunner for the Republican presidential nomination, no doubt understands that if Sanders ran as an independent, it could result in a siphoning of votes away from the Democratic nominee, presumably Clinton.
The tweet was received with some earnest political explanation as to why an independent run by Sanders would likely be good news for the Republican Party's presidential hopes and to the detriment of the Democratic Party.
Others saw it to be nothing but a trap, to quote one of the internet's favorite memes.
Still others said the prospect of a Sanders run as an independent would be welcome, especially as a challenge to party dominance.
As a US senator, Sanders is technically an independent but caucuses with the Democratic Party for committee-assignment purposes. Sanders only recently stopped describing himself as an independent on his campaign website, according to Politico.
Primary elections are being held Tuesday in five East Coast states. Voters in Maryland, Delaware, Connecticut, Rhode Island, and Pennsylvania will decide whether or not Trump and Clinton will extend their leads in their respective contests. RealClear Politics poll averages show the two frontrunners are favored in all five states.