'Acela' primary kicks off in Rhode Island, Connecticut, Pennsylvania, Delaware & Maryland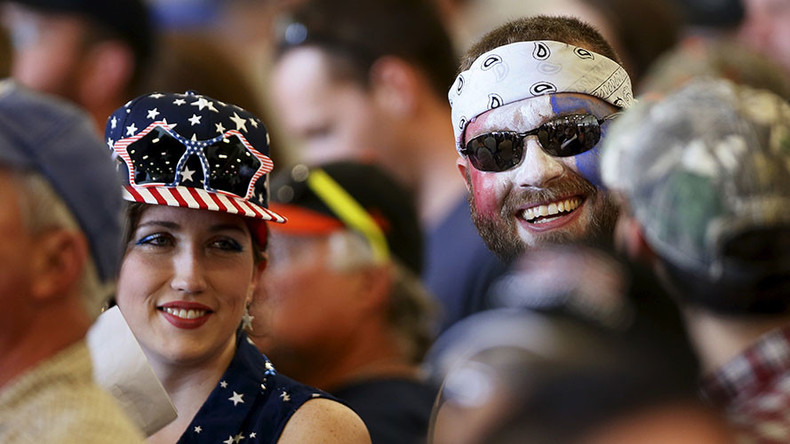 Will Donald Trump and Hillary Clinton carry the day? Five states and hundreds of delegates are on the line, giving Bernie Sanders, Ted Cruz and John Kasich a chance to change the dynamic of the presidential primary race before it winds down.
Going into the "Acela" primary day – so named after the Amtrak express train that serves millions of riders every year from Washington to Boston – here are all the candidates' delegate counts.
Clinton has 1,428 pledged delegates and 516 superdelegates. Sanders has 1,153 pledged delegates and 39 superdelegates. They will be competing in primaries in Connecticut (with 55 delegates), Delaware (21 delegates), Maryland (95 delegates), Pennsylvania (189 delegates), and Rhode Island (24 delegates). For the Democratic Party nomination, 2,383 total delegates are needed, and there are 1,629 still available.
WATCH: Can Bernie Win Another Super Tuesday?
Trump has 845 delegates, Cruz has 559 and Kasich has 148. They will also be competing in Connecticut (with 28 delegates), Delaware (16 delegates), Maryland (38 delegates), Pennsylvania (17 delegates) and Rhode Island (19 delegates). For the Republican Party nomination, 1,237 total delegates are required, meaning that if Trump clears the field Tuesday, he will be near close enough to declare only he has a mathematical pathway to the nomination, while Cruz and Kasich will have to hope for a contested convention to go their way. There are 733 GOP delegates still available.
All polling opens at 7:00 am except for Connecticut, which opens its polls at 6:00 am. All states will close their polls at 8:00 pm, and all are on East Coast time.
27 April 2016

01:07 GMT

Joining 'News With Ed' as the Acela primary results roll in is RT America's Manila Chan, reporting from the site of a Hillary Clinton rally in Philadelphia, Pennsylvania, a state Clinton is expected to win. Chan speaks with voters on the issues, and Mike O'Brien, State Assemblyman of the 31st ward. Then, Ed Schultz is joined by Manuel Rapalo from Maryland, moments after Clinton clinched the win. Rapalo also speaks with voters and Kathleen Mathews, congressional candidate (D-MD).

01:07 GMT

Clinton wins Pennsylvania.

00:48 GMT

While voters wait for Democrat results from Pennsylvania, Connecticut, and Rhode Island, many have taken to Twitter to express their feelings about the results.

00:22 GMT

Trump has been declared winner of all five states, Clinton has been named winner of Delaware as well.

00:08 GMT

Almost instantaneously, the Associated Press called Connecticut, Maryland and Pennsylvania for Trump. At the same time, Maryland was called for Clinton.

26 April 2016

23:52 GMT

Today is a big day for the presidential candidates, but they are not the only fighting for votes.

What to watch in MD #PrimaryDay: women could win Dem races in presidential, B'more mayoral, Senate, Congressional 4th&8th

— R L Goins (@CapCityRLG) April 26, 2016

22:55 GMT

Polls have officially closed in Pennsylvania, Delaware, Maryland, Connecticut and Rhode Island. Stay tuned for updates!

21:25 GMT

The 2016 primary elections have seen a growing number of complaints and frustrations towards politics in general as well as the media's coverage. Voters took their complaints to Twitter, using the hashtag #ElectionPlotTwist to humorously voice their frustrations.

20:53 GMT

Donald Trump's daughter Tiffany voted for her father in the Pennsylvania Republican primary.

I just voted! Get out & vote today! #Trump2016 #PrimaryDay #PAPrimary #TrumpTrain 🚂💨🇺🇸

— Tiffany Trump (@TiffanyATrump) Apr 26 2016

The 22-year-old is a senior at the University of Pennsylvania.