Lax US standards for migrant children resulted in sexual assault, forced labor, neglect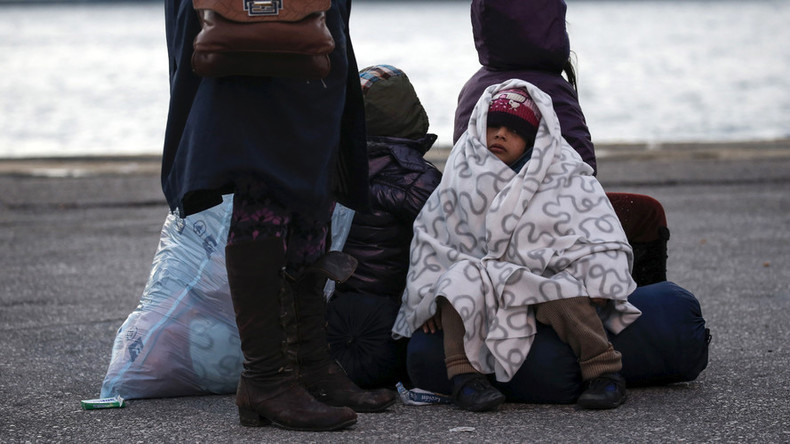 Reduced federal protection standards for placement of child refugees fleeing Central America resulted in cases of severe abuse, starvation, involuntary servitude, and sexual assault, according to a new report.
In the last few years, as tens of thousands of unaccompanied child migrants have flooded the US-Mexico border in search of safety, the US Department of Health and Human Services (HHS) dropped its safety standards for moving children from federal government shelters to sponsor homes, according to an investigation by the Associated Press.
Through the Freedom of Information Act, AP accessed HHS memos, operations manuals, and emails, discovering that more than two dozen children -- at least -- ended up in dangerous situations following crucial rule changes made by HHS' Office of Refugee Resettlement (ORR) in the process of hastened placement protocol.
The shift in the placement process began when the government halted fingerprint requirements for most adults claiming children detained at the border, AP reported. Then, in April 2014, HHS ceased requiring original copies of birth certificates in the process of verifying sponsor identities. A month later, HHS dropped use of forms that demanded sponsors' "personal and identifying information" prior to releasing a child. Finally, it stopped FBI criminal checks of sponsors attempting to claim migrant children.
The standards fell far below those of foster care system in the US, child advocates said, adding that it is difficult to know how many vulnerable children have been placed in dangerous circumstances thanks to the weakened standards. In fact, many migrant children could not be found for follow-up checks on their well-being, social workers told AP.
"This is clearly the tip of the iceberg," Jacqueline Bhabha, research director at the FXB Center for Health and Human Rights at Harvard University, told AP. "We would never release domestic children to private settings with as little scrutiny."
In early 2012, as waves of child migrants ended up at the US-Mexico border from the likes of Guatemala, Honduras, and El Salvador, child advocates urged HHS to proceed with caution, AP reported. "Fraudulent sponsors" had been identified in Colorado, Iowa, and Minnesota seeking to claim multiple minors of no familial relation.
HHS said it is reviewing its safety protocol as child refugees continue to arrive at the border. For example, HHS spokesman Mark Weber said new shelters are on the way.
"We are not taking shortcuts," Weber said. "The program does an amazing job overall."
Weber said ORR has increased home visits since July after a sponsor and others were charged with forcing six children to work on an egg farm under threat of violence for as much as 12 hours a day.
"I know we learn from lessons and keep trying to improve the system to ensure the child is placed in a safe place, and I'm confident the vast majority of the kids are," Weber said.
In July, the Obama administration called on lawmakers to approve an additional $3.7 billion in funds for border control and child health services to adequately address the flood of child migrants arriving in the US from Central America. According to US Customs and Border Patrol, the 52,193 children detained in 2014 is nearly double the 26,000 caught in 2013.
Unaccompanied minors, however, have not had time to wait for Washington to address what many have labeled a humanitarian crisis. Amid its investigation, AP found children with stories like that of Marvin Velasco, a 14-year-old Guatemalan who came to the US in September 2014. Placed in the Los Angeles home of his brother-in-law's father, Velasco said he and nine others living in the apartment were starved and were required to pay rent. He was threatened after Velasco said he wanted to study, the boy said.
"He told authorities that he was going to take me to school and help me with food and clothing, but it wasn't like that at all," he said. "The whole time, I was just praying and thinking about my family."
The sponsor's son helped Velasco escape to a church. There, Velasco met a parishioner, a Guatemalan immigrant with a family, who has become his legal guardian. He has since been granted special legal status reserved for some immigrant minors, AP reported.
AP included other instances of a variety of abuse some minors faced following HHS' decision to relax safety standards. A 14-year-old Honduran girl was forced to work in a Florida cantina "where women drink, dance and sometimes have sex with patrons." Others were forced to work at restaurants, clean houses, or watch children for little or no pay. In other cases, children were found to have been raped by relatives or others associated with their sponsors, AP reported.
Sen. Rob Portman, chairman of the Senate Permanent Subcommittee on Investigations, said he will hold a hearing on the child placement program this week.
"We think reforms are necessary and urgently required because there are kids right now who are coming in over the border," Portman said. "This is a problem that has to be addressed."
Unaccompanied minors crossing the border has contributed to the surge in non-Mexican persons caught trying to cross the border in 2014, according to the Pew Research Center.
"The recent increase in non-Mexican apprehensions is due in part to a surge in unaccompanied Central American child migrants crossing the border without their parents," Pew reported last month.
The 52,000 or so unaccompanied children from Central America dwarfed the number of unaccompanied Mexican children, which was about 16,000, according to US Customs and Border Protection data.
Meanwhile, the Obama administration is in the process of nationwide raids of immigrant communities, particularly immigrants who entered the US after January 1, 2014, and since then have received orders of deportation. The raids -- which "should come as no surprise," according to Department of Homeland Security head Jeh Johnson -- have been widely condemned as punitive and inhumane in its targeting of immigrant families.
Late last week, the US Commission on Civil Rights, an independent body within the federal government charged with assessing civil rights issues, called for an immediate halt of the deportation raids.
"As the nation's civil rights watchdog, the U.S. Civil Rights Commission cannot stand by silent while our federal government deports refugee women and children whose due process rights may have been deprived in the first instance, to potentially life-threatening situations in their home countries," said Martin Castro, the commission's chairman, in a letter sent to Obama and Johnson. "To continue these deportations to proceed is counter to our values as Americans."
The Commission found that families in detention have not been afforded proper access to legal counsel, which "brings into question the enforceability of the orders of deportation upon which the present [US Immigration and Customs Enforcement] raids are based," the letter stated.
In December, federal officials said emergency shelters would be opening for 1,400 children migrants in California and Texas, in addition to 5,000 new shelter beds facilitated by the Pentagon at the recent request of HHS.
You can share this story on social media: