'Chilling effect': DHS raids spread fear among migrants as Democrats blast Obama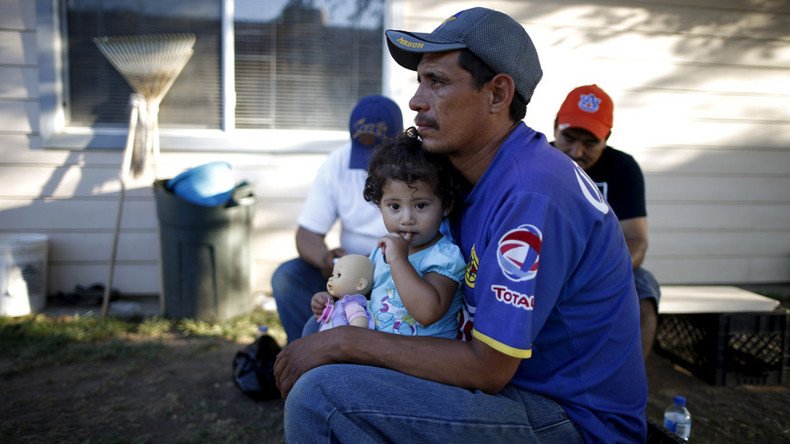 The Department of Homeland Security's recent nationwide immigration raids have spread panic and fear among immigrants, many of whom have barricaded themselves in their homes. They have additionally triggered criticism of Obama's tactics.
Over the weekend, the Department of Homeland Security (DHS) detained 121 people, mostly in Georgia, Texas and North Carolina.
"We're talking about primarily women and children who were fleeing violence in Central America," Sarang Sekhavat, federal policy director at the Massachusetts Immigrant and Refugee Advocacy Coalition (MIRA), told Boston-based WBUR radio.
Based on federal data, there are 89 potential deportees, to according Syracuse University's TRAC Immigration site. These are immigrants who have entered the US after January 1, 2014 and since then have received orders of deportation. All of them are targets for the DHS raids.
However, ever since the Obama administration started imposing its deportation policies in late December, fear has spread far beyond migrants who've been served with orders.
"When I go to work, I feel, especially in the last three days, I go to work afraid because I honestly don't know if I'm going to come back," a 20-year-old man named Henry told the radio station. He and his sister were forced to flee their El Salvador home two months ago. They were threatened to be killed by a local gang after failing to pay a $2,000 extortion fee, the siblings, who prefer their names to be concealed, told reporters.
Cambridge-based attorney Alex Peredo Carroll also told WBUR that her clients, who are not at risk of being targeted by Immigration and Customs Enforcement (ICE) agents, are afraid anyway.
The panic and fear of being separated from loved ones and then deported has no borders. In New York, some people refused to leave their homes to go to work or get groceries. In other cases, parents terrified by raids decided not to take children to schools.
"For two days I didn't go out; I just didn't leave the house," Joao, a day laborer on Staten Island, told the New York Times.
"We are afraid to go out," Maria, a client of the Central American Legal Assistance office, also told the newspaper.
Following the January 4 raids, the Obama administration has been hit by a wave of criticism from Democrats, with some likening the President to Donald Trump. They have been accusing the government of separating families, terrifying children and putting detainees at risk by sending them back to unsafe parts of the world they were trying to escape.
"It's not easy to demonstrate that you are fleeing death or persecution – real persecution – that could leave you in grave concern for your life," Rep. Xavier Becerra (California), chairman of the House Democratic Caucus, told reporters, according to The Hill. "That would be my concern."
Senator Bob Menendez (D-New Jersey) has warned of the "chilling effect" that the administration's actions might have in perspective.
"I have deep concerns of the chilling effect these home raids will have among immigrant communities who will understandably be terrified and deterred from approaching law enforcement to report crimes and forced further into the shadows," he told Politico.
Rep. Luis Gutiérrez (D-Illinois) has also spoken against the raids, arguing that this tactic will only "bring misery."
"They will probably be deported, just like the 2 million before them deported by President Obama," Gutiérrez said. "How they are treated and whether they get meaningful and true due process remains a question mark. What is undeniable is that such raids strike maximum fear in immigrant communities. Raids will not bring us order. Raids will only bring misery."
He has accused the DHS of ignoring the real reasons behind illegal immigration, calling the raids "a cruel reminder of a discredited policy."
However, the Obama administration has defended its raids, saying that is following guidelines the DHS adopted in November of 2014.
You can share this story on social media: