Federal deportation effort begins with pre-dawn raids targeting immigrant families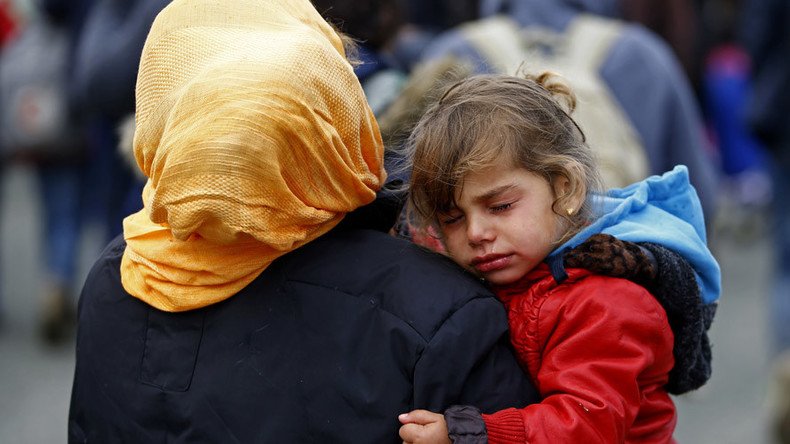 The US Department of Homeland Security has made good on its late-2015 promise of mass deportations of undocumented immigrants from Central America. Immigration enforcement officers detained 121 people, mostly in Georgia, Texas and North Carolina.
Eleven families were part of the weekend deportation operation, which targeted people caught crossing the US-Mexico border after May 1, 2014. The families have been issued final orders of removal by a federal immigration court and have no further opportunities for appeal or prolonged legal action.
On Saturday, at least five families in the Atlanta area were detained, including Ana Lizeth Mejia, 30, and her 9-year-old son, according to reports. Immigration and Customs Enforcement (ICE) agents entered the home of Mejia's aunt, Joanna Gutierrez, claiming they were seeking a man Gutierrez did not know. After searching her home, the agents asked about Mejia, who had fled Honduras in the summer of 2014 after her brother was killed by a gang, according to the Los Angeles Times. Mejia had attended every court date, and was wearing a court-ordered ankle monitor, Gutierrez said.
"Why abuse a person who is already in the control of the court?" Gutierrez said.
Mejia's relatives told EFE news agency that she faces a warrant for deportation on January 5.
Elsewhere in Atlanta, ICE agents "barged into homes, even when asked for warrants at the door, removing mothers and children as young as 4 years old," according to the #Not1More Campaign, which stands in opposition to escalated "deportations, incarceration, and criminalization of immigrant communities."
"They took away children so young they would've needed car seats in their vehicles for them," said Adelina Nicholls, executive director of Georgia Latino Alliance for Human Rights (GLAHR). "The fear this causes isn't contained to ICE. It spreads to fear of the police, of local government, especially as ICE tries to get its reach back into local institutions."
GLAHR is representing five of the deportation cases "that appear to be already transferred to a South Texas facility," the group said.
"We think they are gathering people at the Atlanta field office," said Nicholls, according to the LA Times. "We have no idea what's going on there. That's not a location to accommodate children."
Six Central American families involved in the raids are expected to arrive at the South Texas Family Residential Center by Monday, Mohammad Abdollahi, a spokesman for immigrant advocacy group Refugee and Immigrant Center for Education and Legal Services, told the LA Times.
Where families demanded a warrant, ICE pretended to be police looking for an African-American male to trick them to open the door. #ICERaids

— B. Loewe (@BstandsforB) January 3, 2016
"We've been calling a lot of the families that may have orders of removal to make sure they know they have legal counsel," Abdollahi said, adding that there is "an absolute vacuum of legal help given the" high amount of unaccompanied minors who have crossed the border in recent months.
The Guatemalan Ministry of Foreign Affairs confirmed that two Guatemalan families were arrested by ICE, according to EFE.
In late December, the Washington Post reported that ICE, an agency working under the Department of Homeland Security (DHS), would soon begin nationwide round-ups of people who have already been ordered to leave the US by an immigration judge.
More than 100,000 families have crossed the southwestern border since the beginning of 2015, according to ICE. Following the raids, adults and children will be detained wherever they can be found and immediately deported, the agency said.
Explaining the weekend's raids, DHS Secretary Jeh Johnson said Monday that ICE agents "engaged in concerted, nationwide enforcement operations to take into custody and return at a greater rate adults who entered this country illegally with children.
"This should come as no surprise. I have said publicly for months that individuals who constitute enforcement priorities, including families and unaccompanied children, will be removed."
All those taken into custody "were adults and their children who (i) were apprehended after May 1, 2014 crossing the southern border illegally, (ii) have been issued final orders of removal by an immigration court, and (iii) have exhausted appropriate legal remedies, and have no outstanding appeal or claim for asylum or other humanitarian relief under our laws," Johnson added.
The government is taking several precautions with the raids, he said, including the deployment of "a number of female agents and medical personnel to take part in the operations."
Raiding folks homes. Separating families. Human behavior has a way of repeating itself over and over again. #Not1More

— Charlene Carruthers (@CharleneCac) January 3, 2016
Advocates for immigrant refugees have heaped criticism on the Obama administration for the renewed deportation policy, which, they say, disproportionately targets families who fled their homes in Central America amid fierce violence and economic hardship.
"What message is sent by a president whose first action in the new year is to destroy families—to rip children from their homes and communities? In recent years, too many lives have been ruined by heartless and racist deportation policies. Home raids are inherently destructive and terrorize immigrant communities," said Pablo Alvarado, executive director of the National Day Laborer Organizing Network.
Marisa Franco, director of the national #Not1More Campaign, said DHS raids "are part of a pattern of abuse and intimidation."
"A year and a half after the President said he wished to make his immigration policy more humane, his agents are rounding up mothers and children with the intent of sending them to likely violence and possible death," she said. "If there is some political calculation behind this as there usually is, it is disgusting."
You can share this story on social media: