It's official: San Antonio police will not inquire about citizenship status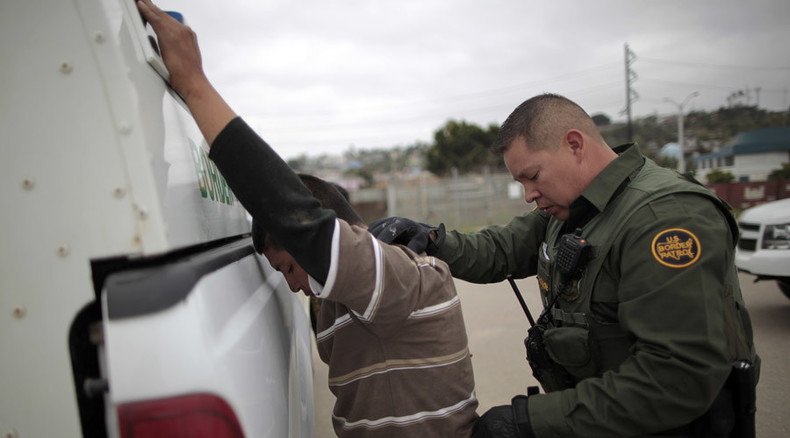 San Antonio, Texas, the seventh-most populated city in the United States, will not ask suspects about citizenship status during arrests, according to the city's police chief. Until this week, that policy was only unofficially enforced.
San Antonio Police Chief William McManus said that his department's policing manual will now reflect this approach, a move that will "codify our practices on the street."

"We are not interested in enforcing immigration laws," McManus said in a brief to the San Antonio City Council's governance committee, KSAT reported. "I can't state it enough or emphasize it enough. We do not care what your immigration status is."

McManus said the decision to make the policy official is about community trust and credibility. Without this trust, an undocumented individual may think twice before reporting a crime, he added.

"Without that, we wouldn't have a community to work with. We'd be working with both hands tied behind our backs," McManus said, adding that, regardless of one's immigration status, "if you break the law, no matter what the crime, we are going to arrest you."
The city's relations with federal immigration law enforcement will continue in cases when a crime has already occurred.

"The only time that we contact ICE (US Immigration and Customs Enforcement) is if there's a federal warrant that was issued by ICE, and in that case, we are required by state law to do so," McManus said, according to KTSA. "And in cases of human trafficking."

The move makes San Antonio one step closer to "sanctuary city" status. The city council would have to approve of such citywide policy. The town's mayor approved of the policing move.

"It is obvious our current procedures have worked to improve public safety and reinforce our community policing success," Mayor Ivy Taylor said, according to KTSA. "Citizenship status is a federal matter and is not the role of our municipal police department."
READ MORE: 'They treat us like dogs': 27 women detained in Texas immigration center begin hunger strike

Lax immigration enforcement has long concerned top state officials, though the state legislature has failed to pass bans on such policies during its last three sessions. Texas Governor Greg Abbott said Monday that he plans to urge the state legislature to outlaw "sanctuary" policies in the state when the legislative body returns to session in 2017.
Community activists hailed San Antonio's decision as a step in the right direction.

"The next step is what we can do with the individuals that actually are brought into jail," said Manuel Medina, chairman of the Bexar County Democratic Party.

Opponents said the move may draw criminal activity to San Antonio.

"I can't imagine any law-abiding citizen that would want San Antonio to be a safe haven for criminals," said Robert Stovall, chair of the Bexar County Republican Party, according to KENS.
READ MORE: 'Prison-like' Dover Immigration Removal Center to close

To back up his claim, Stovall alluded to the July murder of Kathryn Steinle, who was shot in San Francisco, California, by a seven-time convicted felon who had been deported to Mexico five times. Juan Francisco Lopez-Sanchez was released by San Francisco authorities after drug charges against him were dropped, even though US Immigration and Customs Enforcement had requested that Lopez-Sanchez be detained.

Many major US cities ‒ including as San Francisco ‒ are considered "sanctuary cities" for undocumented immigrants. These cities generally prohibit municipal resources from being used in efforts to enforce federal immigration laws. Numbers USA, a group in opposition to increased immigration, says more than 300 cities and counties in the US do not cooperate with immigration enforcement.
Steinle's murder, a rallying point for anti-immigrant sentiment in the US, was one trigger for federal legislation in the US Senate that sought to crack down on cities that gave some sort of safe haven to undocumented immigrants. Last week, the Senate failed to advance the so-called he Stop Sanctuary Policies and Protect Americans Act, which would have cut off funding to cities that refuse to cooperate with federal law enforcement agencies that enforce immigration-status law.

On Wednesday, North Carolina Governor Pat McCrory, a Republican, signed into law new legislation that will bar municipalities and other local governments from approving "sanctuary" policies while limiting forms of identification undocumented immigrants can offer to authorities.
The sponsor of the House bill, passed in September, said the law will help the state deal with "illegal aliens."

Republican Rep. George Cleveland said allowing undocumented immigrants to use an ID issued by a local government or a foreign consular office would encourage "a sense of belonging here" and "making them part of your community," according to the News & Observer.
You can share this story on social media: