Sanders hires DREAM activist Vargas to boost Latino outreach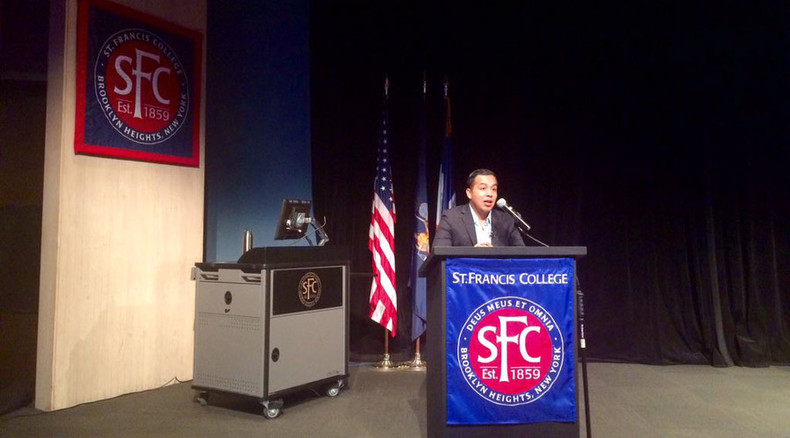 Lawyer Cesar Vargas, a leading activist for undocumented immigrants, has announced he is joining Bernie Sander's campaign for the Democratic presidential nomination, as the Vermont Senator reaches out to the Latino community ahead of key primaries.
"It's important that people in our community know there is someone out there with really cool policies. Our community just needs to be introduced to the senator," Vargas told Fusion after coming on board the Sanders campaign on Thursday.
Vargas' hiring indicates a major push by the Sanders campaign to win over Latino voters in the southwestern US. Two weeks ago, the Vermont senator hired Arturo Carmona, a veteran Latino rights activist, to serve as his political director in the southwest. Nevada is the third state on the Democratic primary calendar, following Iowa and New Hampshire.
"What we are trying very, very hard to do – you are going to see us moving very aggressively in that area – is introduce myself to the Latino community," Sanders said on October 7 at the annual public policy conference of the Congressional Hispanic Caucus Institute. "I will fight for every vote I can get in the Latino community."
Hillary Clinton, the party's current front-runner, hired a Latino outreach director in May. Lorella Praeli of the United We Dream advocacy group was an undocumented immigrant before she was granted permanent US residency in 2012.
READ MORE: Hillary 'feels the Bern' as MSM ignores Sanders' surging poll numbers
Unlike Praeli, Vargas is still an undocumented immigrant. Born in Mexico, he was brought to the US at the age of 5. He is allowed to work in the US under the Deferred Action for Childhood Arrivals (DACA) program. Vargas graduated from law school in 2011, but was denied permission to practice law because he was in the US illegally. However, the ban was reversed in June of this year when a New York appeals court ruled in his favor.
Vargas is the co-founder of the Dream Action Coalition advocacy group, which is named after a 2011 law aimed at extending education benefits to the children of illegal immigrants. He has championed the right of undocumented immigrants to serve in the US military and backed President Barack Obama's executive actions on immigration last year, which are currently stuck in federal courts. Vargas told Fusion he had attended the same Brooklyn high school as Sanders, who is 43 years his senior.
While the Dream Action Coalition has not officially endorsed Sanders, it praised the senator from Vermont on Thursday for refusing donations from lobbyists representing the private prison industry. Many immigrant detention centers are operated by private contractors.
In September, Sanders proposed a bill dubbed the "Justice Is Not For Sale Act" that seeks to ban government contracts for privately-run prisons and jails within three years.
A self-described "democratic socialist," the independent Senator from Vermont has attracted significant support among Democrats, mounting a strong challenge to the Clinton campaign.