Nationwide raids planned to deport undocumented families – report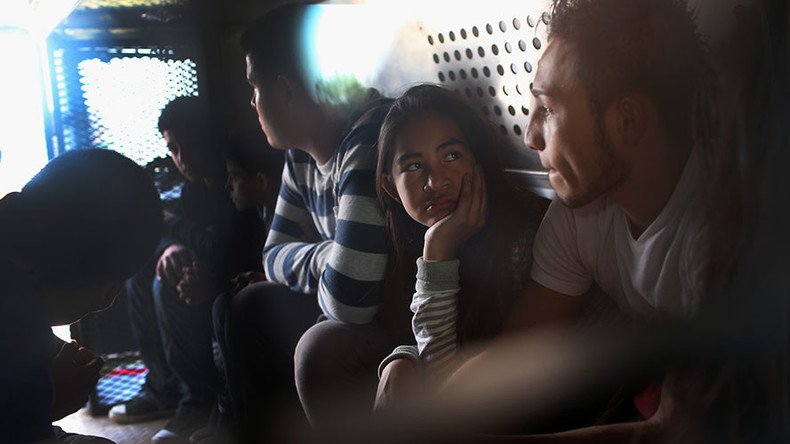 The Homeland Security Department is planning nationwide raids aimed at deporting adults and children who have already been ordered removed from the US by an immigration judge. Many of the immigrants crossed the border fleeing violence in Central America.
The Washington Post reported Thursday that the operations by Immigration and Customs Enforcement would begin as soon as January, and would likely affect hundreds of immigrant families.
According to ICE, more than 100,000 families, adults and children, have crossed the southwest border since last year. Following the raids, adults and children will be detained wherever they can be found and immediately deported.
The proposed deportations have been controversial inside the Obama administration and under discussion for several months, the Post reported. DHS Secretary Jeh Johnson has been hinting about the raids for months, in part because of new spike in illegal border crossings. A recent California court decision also ordered DHS to start releasing families that have been housed in detention centers.
An ICE spokeswoman would not comment on the details of the Post report, but said Secretary Johnson announced in November the agency would focus on people "who pose a threat to national security, public safety and border security."
"As Secretary Johnson has consistently said, our border is not open to illegal immigration, and if individuals come here illegally, do not qualify for asylum or other relief, and have final orders of removal, they will be sent back consistent with our laws and our values," ICE spokeswoman Gillian Christensen told AP in a statement.
Immigrant advocates told the Post they had not been told of the plans and said many of the families are fleeing danger or persecution in El Salvador, Guatemala and Honduras.
"It would be an outrage if the administration subjected Central American families to even more aggressive enforcement tactics," Gregory Chen, director of advocacy for the American Immigration Lawyers Association, told the Post. "This administration has never acknowledged the truth: that these families are refugees seeking asylum who should be given humanitarian protection rather than being detained or rounded up."
"When other countries are welcoming far more refugees, the US should be ashamed for using jails and even contemplating large-scale deportation tactics."
Those supporting stricter enforcement of immigration laws said the raids were long overdue.
"I'll believe it when I see it," said Mark Krikorian, executive director of the Center for Immigration Studies. "What share is this going to be?. . . It's a drop in the bucket compared to the number they've admitted into the country. If you have photogenic raids on a few dozen illegal families and that's the end of it, it's just for show. It's just a [public relations] thing, enforcement theater."
The Obama administration disclosed this week that in the 2015 budget year, the US deported the fewest immigrants since 2006. ICE said that of the 235,413 people removed or returned during the year, 98 percent met one or more of ICE's enforcement priorities, such as violations of national security like terrorism or felony convictions, or three or more misdemeanor offenses.
Pressure has been mounting against DHS following a series of nationwide hunger strikes held at immigration detention facilities. Just before Thanksgiving, 100 people, mostly South Asian asylum seekers, held at three immigration facilities went on a hunger strike calling for an end to detentions and deportations.
Many of the detention facilities have been outed for poor conditions and services. The National Lawyers Guild said the prolonged detention of asylum seekers also violates a DHS policy known as parole directive. Under the protocol, an asylum officer will determine whether an immigrant has credible fear for not returning to their country of origin. The policy directs the agency to release them if they pass this protocol, but instead ICE has been detaining asylum seekers who have reasonable cause to fear returning home.
You can share this story on social media: