$130b mega-merger: Dow, Dupont to form world's largest agrochemical entity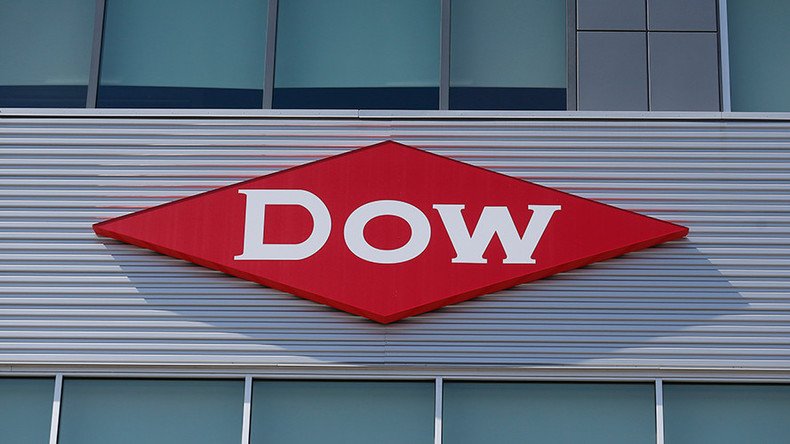 Dow Chemical and Dupont, giants of chemical and agricultural products, are finalizing a $130-billion merger that would be the 18th largest deal ever. The union would make DowDupont tops in the agrochemical market and challenge Monsanto's seed dominance.
Dow Chemical Co. and Dupont Co., American companies that are 118 and 213 years old, respectively, announced the blockbuster, tax-free deal that would take two years to complete on Friday. Following the completion of the deal's terms in 2016, the union would eventually result in three separate, publicly-traded entities focusing on agricultural products, material sciences, and specialty products.
Dow Chemical CEO Andrew Liveris would be the executive chairman of DowDupont, and current Dupont CEO Edward Breen would be the chairman and CEO.
"When I look and DuPont and Dow, I see businesses that fit together like hand in glove," Breen told reporters, according to the USA Today. "The strategic nature of what we could pull off is incredible. To me it checks all the boxes of a great deal and a way to create value for our shareholders."
The deal, only the fifth-largest corporate merger of 2015, would certainly receive scrutiny from federal regulators, especially regarding the new companies' place in global agricultural production, including seeds, insecticides, and pesticides. The companies said their individual agrochemical operations have scant overlap, and asset sales that would result from the merger should be minor.
"This transaction is a game-changer for our industry and reflects the culmination of a vision we have had for more than a decade to bring together these two powerful innovation and material science leaders," Liveris said in a statement.
The creation of the three entities would likely take at least 18 months after the deal is finalized, Reuters reported. By revenue, the material sciences company – which makes products for the packaging, transportation, and infrastructure industries, to name a few – will be the largest. Its combined revenue in 2014 was around $51 billion on an adjusted basis. It will compete with the likes of corporate titans BASF, Honeywell, and 3M.
The specialty products company, with a combined revenue of $13 billion in 2014, would sell materials to the electronics and communications industries, among others.
The agriculture company, focusing on seeds and chemicals, would have a combined adjusted revenue of $19 billion, overtaking BASF as the leader in agrochemicals. In the seed industry, DowDupont is pitted against behemoth Monsanto Co., which has thus far failed to convince another agriculture giant, Syngenta AG, to agree to a merger. Monsanto's $45-billion offer for Swiss-based Syngenta was dropped in August.
"The biggest impact will certainly be in the agriculture market, where the seeds and crop chemical industries are to undergo rapid consolidation," SunTrust Robinson Humphrey analyst James Sheehan told Reuters.
Antitrust regulators may look favorably on the deal given the three-way split, but, ultimately, must determine how the merger will affect competition among various markets involved. The agriculture sector will likely receive the most scrutiny.
"The (seed) market is already dominated by Monsanto. You're almost creating duopoly in the market, and that's a problem," Diana Moss, president of the American Antitrust Institute, told Reuters.
The Pesticide Action Network calls Dow, Dupont, BASF, Monsanto, Syngenta, and Bayer the 'Big 6' of the seed, pesticide, and biotechnology industries. The companies "have historically unprecedented power over world agriculture, enabling them to control the agricultural research agenda, heavily influence trade and agricultural agreements and subvert market competition," the organization says.
Prior to the merger, Dupont said in a statement it will slash $700 million in costs, with ten percent of its workforce "impacted" by the move, while Dow is expected to drop $300 million in costs.
While the merger would represent the 18th largest corporate deal of all-time, according to Dealogic, it would trail the 2015 deals made by Allergan and Pfizer; Anheuser-Busch InBev and SABMiller; BG Group and Royal Dutch Shell; and Time Warner Cable and Charter Communications.
Dow and Dupont have a combined annual revenue of around $83 billion, with operating profit of about $15 billion.
Dupont and Dow Chemical have long been criticized for their track records regarding environmental stewardship. For decades, Dupont refused to take responsibility for toxic pollutants spilled into the Ohio River, it has been alleged in federal court. In October, a West Virginia woman was awarded $1.6 million after it was determined that Dupont chemicals contaminated water supply, contributing to her kidney cancer. The company has also received scrutiny of its release of perfluorooctanoic acid (PFOA), used to make non-stick products like Teflon cookware. The American Cancer Society said the chemical causes higher risks of bladder and kidney cancers in those with workplace exposure to it.
READ MORE: 25,000 killed, 500,000 poisoned: Bhopal demands justice 30 yrs after world's worst chem disaster
Dow was responsible for producing napalm, the chemical used by the US military to devastate populations in Vietnam. Its subsidiary, Union Carbide, was responsible for the deaths of thousands in Bhopal, India, in 1984 following a massive leak of a chemical used to make pesticide. Dow continues to refuse to clean the site or to fund medical initiatives to address the spill's ongoing aftermath, the company's critics say.
You can share this story on social media: