25,000 killed, 500,000 poisoned: Bhopal demands justice 30 yrs after world's worst chem disaster
Hundreds have marched through the city of Bhopal on the 30th anniversary of the world's deadliest industrial disaster. People are demanding stricter punishments for those responsible and bigger compensation payments for those affected.
The protest march, which took place Wednesday, was preceded by a torch rally on the eve of the anniversary. Participants held pictures of victims and burned effigies of US corporation Dow Chemical.

In the early hours of December 3, 1984, 40 tons of toxic methyl isocyanate gas spewed out from the Bhopal pesticide factory and spread across the city, killing many thousands.

The government's official death toll is 5,295, but activists say it's actually five times higher. More than 500,000 had their health affected as a result of the massive gas leak. Cancer, blindness, respiratory difficulties and immune and neurological disorders have been cited among contamination-caused diseases.

"Everything was destroyed," Ram Pyari, a Bhopal victim, recalls the day of the tragedy in an interview to AP. "And my sons and my daughter-in-law died, my leg was amputated. I have to drag myself. These killers did not heed anything. Why are they not brought to court? Why are they not hanged?"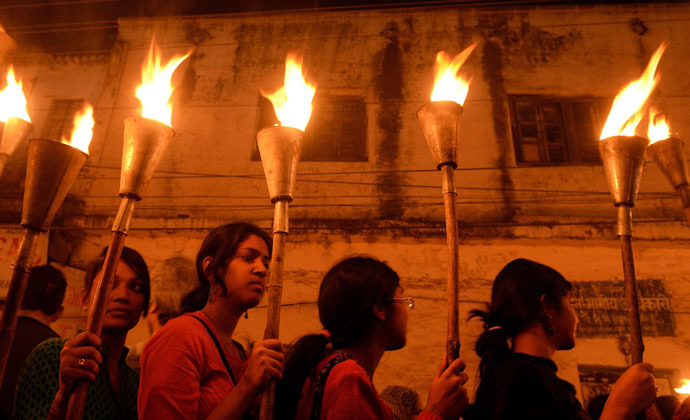 "We lost our children, we lost our husbands, we lost our mothers, we lost our fathers, yet we have been ignored by the government and cheated by the corporate for the last thirty years. Their treatment has been shameful," another survivor, 70-year-old Kamla Bhai, told Reuters.

The pesticide plant was run by US company Union Carbide. Five years after the tragedy it agreed to pay $470 million in compensation to the survivors, who have seen the sum as too insignificant to cover the damage done.

In 2001 Union Carbide was taken over by Dow Chemical, which claims it's not liable for the gas leak.

Human rights groups do not agree.

"The time has come to bring Dow and Carbide to justice. No more hiding behind share ownership and legal loopholes," said Salil Shetty, Secretary-General of Amnesty International, as cited by Reuters.

"The double standards are outrageous. If the same disaster had been caused by an Indian company on US soil, there is no way they would have got away with it."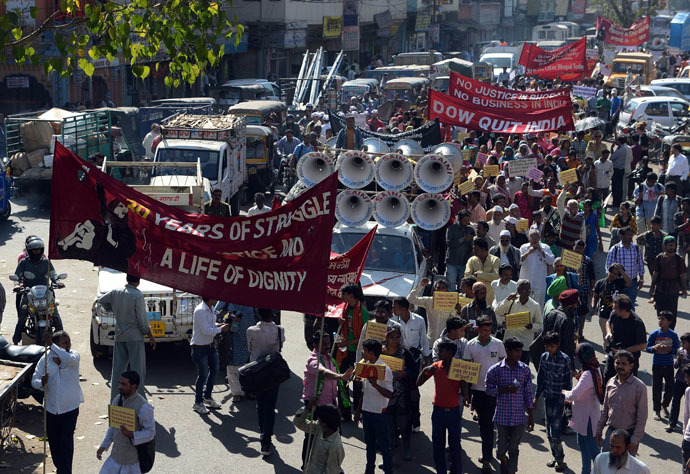 In the aftermath of the tragedy several Union Carbide were charged with homicide, but they were bailed out and flown back to the United States, thus escaping trial.

Seven Indian nationals from the plant's management were tried over the disaster, but a 1996 court judgment diluted charges against them from culpable homicide to criminal negligence. They were found guilty and sentenced to two-year terms for the disaster.

In 2011, India's top court refused to reopen the case against them, despite a public outcry.

Indian authorities have paid out 40 billion rupees ($650 million) in compensation to 575,000 people identified by the Supreme Court as being affected by the disaster, built six state-of-the art hospitals and provided houses for many victims.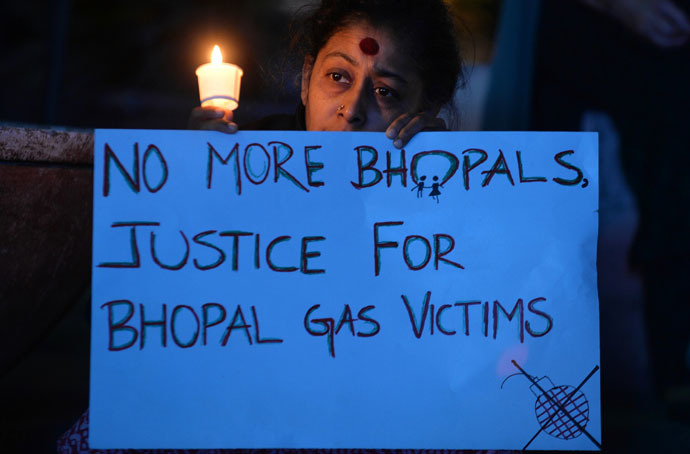 The site of the disaster has never been properly cleaned, however. The waste buried by the company in and near the plant has leaked into the ground, poisoning drinking water for thousands of people living nearby.

The contamination is believed to have led to a large number of children with disabilities being born in Bhopal.
READ MORE: Bhopal victims stage own 'Olympics' to protest Dow sponsorship (VIDEO, PHOTOS)
"What is most pronounced is the number of children with birth defects," Bhopal Medical Appeal activist Satinath Sarangi told Reuters. "Children are born with conditions such as twisted limbs, brain damage, musculoskeletal disorders."

Safety at factories in India is still a major problem 30 years after the Bhopal disaster.

India has all the right laws for hazardous waste management and industrial disasters, but compliance leaves much to be desired, according to a recent study by Delhi-based think-tank the Centre for Science and Environment.

On Saturday, 44 people were affected by a chlorine gas leak from a chemical factory in the town of Mandideep, near Bhopal.