Indian Supreme Court rejects plea to review Bhopal disaster sentences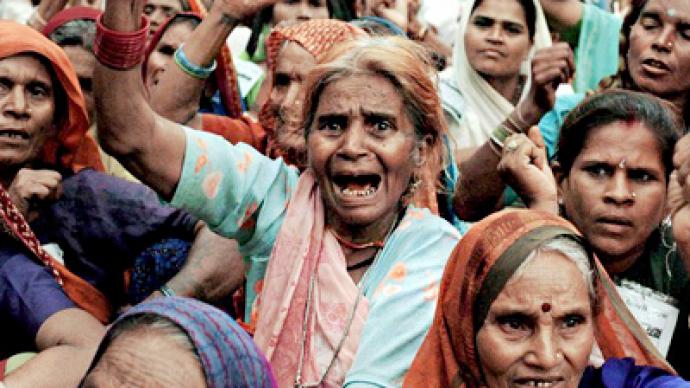 India's top court has refused to reopen the case against seven former company officials convicted over the Bhopal gas tragedy, following a government demand that more serious charges with harsher sentences be considered.
The toxic chemical leak, which happened in 1984 at the plant owned by the US Union Carbide Corporation, resulted in thousands of deaths and hundreds of thousands of people injured.Seven Indian nationals from the plant's management were tried over the disaster.A court judgment in 1996 diluted charges against them from culpable homicide to criminal negligence. In 2010, they were found guilty and sentenced to two-year terms for the disaster. All were released on bail shortly after the verdict.After the public outcry over the mild sentence, the Indian Central Bureau of Investigation (CBI) pledged to review the case. They petitioned to review the 1996 ruling and enhance the charges. If it had been backed by the court, it would have resulted in a retrial and possible harsher punishment for the former managers.The petition, however, was turned down by the bench of five Supreme Court judges on Wednesday. The Bhopal survivors and activists slammed the CBI for being slow with their plea, which came more than a decade after the judgment.The release of gas stored at the Union Carbide plant is believed to have been caused by poor maintenance and violation of safety practices, with the apparent goal of saving money.The consequences of the Bhopal tragedy were worsened by the presence of slums in the plant's vicinity, lack of emergency evacuation plans and other shortcomings.The estimated number of victims varies greatly between different sources. Union Carbide estimated that 3,800 people were killed by the leak.The state-run Indian Council of Medical Research estimated the number of deaths at between 8,000 and 10,000 in the three days after the accident.Human rights group Amnesty International commissioned a study that showed 7,000 died within days and another 15,000 died later from exposure to the gas.The estimated number of victims who had permanent or temporary health problems related to the disaster range from 150,000 to 600,000 people.Former Union Carbide chief Warren Anderson, who is now in his 90s, is still wanted in India over his alleged part in the tragedy. However, the US refused to extradite him on Delhi's request.
The US rejected the extradition, saying it did not meet certain provisions of the shared extradition treaty.Activists in Bhopal say America must take more responsibility for the victims of the tragedy. Shana Blustein Ortman of the International Campaign for Justice in Bhopal says "The American government has been claiming that this is a closed case.""The US government needs to play a bigger role in providing justice and making sure that those United Carbide officials show up for criminal charges and show that the price of causing an environmental disaster in the US is not any higher than causing environmental disaster in India."
You can share this story on social media: