​DuPont chemical leak kills 4, alerts residents in Texas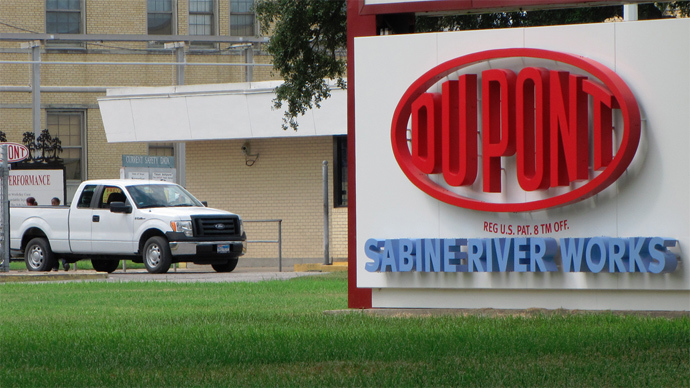 Four DuPont employees were killed and another injured when a toxic chemical was spilled at its plant in La Porte, Texas, on Saturday morning. Residents of the city complained of a persistent "funny smell" after the incident.
The company would not immediately identify the victims of the spill. The emergency started at around 4 a.m. local time. It took repair crews two hours to replace a ruptured valve in the crop protection unit and contain the chemical. The confirmation of fatalities was released 12 hours after the incident.
The chemical spilled was methyl mercaptan, or methanethiol, which is used to make feed stock for insecticides and fungicides. It is more commonly known for being added to naturally odorless propane and natural gas to give them a distinctive rotten egg smell, making leaks detectable. In high concentration it can cause headaches, dizziness, nausea, vomiting, coma, and death.
"Our thoughts and prayers are with the families of the employees," plant manager Randall Clements said in a statement. "There are no words to fully express the loss we feel or the concern and sympathy we extend to the families of the employees and their co-workers."
"We will continue to cooperate with all the local authorities, and make sure that we investigate this fully and we will find the cause of this, at this point, we don't know why this happened," he added.
The workers were exposed to the chemical as they responded to the leak. DuPont insists that at no time were people living in the vicinity of the plant in danger.
Local residents, however, complained of a foul odor on Saturday morning.
"We are used to funny smells around here, especially when the wind is out of the north," La Porte resident Dudley Crittendon told Click2Houston.com. "We thought something had died in the house. We started burning candles but it didn't go away."
La Porte is located in Harris County, about 20 miles east of Houston. DuPont's chemical plant employs 320 people. Four other companies are also tenants at the same complex, according to AP.
You can share this story on social media: