Mega-merger: Monsanto still seeks takeover of Syngenta, world's largest crop chemical company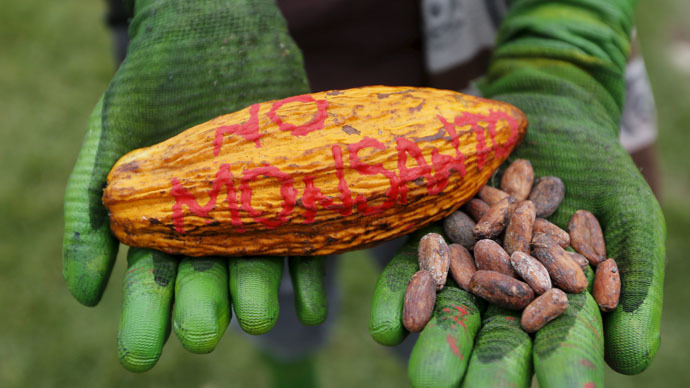 Transnational agrochemical and seed giant Monsanto has reiterated its desire to merge with fellow chemical-producing behemoth Syngenta, a company that has already rebuffed three previous purchase attempts by Monsanto.
Announcing unexpectedly positive third quarter earnings late last week, Monsanto said that it is still seeking ways to woo Switzerland-based Syngenta AG in the former's pursuit of a "corporate inversion," or a move overseas to the UK to avoid higher tax rates in the United States. Monsanto's unsolicited attempts to buy Syngenta at a price of $45 billion included a proposed $2 billion termination fee to be paid in the event an anti-trust regulator blocks the merger.
"Our proposal to combine with Syngenta is an exciting logical next step for our business, offering the opportunity to accelerate innovation and support a more diverse group of farmers around the world," Monsanto CEO Hugh Grant said in a statement, according to the Associated Press.
READ MORE: Monsanto fined $600k by EPA for uncontrolled releases of toxic chemicals
Under the plan, Monsanto investors would end up with a 70 percent holding in the UK company while investors in Syngenta would take the rest.
"A new parent company, domiciled in the UK, would demonstrate that our merger will create a new global enterprise … [and] provide additional synergies," Grant wrote in early June.
"We would also propose a new name for the combined company to reflect its unique global nature."
Syngenta released its own explanation of the proceedings in a video featured on its global website. Michel Demaré, chairman of Syngenta's board of directors, said the company has rejected Monsanto given the deal has not been in the best interest of Syngenta stakeholders given the risks and "inadequate price" offered by Monsanto.
The board of directors "unanimously concluded that the Monsanto proposal significantly undervalued Syngenta's prospects, but, as well, really underestimated the huge execution risk of this transaction, as well as the substantial damage that could occur to our integrated business," Demaré said.
"The second proposal, which came much later, was easier to a decision because it was really a 'copy-paste' of the first proposal, so … the only difference was this break fee, which we did not think was appropriate as well."
In rejecting three Monsanto proposals, Syngenta has gone as far as to publish letters Monsanto sent to the company.
Syngenta is the world's largest crop chemical producer and Monsanto, known for its genetically-modified (GM) seed regime, makes Roundup, the popular glyphosate-based herbicide. In March, glyphosate was classified as "probably" carcinogenic to humans by a branch of the World Health Organization.
READ MORE: Monsanto lobbyist claims 'safe to drink a quart of pesticide' – but bolts when offered a glass (VIDEO)
As the most powerful multinational biotech corporation today, Monsanto has drawn the ire of farmers and consumers for its firm grip on the global food chain. The company's control and advancement of GMO seeds is of prime concern, as they symbolize the company's consolidation of agricultural processes. This consolidation has been blamed by some for a sharp spike in suicide rates among Indian farmers, many of whom could not afford to continue buying Monsanto's Ready Roundup seeds used in tandem with the company's herbicide.
Monsanto's track record has been scrutinized ever since it aided US warfare in Vietnam. Agent Orange was manufactured for the US Department of Defense primarily by Monsanto Corporation, the use of which is estimated to have killed and maimed around 400,000 while causing birth defects for 500,000 children.
Scientific studies have linked the chemicals in Monsanto's biocides to Parkinson's disease, Alzheimer's disease, autism, and cancer.
Biotech companies purport that GMOs are key to feeding the world's growing population, but this claim has been heavily contested. A recent report found that GMO "seed companies' investment in improving yields in already high-yielding areas does little to improve food security; it mainly helps line the pockets of seed and chemical companies, large-scale growers and producers of corn ethanol."
READ MORE: 'March Against Monsanto': Protest against GMO giant to roll in 38 countries this weekend
GMO crops and ingredients have been consumed in the US for more than two decades. Large amounts of corn, soybeans, and canola produced in the US are genetically engineered. As much as 75 percent of processed food made in the US contains GMO ingredients.
Monsanto first introduced glyphosate weed killers in 1974. GMO seeds have caused use of glyphosate to increase immensely since the 1990s, according to US Geological Survey data.
The effects of biochemicals on wildlife, including pollinators such as honeybees and monarch butterflies, are also a point of concern. For instance, since 1990, about 970 million of the butterflies – 90 percent of the total population – have vanished across the United States, according to the US Fish and Wildlife Service. At least part of the blame rests on the boom in Roundup use. Roundup, the herbicide marketed to farmers and homeowners as an effective method for eliminating plants like milkweed, is widely blamed for decimating the butterflies' only source of food in the Midwest.
In the European Union, suspicions that neonicotinoids pesticides are responsible for mass deaths among honeybees have led to bans on such chemicals.
You can share this story on social media: