Colombia plans to eradicate Monsanto weed killer in drug war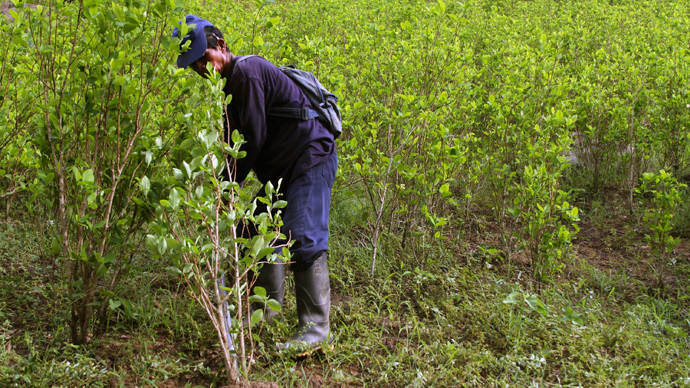 ​Colombia is planning to ban the use of a controversial herbicide supplied to the South American country by US agrochemical giant Monsanto to battle illegal coca fields, over fears of health hazards and collateral damage to legal farmlands.
For decades, Colombia used US contractors to spray a popular weed killer, known as RoundUp over more than four million acres of land to control the illegal growth of cocoa leaves used in the production of cocaine that ultimately hit US market. Aerial fumigations targeted illegal plantations that were often used by the rebels of the Revolutionary Armed Forces of Colombia (FARC) to sponsor their fight against the central government in Bogota.
But with FARC's influence and threat steadily diminishing in the country over the last few years, the government has now been weighing up the health and environmental hazards of continual use of Monsanto's product.
"I am going to ask the government officials in the National Drug Council at their next meeting to suspend glyphosate spraying of illicit cultivations," said Colombian President Juan Manuel Santos.
Santos' concern follows a report released by the World Health Organization earlier this year which claimed that the active ingredient in the world's most widely-used Roundup herbicide is "probably" carcinogenic to humans.
READ MORE: Too 'dramatic': Monsanto shuns WHO verdict that Roundup 'probably' causes cancer
"The recommendations and studies reviewed by the Ministry of Health show clearly that yes, this risk exists," Santos said in regards to the WHO report.
The president called for new strategies to combat illegal cultivation that are more effective and cause less harm to the environment and public health. Santos said defense and health officials should agree on a transition period, before applying new methods of cocoa eradication.
Colombian officials now have until October to come up with a new strategy of tackling coca growth. However Colombia's ex-president and opposition leader Alvaro Uribe already criticised the decision as "offering no replacement."
The US was instrumental in coming to the rescue of Colombia's drug eradication program that began in 1994. The result of using the aerial fumigation was impressive. Between 2001 and 2013, the coca cultivated land in Colombia has decreased from 345,000 acres to about 118,000 acres at an estimated cost of over $2bn.
But glyphosate fumigation is also responsible for destroying huge swathes of land used by Afro-Colombians and indigenous people for legal farming, as well as contaminating water and ruining soil fertility.