First Freddie Gray trial begins in Baltimore as demoralized police prepare for potential riots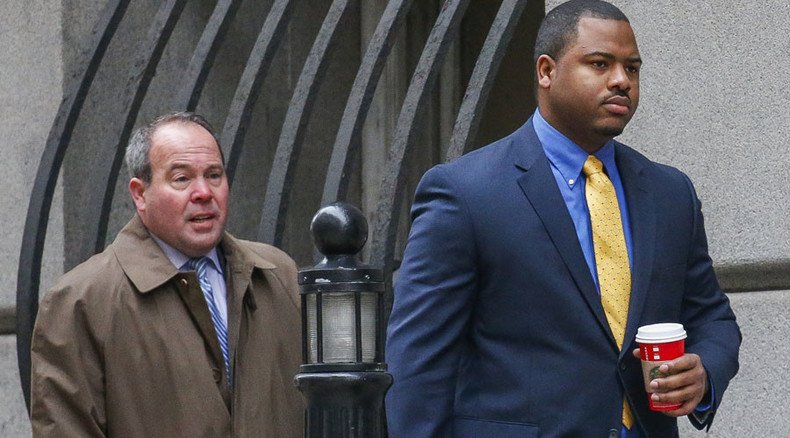 The trial for the first of six Maryland police officers charged in the in-custody death of Freddie Gray has begun with jury selection. Officer William Porter, 26, faces charges of involuntary manslaughter, second-degree assault and misconduct in office.
"This is a different day for Baltimore citizens, to have police go to trial," Tessa Hill-Alston, the local NAACP's chapter president, told the Baltimore Sun. "This is a monumental thing."
Porter was not one of the three officers who initially arrested Gray, a 25-year-old man who ran from police after making eye contact with a bike cop on April 12. The 26-year-old officer was along for the 45-minute ride in a police transport van that made several stops between the arrest and arriving at the station, and is accused of failing to get medical assistance for Gray during those stops, despite pleas from the prisoner that he needed help and couldn't breathe. Gray suffered a severe spinal-cord injury and died a week after his arrest.
On May 1, six days after the city exploded into riots, Maryland State's Attorney Marilyn J. Mosby announced criminal charges against all six police officers involved in the arrest of Gray, which she declared "a homicide" and "an illegal arrest."
Jury selection in Porter's trial began Monday, with the second of the six trials set to begin in a month.
Jury
In a September pretrial hearing, Baltimore City Circuit Court Judge Barry G. Williams denied a defense motion to move the proceedings to another Maryland jurisdiction, saying in his ruling that it was wrong to "assume [jurors] cannot be fair" without going through the voir dire process. He added that he was not convinced that the intense media coverage of the case and the April riots had influenced Baltimore's citizens because the coverage had been "local, state, national, international."
Williams has said he expects to question 75 to 80 potential jurors during the preliminary examinations, known as voir dire, on Monday. The process, which could take several days, will yield a jury of 12, with as many as four alternate jurors, the Baltimore Sun reported.
Mayor Stephanie Rawlings-Blake said she is confident Porter can get a fair trial in Baltimore.
"This is a very tough time for our city," she told the Sun. "I trust the judge that has been assigned to this case. He understands what justice is, what fairness is. I know he will uphold the highest standards."
Baltimore area civil rights activists also noted the importance of Porter receiving a fair and impartial trial in Baltimore.
"We just want fairness and justice for Freddie Gray in a legal, calm way, and the courtroom is where it's happening," Hill-Alston said.
At the beginning of September, the city government approved a $6.4 million wrongful-death settlement with Gray's family, even though they had not yet filed a lawsuit. Defense lawyers have argued that the settlement, even though it specifically did not admit liability on the part of the Baltimore police officers, would affect their ability to receive fair trials.
Williams has left open the possibility of moving the trial out of the city if an impartial jury cannot be seated. Once the anonymous panel has been selected, the trial is expected to last for weeks, not days.
Defendant
Porter, a black Baltimore native, has been on the city's police force since 2012. He is expected to take the stand in his trial, and is being tried first in part because prosecutors want to use him as a witness in the trials of several of the other officers, AP reported. At the beginning of September, Williams ruled that the six officers will be tried separately and consecutively.
Gray was known to police officers because "he was a drug dealer. I don't know why people make him into a celebrity," local resident Anthony Hughes told the Sun earlier in November. Nicknamed 'Pepper', Gray was struggling to break away from his life as a dealer on West Baltimore's corners.
Porter indicated he was told of a previous arrest in which he was told Gray tried to kick out windows of a police vehicle.
"You know, so he was always, always, like, banging around," Porter said in the statement excerpted in the filing. "It was always a big scene whenever you attempted to arrest Freddie Gray."
Despite Gray's previous run-ins with the law, prosecutors argue that Porter should have sought medical attention when Gray requested it. The 26-year-old officer told investigating detectives that he was not sure whether Gray was faking his injury.
Porter has pleaded not guilty, along with the five other officers involved in the arrest.
Judge
Before becoming a judge in Baltimore, Williams investigated and prosecuted police misconduct cases across the country for the federal government. In July, defense attorneys accused prosecutors of "judge-shopping" ‒ a method used by attorneys when filing the same lawsuit with several judges in order to get the judge of their choice, described by US Legal as reprehensible but not illegal. However, the claims appear to be linked to a rejected search warrant, rather than Williams' past career.
Douglas Molloy, a former federal prosecutor in Florida who worked on a police misconduct case with Williams in 2004, told the Sun that Williams was the best fit to hear the trials for the six officers charged in Gray's death.
"His expertise in all aspects of investigating, prosecuting these kinds of cases is certainly an advantage," Molloy said. "I don't know anybody better suited for this trial."
However, one of the people Williams prosecuted, former Washington, DC, police officer Lawrence Holland, told the Sun that if he were a defendant in the Gray case, "I'd want to move my trial" to another judge. He believes that Williams was overzealous in his case, when he was prosecuted three times before pleading guilty in 2001.
Outcome
The verdict in Porter's trial is likely to lead to major consequences in Baltimore: If he is acquitted there could be protests and possibly more unrest like those that devastated the western and poorer parts of the city at the end of April.
The trial will "make or break" the city, community activist Duane "Shorty" Davis told AP.
"If it doesn't go over well, what will Christmas be like? They'll shut things down," he said. "If we have more riots, who will feel safe? The world is watching Baltimore."
Yet a conviction could send shockwaves through the city's already demoralized police force, which saw its police commissioner fired in July and replaced by his second-in-command over protests from local residents.
"Everything is at stake. The future of the city is at stake," said Baltimore Police Commissioner Kevin Davis, according to AP.
The city government is hopeful for the best but preparing for the worst when it comes to the outcome of Porter's trial.
"There's definitely a lot of pressure but it's hard to say what's at stake. I know what's important: that we have order in the city," Rawlings-Blake told AP.
"We're having constant conversations and planning sessions," she told the Sun. "The police have set up a joint information center. We've set up protocols for surrounding jurisdictions. We're ready."
Rawlings-Blake said police are monitoring social media and talking with community leaders.
"We're vigilant," she said. "Community members certainly don't want the city to erupt in violence again. We're listening."
Baltimore is still recovering from the April riots. The cost of the damage is estimated to be at least $20 million, the Sun reported. In June, the Federal Emergency Management Agency denied Baltimore's request for federal disaster relief funds as "not appropriate for this event."
You can share this story on social media: