16 arrested at sit-in against Baltimore's police chief appointment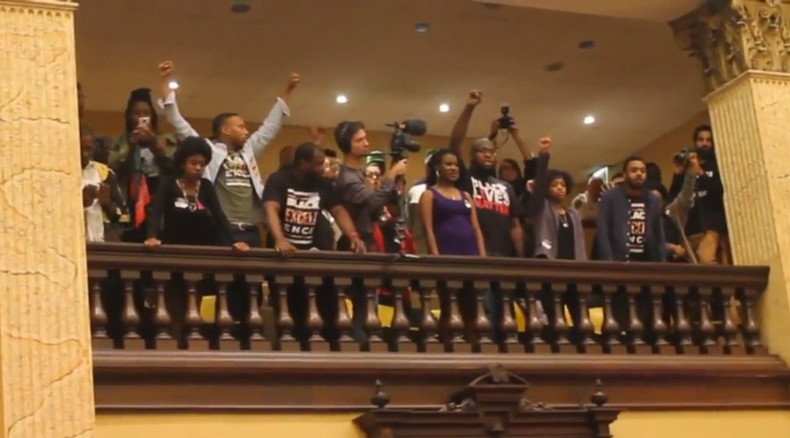 An overnight sit-in in Baltimore's City Hall ended in multiple arrests, after activists refused to leave voluntarily. The protesters oppose the confirmation of interim Commissioner Kevin Davis, who led the city's police force since Freddie Gray's death.
Members of a City Council subcommittee voted 3-2 in favor of appointing Davis, who will be paid $200,000 per year to serve in the role until 2020.
After hearing of the decision, a rump of the demonstrators, who had gathered at City Hall earlier on Wednesday in a bid to postpone the hearing, decided to remain in the building, chanting "All night, all day, we will fight for Freddie Gray!" and "No justice! No peace!"
Police cajoled some of the group to vacate the premises, but as the clock ticked past 4 a.m. more than two dozen policemen surrounded and began to arrest the activists who wouldn't go home.
"The remaining protesters refused to leave the building. As a direct result of their failure to comply, the remaining protesters have been arrested and charged with trespassing. There are no reported injuries at this time to any protesters or officers," said a police statement.
There were three juveniles among the 16 detained, who were between the ages of 16 and 38.
Representing Baltimore Uprising, a coalition of local community groups, the demonstrators had demanded a list of 19 conditions for the approval of the new Commissioner.
Among them is provision of safe spaces for protest, a ban on militarized policing, other than in extreme circumstances, and a requirement for officers to wear identifying badges at all times.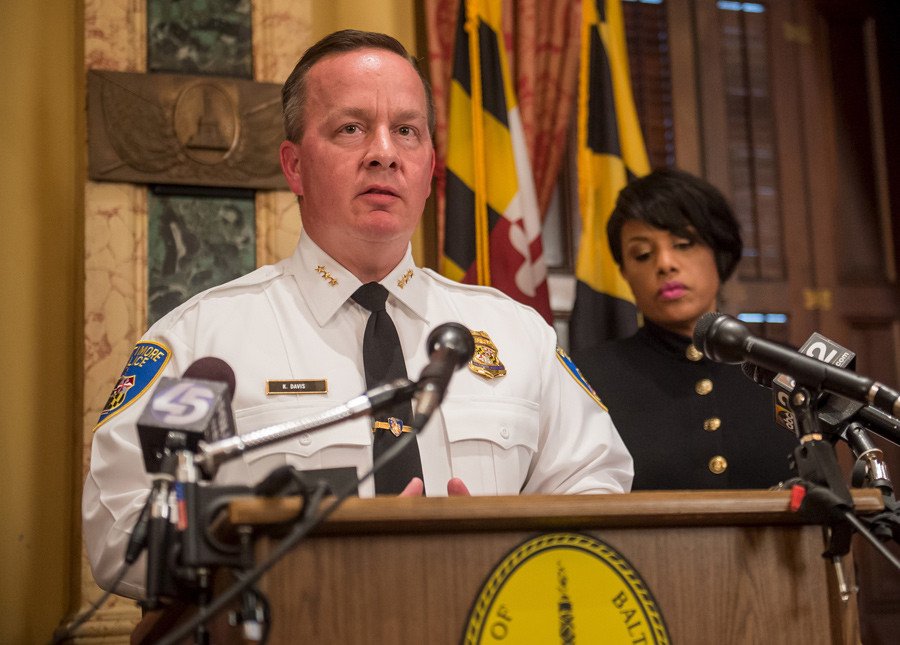 Davis has failed to convince activists in the three months he has been in charge.
"It is clear that since Kevin Davis took office as interim Police Commissioner there has been a heightened aggression from Law Enforcement towards protesters. Now the Mayor has nominated Kevin Davis to carry the full responsibilities as Commissioner. This is most troubling to community organizations and members as we exercise our First Amendment right to hold elected and appointed officials accountable for their actions," said a statement from the coalition.
Despite rancor surrounding his appointment, Davis, who has publicly advocated a more conciliatory "community" approach to policing, tried to strike a warmer tone, after being voted in.
"It's part of the whole process. It's not upsetting. It's part of where the city is right now. This is a unique time in the city's history," he told the media. "I respect and will fight for the right of Americans to peacefully protest."
The predominantly black city of Baltimore was plunged into chaos following the death of Freddie Gray, an African-American man with a history of petty crimes, of spinal injuries, while in police custody in April. The incident provoked days of riots and led to the replacement of Davis' predecessor Anthony W. Batts.
While six of the officers involved in detaining Gray are now on trial, the city continues a period of turbulence, with a murder rate that is at the highest level since the 1990s.
You can share this story on social media: