Freddie Gray's death ruled 'homicide', charges against all 6 officers involved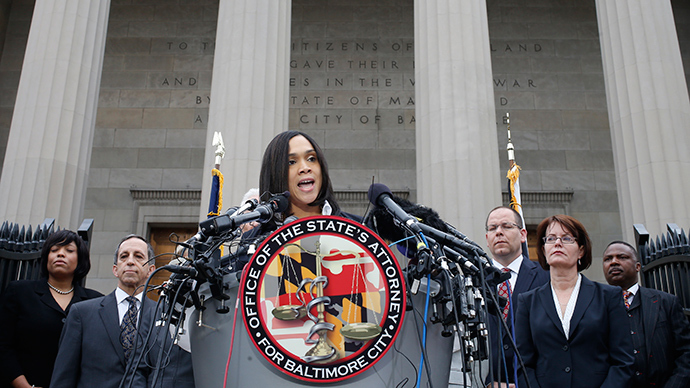 Maryland State's Attorney Marilyn J. Mosby announced criminal charges against all six police officers involved in the arrest of Freddie Gray, which she declared "a homicide" and "an illegal arrest." Five of the officers have been arrested.
"The findings of our comprehensive, thorough and independent investigation, coupled with the medical examiner's determination that Mr. Gray's death was a homicide ‒ which we received today ‒ has led us to believe that we have probably cause to file criminal charges," Mosby announced at a press conference on Friday morning.
"Warrants have been executed, and five officers are in custody," Mayor Stephanie Rawlings-Blake told reporters Friday afternoon.
"No one is above the law in our city. i was sickened and heartbroken at the reading of charges today," the mayor said. "Justice must apply to all of us equally."
After fleeing police on April 12, Gray was arrested and charged with carrying a switchblade knife, which is illegal in Baltimore City.
"The knife was not a switchblade and is lawful under Maryland law," Mosby said, contradicting the charging documents.
Mosby said that Gray was not secured in the van with a seatbelt, which is against police regulations, and he was handcuffed and placed in leg irons. This led to his injuries, according to the investigation. During one of the stops police officers checked on Gray, saw that he was unresponsive, but failed to take any actions to assist him.
"Gray suffered a severe and critical neck injury as a result of being handcuffed, shackled by his feet and unrestrained inside of the BPD wagon," Mosby said. He had been placed "on his stomach, head first onto the floor of the wagon."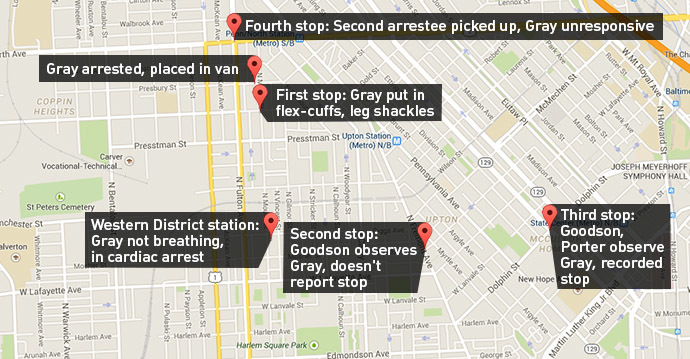 Despite pleading for a medic during the third stop of his transport ride, neither of the two officers observing Gray called for medical assistance. By the fourth stop, where another detainee was picked up, Gray's "seriously deteriorating medical condition" had rendered him unresponsive. Still none of the officers ‒ including the police sergeant assigned to investigate two citizen complaints pertaining to Gray's arrest ‒ requested medical help.
"The manner of death deemed a homicide by the Maryland state medical examiner is believed to be the result of a fatal injury that occurred while Mr. Gray was unrestrained by a seatbelt while in the custody of the Baltimore Police Department wagon," Mosby said.
Officer Caesar Goodson, 45, who drove the van, is charged with second-degree depraved heart murder, involuntary manslaughter, second-degree negligent assault, manslaughter by vehicle by means of gross negligence, manslaughter by vehicle by means of criminal negligence, misconduct in office for failure to secure a prisoner, and failure to render aid.
Officer William Porter, 25, is being charged with involuntary manslaughter, assault in the second degree and misconduct in office.
Baltimore State's Attorney says officers illegally arrested Freddie Gray. pic.twitter.com/RfDWOVk2Q1

— Will Carr (@WillCarrFNC) May 1, 2015
Lieutenant Brian Rice, 41, who led the chase of Gray, is being charged with involuntary manslaughter, assault in the second degree, misconduct in office and false imprisonment.
Officers Edward Nero, 29, and Garrett Miller, 26, are being charged with assault in the second degree ‒ intentional; assault in the second degree ‒ negligent; misconduct in office; and false imprisonment.
Sergeant Alicia White, 30, is being charged with involuntary manslaughter, second degree assault and misconduct in office.
"A warrant has been issued for their arrests," Mosby told reporters. "We filed the statement of charges this morning at about 9:30, 10 o'clock this morning."
She would not comment on whether any of the officers had been arrested yet.
Six #Baltimore police officers charged in "homicide" of #FreddieGrayhttp://t.co/csiyHj0v5Kpic.twitter.com/tu3avcZPOA

— RT America (@RT_America) May 1, 2015
"While I am committed to transparency, what I have revealed here today is now a matter of public record. However, the evidence that we have collected and continue to collect cannot ethically be released to the public," Mosby said when she finished reading the charges she had filed.
"I strongly condemn anyone in law enforcement with access to trial evidence who has leaked information prior to the resolution of this case," she added. "You are only damaging our ability to conduct a fair and impartial process for all parties involved."
Mosby also called for calm in Baltimore of the wake of her announcement.
"I heard your call for 'no justice, no peace," she said. "Your peace is sincerely needed as I work to deliver justice on behalf of this young man."
You can share this story on social media: