Justice Dept. investigating death of man killed in Baltimore PD's custody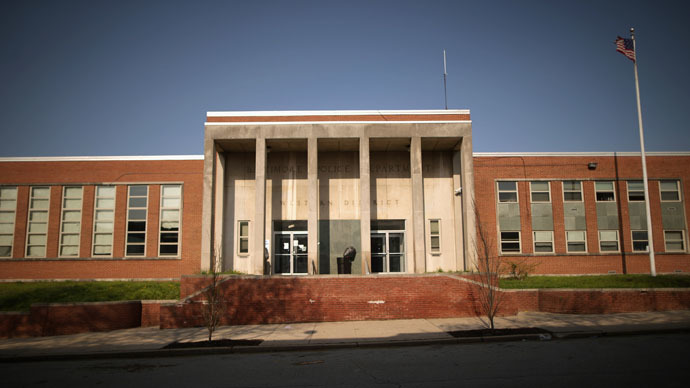 The US Department of Justice announced on Tuesday that it is opening a federal civil rights investigation into the death of Freddie Gray. The Baltimore man who died after his spine was severed while he was being held in police custody.
Gray was arrested by multiple police officers on April 12 after reportedly making eye contact with the police. Law enforcement officers said the 25-year-old began running away from police in an area known for drug activity. He was detained and placed in a police van, where he suffered a serious spinal cord injury.
After arriving at a hospital for treatment, Gray fell into a coma and died on April 19.
"The Department of Justice (DoJ) has been monitoring the developments in Baltimore, MD, regarding the death of Freddie Gray," an agency spokesperson told the Guardian in an email.
"Based on preliminary information, the Department of Justice has officially opened this matter and is gathering information to determine whether any prosecutable civil rights violation occurred."
DOJ spokesperson announces federal investigation into death of #FreddieGraypic.twitter.com/HUZLBnd0rw

— Ryan J. Reilly (@ryanjreilly) April 21, 2015
Gray's death has resulted in multiple protests in Baltimore, where local police have failed to explain how and why Gray was injured. The Baltimore Police Department is also conducting an investigation into the incident, which is scheduled for completion next week. Results are expected by May 1.
"We know the injuries that Mr. Gray sustained. We know the final outcome of Mr. Gray…What we don't have at this point is how Mr. Gray sustained those injuries," Baltimore PD Deputy Commissioner Jerry Rodriguez said at a media briefing on Monday.
Rodriguez added Gray was able to breath and speak when he was first put into the police van. When he was taken out, he could not do either.
#freddiegray mother and father hold each other and cry at the spot their son was arrested. pic.twitter.com/Jipd9F3dPP

— Miguel Marquez (@miguelmarquez) April 21, 2015
News of the Justice Department investigation arrived only a few minutes after Maryland lawmakers urged the agency to probe the incident.
"Freddie Gray's family and the residents of the City of Baltimore deserve to know what happened to him while he was in police custody. We need answers," Sens. Barbara A. Mikulski and Ben Cardin and Reps. Elijah Cummings, Dutch Ruppersberger and John Sarbanes wrote in a letter to Attorney General Eric Holder, the Baltimore Sun reported.
"While we support the efforts of the ongoing review into the policies and procedures of the Baltimore Police Department by the Community Oriented Policing Services Office, we request that the Department of Justice open a federal criminal and civil rights investigation into the death of Baltimore resident Freddie Gray."
While supporters will welcome the probe, the Justice Department faces a difficult task if it has to potentially convict the officers of civil rights charges. The DOJ will have to prove beyond reasonable doubt that officers wilfully violated Gray's civil rights.
READ MORE: Baltimore still struggling for answers in death of Freddie Gray
The Baltimore PD suspended six officers involved in the incident with pay on Tuesday. They were identified as lieutenant Brian Rice, 41, sergeant Alicia White, 30, and police officers William Porter, 25, Garrett Miller, 26, Edward Nero, 29, and Caesar Goodson, 45.
"During transport to Western District via wagon transport, the defendant suffered a medical emergency and was immediately transported to Shock Trauma via [a] medic," Garrett Miller, the arresting officer, wrote in the police report.
The attorney representing Gray's family said the police had no reason to stop Gray, though law enforcement officers said the young man had a switchblade in his pocket.
"They've made concessions on lack of probable cause," attorney William Murphy told AP. "Running while black is not probable cause. Felony running doesn't exist, and you can't arrest someone for looking you in the eye."
Previously, Murphy said that Gray's spine had been 80 percent severed at his neck.