Baltimore police were not ready for Freddie Gray riots - report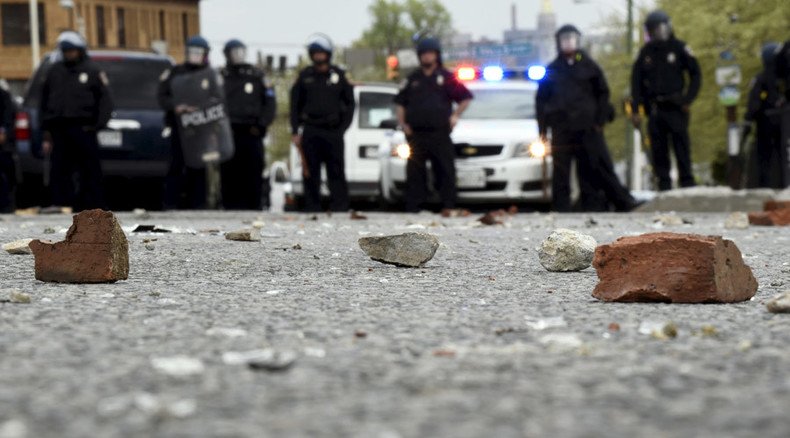 After the death of a Maryland man injured while in police custody, the Baltimore Police Department did not have a plan to handle civil unrest, had not trained for civil disturbances, and did not have proper gear for its officers, a new report says.
A 79-page report ‒ "Lessons Learned from the 2015 Civil Unrest in Baltimore" ‒ found "major shortcomings" in the department's response to unrest that peaked on April 27, the day of Freddie Gray's funeral. The 25-year-old died on April 19 from injuries sustained while in police custody.
The report, commissioned by the Baltimore PD and prepared by the Police Executive Research Forum (PERF), an independent law enforcement think tank, detailed a bevy of high-level decisions that went awry amid fast-moving action on the ground, as Baltimoreans ‒ furious over Gray's arrest and subsequent death and over the Baltimore PD's reaction to the events ‒ rioted around the city.
The study offered 56 recommendations that aim to improve personnel training, communication between Baltimore PD units, equipment inventory, mutual aid agreements with other police agencies and arrest policies for civil disturbances that are on the scale of April riots.
First and foremost, the probe found that Baltimore PD did not have a "Incident Action Plan" in place to deal with the unrest. The "operational plan" in place days before the unexpected rioting lacked vital details "such as the assignment of roles and responsibilities," PERF researchers found.
"The plan did not account for the possibility that the incident might last longer than a day or two," the PERF report said. "And one of the biggest problems with the [Baltimore PD's] operational plan was that many commanders and most patrol officers were not familiar with it."
Arrest policies during those volatile days in late April were also unclear. Officers were first told to take a "soft approach" regarding arrests, the report said. As protests turned more intense, commanders hesitated to change that policy without direction from superiors.
In addition, a lack of riot gear was part of the "soft" approach. Yet even if the Baltimore PD had wanted to offer its officers proper gear, it could not, the report found. Equipment was inferior or outdated, triggering an emergency order of nearly $2 million of modern police gear. Officers desperate for more equipment reported "raiding" the Baltimore PD's police training academy for supplies, the report said.
The Baltimore PD did not have sound mutual aid agreements with some police forces in surrounding jurisdictions, jeopardizing how outside officers could respond, the report detailed. City lawyers said Baltimore PD was "drafting contracts with some agencies as those agencies' officers were on the highway headed to Baltimore." What role those officers could play in tamping down any chaotic situations was unclear throughout the unrest.
The department's response, meanwhile, was hampered while its 10-person Analytical Intelligence Section, a room used to develop information to help the Baltimore PD allocate resources and anticipate issues, was packed with as many as 100 people eager to get involved, even though it is designed for no more than 40 people.
The "distracting" environment and lack of equipment proved too insurmountable for analysts, the report found.
"Overall the report confirmed many of our own critiques and offered valuable suggestions on ways we can address those issues," said Baltimore Police Commissioner Kevin Davis, who replaced Anthony Batts in that role. "We will continue to work toward insuring that we are properly prepared with any mobilization in the future."
Batts ordered the PERF report this summer, before he was fired by Baltimore Mayor Stephanie Rawlings-Blake.
The report's findings relate to concerns that are already being addressed by the city, said Rawlings-Blake, according to WMAR.
"Many of them, we have already shown improvement. Whether it is training, whether it is equipment, whether it is communication, whether it is coordination with our partners, we have taken steps to insure that Baltimore won't see another period of unrest like we had in April," the mayor said Monday.
Rawlings-Blake said those improvements were shown in September, during pretrial motion hearings in the Gray case. Better planning and tactics resulted in a limited number of arrests amid protests outside court proceedings, she said.
Davis said the report, the only investigation of the Gray riots that the city has endorsed, will help the Baltimore PD in the long-run.
"It is always important to reduce those observations and experience to an after action report and I hope it is another 47 years before someone has to dust this off, but we are ready now, we are prepared and the city is in a much better place," the police commissioner said.
The report did add that an "incident of this magnitude and duration would stress the resources of any police agency," and that police staff adjusted well as events unfolded. The "courage under pressure of countless [BPD] officers and supervisors should not be lost" despite the report's damning findings, it said.
The report is the second review of the Baltimore PD's actions during the April unrest. In July, the Fraternal Order of Police Lodge 3, a union that represents the 3,000 rank-and-file officers in Baltimore, said officers were not supplied with adequate equipment while their superiors' lack of clear instructions put them in danger.
The PERF report said that, amid recovery, the department must do what it can to protect citizens' First Amendment rights while officers engage in productive community policing.
"Doing so after the unrest may not be easy," it said, but "community relationships are important, especially in difficult times."
Gray's death sparked massive protests in the city and across the US. In Baltimore, unrest escalated into street violence that prompted the deployment of thousands of security troops and a week-long curfew.
While six of the officers involved in detaining Gray are now on trial, the city is still going through a difficult time, with the murder rate at the highest level since the 1990s. The city agreed in September to a $6.4 million wrongful death settlement with Gray's family, even before the officers' criminal trial had begun.
You can share this story on social media: