'Yoga for people of color' is racist – conservative radio host
Published time: 11 Oct, 2015 18:50
Edited time: 14 Nov, 2018 18:48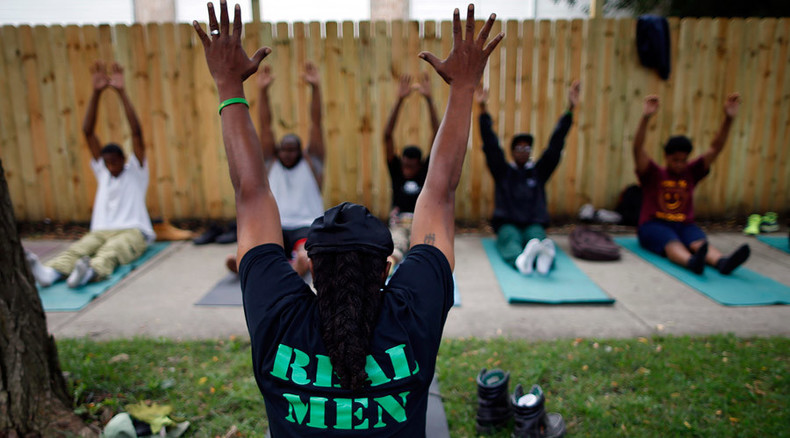 A Seattle yoga class offered to people of color as well as non-heteronormative and non-cisgender persons has gained the ire of a conservative radio host and on Twitter.
According to an email about the class, the once-a-month session specifically calls for participants who are "lesbian, bisexual, gay, queer and trans-friendly/affirming," as well as those who identify as "African American/black/of the African Diaspora, Asian, South Asian, West Asian/Arab/Middle Eastern, Pacific Islander, First Nations/Alaskan Native/Native American/Indigenous, Chican/Latin, or Multiracial/Mixed-Race."

The email, reported by MyNorthwest.com, added that "white friends, allies and partners are respectfully asked not to attend."

Dori Monson, host of The Dori Monson Show on KIRO Radio in Seattle, criticized the class, saying if white people chose to exclude others in this manner, they would be "vilified," whereas he believes the yoga class will be heralded as progressive.

"It would be a lead story on national news," he said, according to MyNorthwest.com. "It would be blared across all the websites about the racist yoga class in Seattle. And the fact is, this yoga class is every bit as racist as a bunch of white people who say they don't want to be around somebody of color. That's why I wouldn't want to attend either one of those classes ... The fact is, they are both racist."
#Seattle#Yoga class excludes white people... If it were the other way around, there would be outrage en mass.

— Al in the Afternoon (@ThisScaryWorld) October 9, 2015
T. W. is the co-founder of the class, which is held at Rainier Beach Yoga. She said it was founded by five queer people of color who wanted to create a safe space for those who might feel uncomfortable in other forums.

She told MyNorthwest.com that she's not sure what would happen if, say, a white man wanted to join the class.

"Well, it's a class for people of color, so he would be coming to that class knowing that we're really clear about who we are asking to come to class, so...I'm not really sure because it hasn't happened to us," Wang said. "So I don't really know."
READ MORE: SayHerName: Activists push to recognize black women victimized by police violence

Monson said he is interested to see if the state attorney general's office will comment on the yoga class after "using the power of government to go after the Christian florist in the Tri-Cities who didn't want to do the gay wedding ceremony."

In 2013, Washington state attorney general Bob Ferguson sued florist Barronelle Stutzman who refused to serve a gay customer based on her "relationship with Jesus Christ," which was ultimately deemed a violation of the state's anti-discrimination laws.

"Will (the attorney general's office) also go after the yoga studio that discriminates against people based on their skin color?" Monson asked.

There is currently no federal law prohibiting private business from discriminating against people based on their sexual orientation. Washington state does have one regarding public and private sectors, however.
READ MORE: School's out! Seattle teachers stage 1st strike in 30 years for higher pay

Like many US cities, Seattle has a long legacy of racial discrimination and segregation. In 2006, Washington governor Christine Gregoire signed into law a bill that allowed neighborhood associations to finally eradicate racial covenants, routinely added into Seattle homeowner deeds prior to 1948 to outline what races were allowed to live in a certain area.

Seattle police have been under federal scrutiny due to accusations of excessive force and discrimination against minorities. In 2011, the Black Law Enforcement Association of Washington accused the Seattle Police Department of racial discrimination. Last month, a Seattle police officer was fired for "sustained policy violations involving bias, abuse of police discretion, and escalation of a contact" after she arrested an elderly African-American man whom she erroneously alleged had swung a golf club at her.
READ MORE: Seattle 'riot': Police deploy flashbangs, tear gas against May Day marchers (VIDEOS)

In February, the Seattle Police Department was criticized for a seemingly wanton use of pepper spray on a crowd marching through the city on Martin Luther King Jr. Day, as RT reported. That officer only received an oral reprimand for the action, The Stranger reported this week.

In 2012, the US Department of Education opened an investigation into the Seattle school district's treatment of black students. At issue was the district's own data showing black students were disciplined differently than white students.

The Seattle school district was involved in a crucial Supreme Court decision in 2007 in which the Court denied the constitutionality of a plan by the school district to promote racial integration. In his dissenting opinion, Justice Stephen Breyer said the Court's decision "undermines (the Brown v. Board of Education decision's) promise of integrated primary and secondary education that local communities have sought to make a reality."
According to an email about the class, the once-a-month session specifically calls for participants who are "lesbian, bisexual, gay, queer and trans-friendly/affirming," as well as those who identify as "African American/black/of the African Diaspora, Asian, South Asian, West Asian/Arab/Middle Eastern, Pacific Islander, First Nations/Alaskan Native/Native American/Indigenous, Chican/Latin, or Multiracial/Mixed-Race."

The email, reported by MyNorthwest.com, added that "white friends, allies and partners are respectfully asked not to attend."

Dori Monson, host of The Dori Monson Show on KIRO Radio in Seattle, criticized the class, saying if white people chose to exclude others in this manner, they would be "vilified," whereas he believes the yoga class will be heralded as progressive.

"It would be a lead story on national news," he said, according to MyNorthwest.com. "It would be blared across all the websites about the racist yoga class in Seattle. And the fact is, this yoga class is every bit as racist as a bunch of white people who say they don't want to be around somebody of color. That's why I wouldn't want to attend either one of those classes ... The fact is, they are both racist."