#SayHerName: Activists push to recognize black women victimized by police violence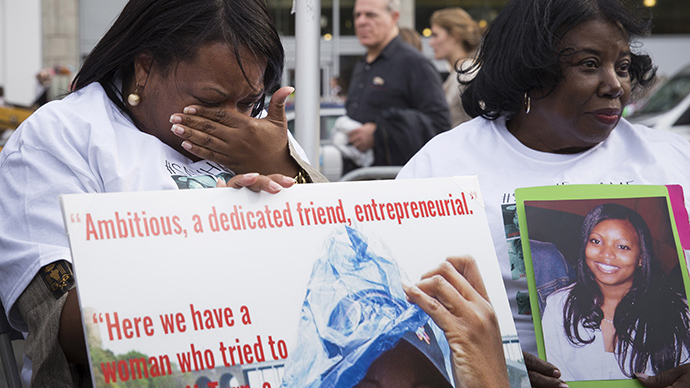 Much of the debate surrounding police behavior in the United States has revolved around fatal confrontations between unarmed black men and law enforcement, but a new movement wants to remind Americans that black women are also victims.
In order to do so, a new report was released Wednesday called 'Say Her Name: Resisting Police Brutality Against Black Women,' which documents cases in which black women have been killed, beaten or sexually assaulted by law enforcement. The report was authored by the African American Policy Forum (AAPF), the Center for Intersectionality and Social Policy Studies at Columbia University, and Andrea Ritchie, a Soros Justice Fellow and expert on women's experiences with police.
"Although Black women are routinely killed, raped and beaten by the police, their experiences are rarely foregrounded in popular understandings of police brutality," said Kimberle Williams Crenshaw, Director of the African American Policy Forum and co-author of the report, in a statement. "Yet, inclusion of Black women's experiences in social movements, media narratives and policy demands around policing and police brutality is critical to effectively combating racialized state violence for Black communities and other communities of color."
The group is using the hashtag #SayHerName to get its message out on social media.
On Wednesday, a vigil was held at New York City's Union Square, where dozens of people rallied, and relatives of women victimized by police brutality spoke about their experiences.
At vigil for black women killed at the hands of police in USA, msg that not just black men #sayhername#sabcnewspic.twitter.com/ufmtpPiUz7

— Sherwin Bryce-Pease (@sherwiebp) May 20, 2015
Meanwhile, a National Day of Action is planned for Thursday in numerous cities, including New York, Chicago, Detroit, Miami, and Seattle, organized by the Black Youth Project 100.
"All #BlackLivesMatter, and that means we uplift and fight for lasting justice for the families of victims of police violence," the group stated on its website. "We've joined Ferguson Action and Black Lives Matter to put out a national call for actions to end state violence against All Black Women and Girls."
Brother of #RekiaBoyd speaks before the crowd at #SayHerName, vigil for black women & girls killed by cops. NYC now. pic.twitter.com/0waVfyGTNe

— Keegan Stephan (@KeeganNYC) May 20, 2015
Several black women have already been lost to police, according to the AAPF. In April, Alexia Christian of Atlanta was shot and killed by police inside of a patrol car. Authorities said she stole a truck and managed to free one of her hands from handcuffs before shooting at the officers inside the car, but relatives and activists question the story.
Another incident mentioned in the report concerns an Oxnard, California woman who was shot in March after local police responded to calls regarding a domestic dispute. A mother of three, 26-year-old Meagan Hockaday reportedly ran at responding officers with a knife before being shot. An investigation into the incident has been announced.
TMRW: Join a nationwide #SayHerName action to highlight state violence targeting Black women & Black Trans people pic.twitter.com/itgOIBlZh6

— ColorOfChange.org (@ColorOfChange) May 20, 2015
"Black women are all too often unseen in the national conversation about racial profiling, police brutality, and lethal force," said Andrea Ritchie, who co-authored the report. "This report begins to shine a light on the ways that Black women are policed in ways that are similar to other members of our communities - whether it's police killings, 'stop and frisk,' 'broken windows policing,' or the 'war on drugs.'"
"It also pushes open the frame to include other forms and contexts of police violence - such as sexual assault by police, police abuse of pregnant women, profiling and abusive treatment of lesbian, bisexual, transgender and gender nonconforming Black women, and police brutality in the context of responses to violence - which bring Black women's experiences into even sharper focus."