Grannies protesting Shell's Arctic drilling arrested in Seattle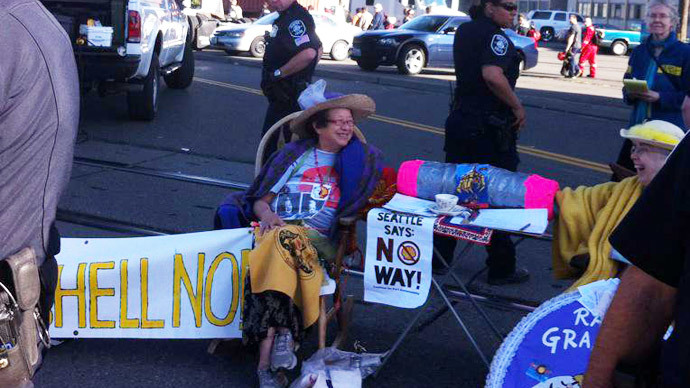 Police arrested six elderly women protesting Arctic drilling by Shell. They had chained themselves together in rocking chairs near Terminal Five in the Seattle port, where a 400-foot long oil rig is docked for the summer.
There was a number of other protesters in the area, but the group called the Seattle Raging Grannies got detained because police said they were blocking train tracks outside the terminal.
Protesters locked themselves together at Terminal 5 this morning including 5 Raging Grannies. http://t.co/Bk1e4KkUM4pic.twitter.com/Mb74Qjy5J1

— The Stranger (@strangerslog) June 9, 2015
According to their web page, the mission of Seattle Raging Grannies is to "promote global peace, justice, and social and economic equality by raising public awareness through the medium of song and humor."
This is probably the greatest PR moment for the environmental movement in the last five years. pic.twitter.com/8JiCrNvcwW

— Sydney Brownstone (@sydbrownstone) June 9, 2015
Other protesters chanted "Rock on Grannies," according to AP.
.@raginggrannies being cut out now. "Rock on Grannies!" #ShellNo#FloodTheSystempic.twitter.com/DDqUn3GYqf

— Portland Rising Tide (@pdxrisingtide) June 9, 2015
Protest have been going on for five days near the terminal where Polar Pioneer, a massive oil rig intended to conduct underwater drilling near Alaska, is docked.
Cynthia and Annette, fists in the air, being cut out. #ShellNo#FloodTheSystem .@RT_America .@propagandhi .@guardianpic.twitter.com/1L1HDpS2iZ

— Portland Rising Tide (@pdxrisingtide) June 9, 2015
"Shell only has until the end of June to make it up to the Arctic in time to drill this summer. We want to stop them from leaving," said Blaine Doherty, according to Komonews."We can't afford to let Shell drill in the Arctic if we want this planet to remain habitable."
There go the grannies (in the van). #Q13FOXpic.twitter.com/Pcaq3TC0UA

— Kelly O'Connell (@kellymoconnell) June 9, 2015
Activists have been picketing the harbor for weeks, objecting to the Polar Pioneer "manspreading" in the public waterway.
READ MORE: 'Shell no!' Seattle kayaktivist fleet protests Arctic drilling
Last month, Seattle city authorities said that the contract between the Port of Seattle and the contractor representing Royal Dutch Shell PLC violated the land use permit for the port's Terminal 5, sending a signal to the oil giant that its Arctic drilling fleet was not welcome in Seattle.
"Things like oil trains and coal trains and oil-drilling rigs are the past," Mayor Ed Murray said at an environmentalist group fundraiser. "It's time to focus on the economy of the future. Clean energy, electric cars and transit, green homes and an environmentally progressive business community."