Seattle sacks cop who arrested black Air Force vet using golf club as cane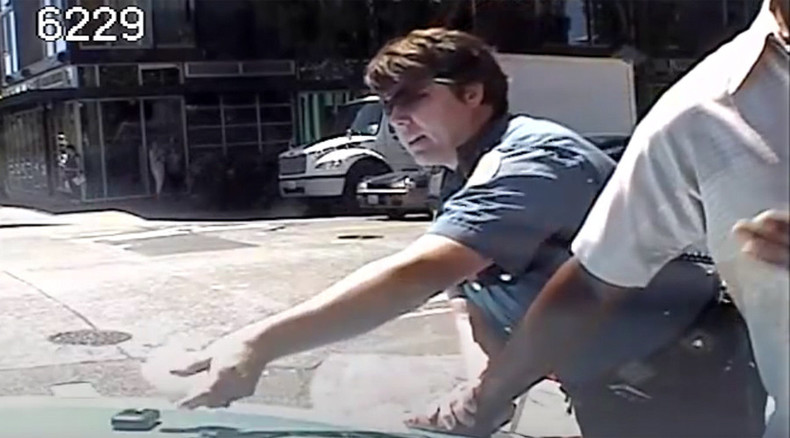 The officer who arrested a black veteran for using a golf club as a walking cane has been fired, Seattle police announced. Officer Whitlatch claimed the senior swung the club at her, but video of the arrest showed no such thing.
William Wingate, 70, has sued the department for wrongful arrest, asking for damages of more than $750,000. An Air Force veteran and retired bus driver, Wingate said he had used the golf club as a cane for twenty years, and that the police targeted him for "walking in Seattle while black."
"Officer Cynthia Whitlatch was served today with a termination notice for sustained policy violations involving bias, abuse of police discretion, and escalation of a contact on July 9, 2014," Seattle police said in a statement. Police chief Kathleen O'Toole also sent a letter to Mayor Ed Murray, informing him of the findings.
Seattle police have been under federal scrutiny over accusations of excessive force and discrimination against minorities.
Initially the Seattle PD argued there was no racial bias in the arrest, noting that Whitlatch had not been disciplined for behavior in the past. "The officer who made the arrest received counseling from her supervisor, a course of action that the department believes to be an appropriate resolution," the police had said in a statement.
After the dashboard camera video of Wingate's arrest was released this January, however, the Office of Professional Accountability launched an investigation into Whitlatch's actions. The video shows Wingate calmly standing on the street corner, and the police yelling at him to drop it because "it is a weapon." After refusing to do so, Wingate was arrested. The last portion of the video shows him handcuffed in the back of the police wagon.
At one point during their verbal exchange, Whitlatch accused Wingate of "swinging" the golf club at her. Nothing of the sort can be seen on the recording, however.
Wingate himself said he could not know for sure that he was racially profiled, but it certainly looked like it.
"I know one thing," he said. "I'm a black man walking down the street doing nothing and I got stopped and went to jail by a white police officer."
Seattle PD eventually dropped all charges against Wingate, issued an apology, and gave him back the confiscated golf club.