'No drone zones', censored selfie sticks and other outlawed objects during Pope's US tour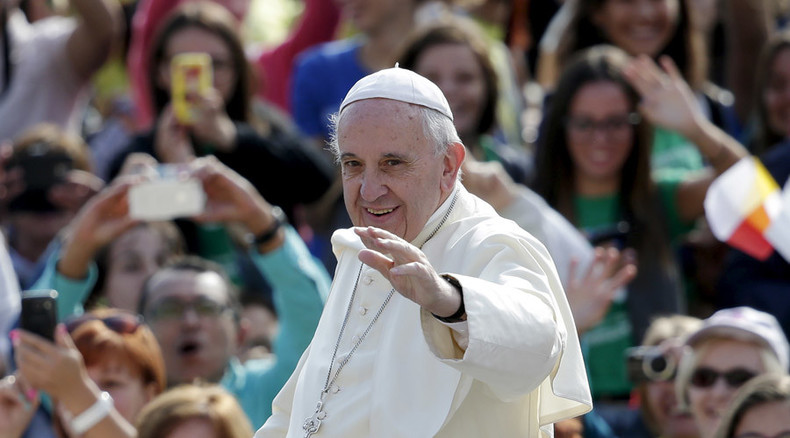 Papal pilgrims must leave their drones, selfie sticks and myriad other banned items at home when attending the pontiff's events in New York, Pennsylvania and Washington, DC next week. Even politicians are being warned to be on their best behavior.
Pope Francis will make his first trip to the United States next week, arriving in the nation's capital on Tuesday. He will spend three days in the District before heading to New York City for two days, then to Philadelphia for his last two days in the US.
Leaders of the three cities have described their security precautions as unprecedented.
"We've never seen anything like this before," New York Mayor Bill de Blasio said.
And with all that security comes a whole lot of rules. The federal government has banned numerous items from papal events ‒ especially drones.
"If you plan to attend any of the papal visit events, please leave your drone at home," Federal Aviation Administration head Michael Huerta said in a statement. "Anyone flying a drone within the designated restricted areas may be subject to civil and criminal charges."

Of course, the FAA has long designated much of Washington, DC as a "no drone zone."
Any unmanned aircraft, even remotely controlled model planes, are also banned from papal events. New York City has prohibited the use of UAVs in all five boroughs while Pope Francis is in town next Thursday through Saturday morning.
The ubiquitous selfie stick, which is banned in a growing number of places, is also on the list of no-no items.
"I'm sure this will be depressing news to so many who hoped to stick their cameras above everyone's heads, just so they could get the very same picture of the pope that everyone else with a selfie stick would have," Chris Matyszczyk wrote for CNET.
READ MORE: 'Selfie safety': Interior Ministry launches major education campaign after fatal incidents
In DC, long the home of heightened security and selfie-stick bans, even Congress is in a tizzy over what's okay when the pope visits. In fact, four US representatives are so concerned that Congress will behave unbecomingly during the papal sojourn to Capitol Hill that they wrote a letter to Speaker of the House John Boehner (R-Ohio) and Minority Leader Nancy Pelosi (D-California) asking them to send out guidance on "the appropriate decorum, protocol and behavior" for Pope Francis' historic address.
Members need to know "how to greet the Pope, proper attire [no jeans?]... among other matters of etiquette," the letter said.
Boehner and Pelosi are working together to issue a "guidance card" to House and Senate members to ensure "proper respect for the Pope" and "avoiding anything that could be construed as politicizing or making a spectacle of his visit," the Washington Post reported.
The full list of items the Secret Service has prohibited is:
New York City has also disallowed alcohol, amplified sound devices, blankets, chairs, flags and posters, musical instruments, umbrellas and unlicensed vending items. The papal visit coincides with the arrival of 170 world leaders in the Big Apple for the tail end of the United Nations General Assembly Meeting. Pope Francis will address the UNGA next Friday.
Philadelphia will allow bicycles to be walked across the Ben Franklin Bridge, though they will remain prohibited within the secured zone.
"We've opted to deviate slightly [from the Secret Service list] and make the exception for bikes on the bridge to accommodate bicycle riders who wish to participate in events or patronize businesses outside of the Ben Franklin Parkway and Independence Hall secured perimeters," Delaware River Port Authority CEO John Hanson said in a statement.
Attendees are allowed to bring water and snacks for personal consumption, cameras and strollers for babies or toddlers.
Homemade clocks should probably also be left at home to avoid a "clockdown," as people jokingly called Wednesday's lockdown at the White House over a suspicious package.