No Drone Zone: FAA reminds tourists skies over DC are restricted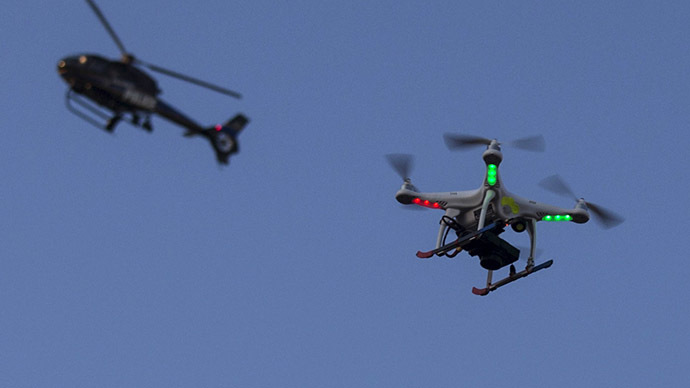 The Federal Aviation Administration (FAA) is launching a campaign to remind tourists and residents of Washington, DC that the US capital is a "no drone zone." Washington airspace has been restricted for years, since the 9/11 terrorist attacks.
"Federal rules prohibit any aircraft from operating in the Flight Restricted Zone," the airspace in a 15-mile radius of the Ronald Reagan Washington National Airport, without specific approval, the FAA said in a statement Wednesday. Drones are included in this definition, said the agency, adding that "violators face stiff fines and criminal penalties."
DC skies are a #NoDroneZone. Leave your drone at home! http://t.co/9VUMUtij5P#UAS#Dronespic.twitter.com/DgKRNKi2Eu

— The FAA (@FAANews) May 13, 2015
The restricted area, also known as "national defense airspace," was established after the 2001 terrorist attacks involving hijacked commercial aircraft. Presumably, government-operated drones cleared by the FAA would be able to operate in the zone without issues.
The FAA's reminder comes as pricing and technological advances have put small, remotely-controlled flying machines within the reach of the general public. Popular "quad-copter" drones are frequently used for photography or filming.
READ MORE: Illinois police to use drones at crime scenes, won't call them 'drones'
In January, one such machine crashed onto the White House grounds. An employee with the National Geospatial-Intelligence Agency (NGA), part of the Department of Defense, later confessed to flying the DHI Phantom quad-copter while intoxicated and losing control of it somewhere over the White House.
Secret Service agents put the entire grounds on lockdown and found the drone after several hours of searching.
The FAA is using the hashtag "#NoDroneZone" to promote its initiative in social media and has provided a digital media kit on its No Drone Zone webpage, including images designed for social media as well as printable templates for physical handouts.
Businesses seeking to use drone technology for deliveries have long criticized the FAA's restrictive regulations and snail-like pace of approving any permissions and exemptions. Online retail giant Amazon has resorted to testing its "Prime Air" service in Canada because it could not get FAA approval for US operations. By the time the agency approved Amazon's original proposal, the company said, regulators had taken so long to reply that the technology named in the application was already obsolete.