'Selfie safety': Interior Ministry launches major education campaign after fatal incidents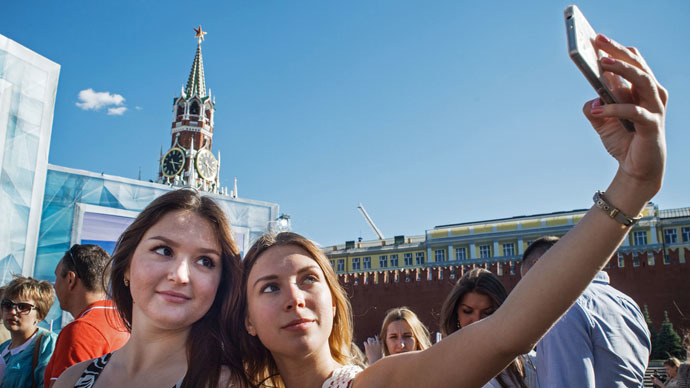 Russian police have presented a memo describing basic rules for shooting a 'selfie' and invited all citizens to add their own warnings to it.
Thememo was presented at a major press conference on Tuesday and the news was quickly picked up by Russian news agencies and mass media.
"The progress is not stalling and along with all of its benefits it also brings new challenges and threats. We have prepared the memo in order to remind our citizens how to behave so that a selfie does not become one's last," the interior minister's aide Elena Alekseyeva told reporters at the event. She also said that according to police statistics over 100 people had been injured recently when shooting a selfie and at least 10 such incidents had ended in death.
The picture, distributed on mass media and on social networks contained several pictures in the form of traffic signs, describing the typical situations in which taking a selfie could be dangerous. This included taking photos on a railroad track, on a roof and posing with a firearm.
READ MORE: 21yo woman dies in fall from Moscow bridge while taking selfie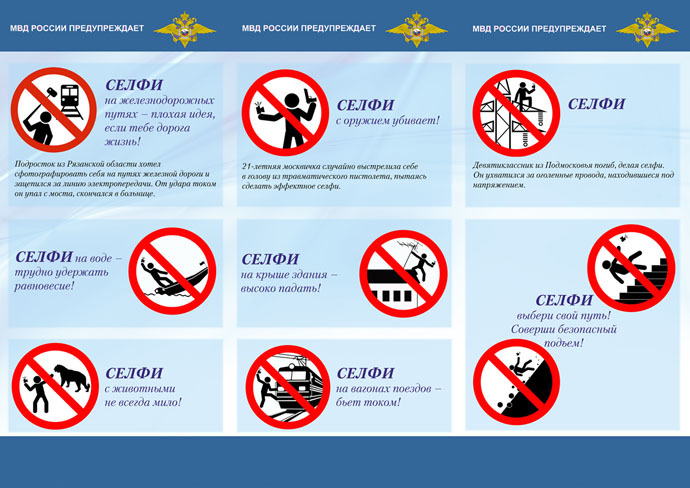 Almost every warning is backed with a real tragic story, the ministry added in explanations. For example, a teenager from central Russia's Ryazan Region was electrocuted as he was taking a selfie on top of a train, and a 21-year-old woman in Moscow accidentally shot herself in the head when posing with a pistol loaded with rubber ammunition and ended up in hospital.
READ MORE: Snuff selfie: 21yo Russian woman shoots self in head posing for photo
The presented memo will be printed out and police officers would soon start handing them out to the public, first of all to the younger generation.
The ministry also promised to add a page dedicated to safe selfies to its official website and invited everyone to contribute their own scenarios in which making a photo of oneself could pose a threat to health and life.
Earlier this year Russian public movement 'For Security' proposed to have extracurricular lessons of "safe selfies" in schools to bring down the growing number of accidents caused by this fad. The activists claimed that they had already developed a program for these lessons together with police and professional photographers. However, the group was not mentioned at the Tuesday press conference at the Interior Ministry.
READ MORE: Safety first – activist suggests teaching children to make risk-free selfies
Some political parties have also attempted to use the media potential of selfie photos for promotion – in April this year a representative of the Communists of Russia party (a minor leftist project that should not be confused with the parliamentary party KPRF) asked Moscow security officials to include handheld monopods, AKA 'selfie sticks', in the list of objects banned at forthcoming street celebrations on Victory Day.
READ MORE: Shenzhen birdmen: Two daredevils, one mega-tall tower and a selfie stick (VIDEO)
You can share this story on social media: