​Shenzhen birdmen: Two daredevils, one mega-tall tower and a selfie stick (VIDEO)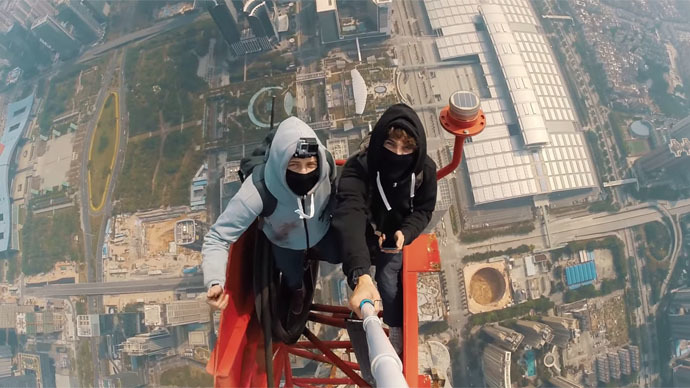 A notorious thrill-seeking skyscraper climber has come up with a fresh video of himself and a friend climbing a crane atop the Ping An Finance Center in Shenzhen, Guangdong province, China. The building is slated to be the tallest in China once finished.
The 115-story building is currently in the final stages of construction and its roof will be over 555 meters high when the tower is complete in 2016. With the antennae counted in, the height of the skyscraper would be 660 meters, beating China's current highest building, the Shanghai Tower, by almost 30 meters.
Russian-Ukrainian daredevil Vitaly Raskalov and his friend Vadim Makhorov have dodged the center's guards and climbed to its top, photos and footage of the act showed.
The duo had to pack bedrolls and spend a night halfway up to get the light right for their pics. The highest point of their ascent was the top of a construction crane, which the report says stood at 660 meters at the time.
The daredevils chose February 19, which is Chinese New Year in 2015, to have the construction site deserted and their trespassing unhindered, the report indicates.
Raskalov came to prominence by climbing the tallest skyline features in Russia and other countries. In Minsk in 2011, his exploits cost the job of one senior official, who was blamed for not properly guarding the buildings Raskalov targeted.
You can share this story on social media: