Diabetic Rikers inmate left to die after officials refuse to deliver medical aid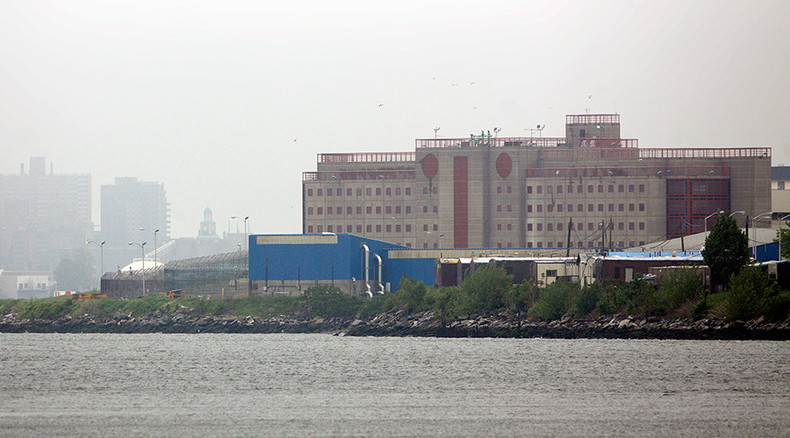 New York City officials have appointed reformers and allocated millions of dollars towards reforming the Rikers Island prison, but newly released footage of a diabetic inmate's death continues to raise concerns over the pace of progress.
This week, the New York Times obtained footage that depicted some of the events leading up to the death of 45-year-old Carlos Mercado, who was arrested by plainclothes New York Police Department officers in 2013 for selling two packets of heroin.
Only 15 hours after arriving at Rikers, however, he died as a result of diabetes complications.
In the video, which does not feature sound, Mercado is seen collapsing face-first onto the floor once his cell door is opened. Instead of calling for medical assistance, correctional officers are seen walking around his body and stepping over it. He reportedly spent three minutes on the floor.
When the inmates prepare for dinner about 30 minutes later, Mercado does not join them. Citing a state report, the New York Times stated that inmate witnesses said Mercado repeatedly asked for medical help from corrections officers.
"The inmate (Mercado) said he needed to see the doctor because he was diabetic," the report reads. When Mercado told officers that he was feeling ill, one reportedly told him that he was simply "withdrawing."
During the night, though, Mercado vomits numerous times and can be seen carrying around a plastic bag filled with vomit. In the morning, Mercado died.
"Nobody should have to die like that," Mercado's sister, Linda, told the New York Daily News. "All he was asking for was his medicine. That's all he needed. He would be here today."
Mercado's family is currently involved in settlement negotiations with New York City, but the released footage once again highlights the troubling incidents that have occurred at Rikers over the years, especially among diabetic inmates. Mercado is one of several prisoners to have been denied insulin for their conditions, and at least two have died.
One of those deaths occurred in 2013, when officials left 39-year-old Bradley Ballard unattended for six days without care or medication. Ballard suffered from schizophrenia and diabetes, and the city medical examiner ruled his death a homicide which occurred as a result of diabetic ketoacidosis, or when the body begins breaking down fat due to a lack of insulin.
According to ThinkProgress, a judge ruled in 2010 that the city had to pay out $17.5 million over a similar case in which officials did not provide insulin to a diabetic inmate. In that incident, 43-year-old Jose Vargas did not receive insulin for about 60 hours because officers threw it away when they arrested him for "facilitating a drug sale," the Gothamist reported. He suffered multiple seizures as a result and slipped into a moth-long coma. Now, his brain is damaged and he must remain in a wheelchair.
After details of Mercado's death were revealed, a spokesperson for Department of Correction Commissioner Joseph Ponte noted that it occurred before Ponte was appointed in 2014.
"This incident, which occurred before Commissioner Ponte's tenure, is under investigation. Commissioner Ponte has zero tolerance for any mistreatment of inmates," the spokesperson said. "The vast majority of Correction Officers perform their duties with the highest level of integrity. As we move Rikers toward a culture of safety, we seek to ensure that a tragedy like Mr. Mercado's death will not happen again."
Details about the officers involved will not be released, either, as they are part of an ongoing investigation.
Commissioner Ponte was appointed by Mayor Bill de Blasio back in March 2014 in order to reform Rikers Island, and had been known for reforming the prison system in Maine, including reducing the use of solitary confinement. In December 2014, the de Blasio administration announced it would spend $130 million to reduce the mentally ill prison population, and in April 2015 it stated its intent to cut Rikers' inmate population specifically by 25 percent.
However, progress hasn't been easy to track. Ponte purged most of the senior uniformed and civilian leaders at Rikers, according to the New York Times, installed hundreds of extra security cameras, banned solitary confinement for those 21 years and younger, but problems in other areas have continued to boil over.
In January 2015, public records showed that, in 2014, jail guards used force against inmates more than ever before. Specifically, officers used force more than 4,000 times, or about 11 times a day on average. That's about 1,000 times more than the year before.
READ MORE: Feds asked to open civil rights probe of mentally ill Rikers inmate death
Also in January, a report by the New York City's Department of Investigation found that more than one-third of those hired at Rikers had problems such as criminal histories or mental illness.
"DOI's latest investigation on Rikers Island exposes a shockingly inadequate screening system, which had led to the hiring of many officers that are under-qualified and unfit for duty," said DOI Commissioner Mark G. Peters in a statement at the time. "Applicants with a history of violence or gang affiliations should not be patrolling our jails. Positions as law enforcement officers demand better."
Meanwhile, a lawsuit was filed on behalf of two Rikers inmates alleging that they were raped multiple times by as many as eight corrections officers. The suit alleges that rape is "endemic" at Rikers.