Rape 'endemic' by Rikers Island prison officers – lawsuit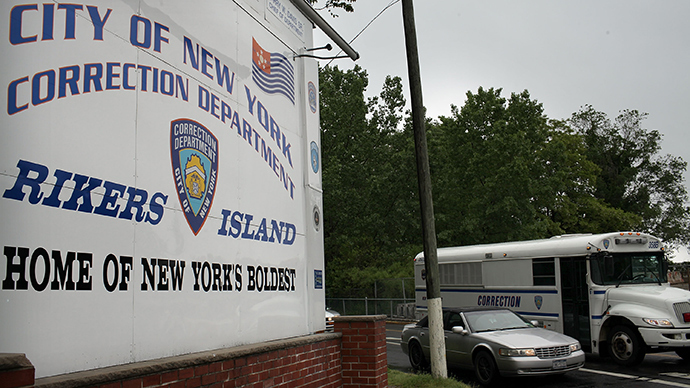 ​A lawsuit filed on behalf of two women who have been incarcerated on Rikers Island in New York City alleges they've been sexually abused routinely at the prison by upward of eight corrections officers.
The lawsuit, filed Tuesday by two unidentified plaintiffs, alleges rape is "endemic" within the walls of Rikers' Rose M. Singer Center, and worsened by the city's longstanding unwillingness to address the issue.
Despite allegedly reporting rapes to a mental health clinician, jail physician and city investigators, attorneys for the women say that little to nothing was done and that the supposed serial rapist named in the lawsuit is still employed at Rikers.
"This abuse is only possible because, in the face of repeated warnings, the City of New York has enabled a culture of complacency to perpetuate at Rikers Island and thereby consented to the abuse of women in its custody," the lawsuit says.

READ MORE: Feds asked to open civil rights probe of mentally ill Rikers inmate death
The filing alleges corrections officer Benny Santiago and seven other unnamed colleagues raped or otherwise abused the two women inside Rikers.
"These officers' conduct was open and notorious," the lawsuit says. "On at least one occasion, women in custody overheard a correction officer raping a woman in her cell. Another correction officer routinely raped women in the officers' station."
According to the New York Times, Jane Doe One says she was raped upwards of four times a week by Santiago and that, on occasion, he "implicitly threatened" her family in an effort to keep her quiet. Jane Doe One is still an inmate at the facility, the lawsuit says.
Another unidentified jailer referred to in the lawsuit allegedly "masturbated while watching a woman sleep in her cell and ejaculated on the sheets of her bed." According to the lawsuit, he remains on the job.
Legal Aid Society's William Gibney, an attorney with the group representing the women, told NBC News that he has DNA evidence to back up some of the women's claims, and that in one instance an inmate was impregnated after being raped in custody.
READ MORE: NYC sued over violence against young inmates at notorious Rikers Island jail

"We are seeking an injunction requiring the city and the Department of Corrections to take all necessary steps to prevent women in their custody from being raped and sexually abused by correction officers," Gibney said.
The Department of Corrections said in a statement that it can't comment on pending litigation but insisted that "DOC has a zero tolerance policy with regard to sexual abuse and assault, and there is no place at DOC for the mistreatment of any inmate." Norman Seabrook, the president of the union that represents NYC-area prison officers,told The Huffington Post that the lawsuit "is an allegation we have to deal with" and said the union would "stand by Santiago to the furthest extent of the law."
This week's allegations come amid a wave of scandals in recent months that have brought negative attention to Rikers, including criticism from the Department of Justice late last year. Federal prosecutors sued New York City in December after a report determined that "force is used against adolescents at an alarming rate" inside the facility. This January, the New York State Commission of Correction called for an investigation into the death of a mentally ill inmate in custody in 2013.