Feds asked to open civil rights probe of mentally ill Rikers inmate death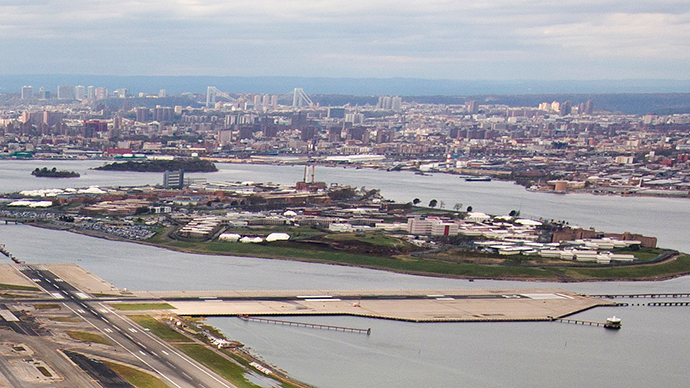 The state of New York has called on federal prosecutors to open an investigation into the 2013 death of a mentally ill, diabetic Rikers Island jail inmate who was left unattended for six days without care or medication.
The treatment of Bradley Ballard, a 39-year-old inmate who suffered from paranoid schizophrenia and diabetes, was called "so incompetent and inadequate as to shock the conscience," in a review by the New York State Commission of Correction, according to the Associated Press.
Ballard died in a hospital not long after a doctor found him in his cell at the infamous prison in New York City covered in feces and infected from cloth tied around his genitals.
The state's report said both the city and its prison medical provider, Corizon Health Inc., broke state law and "were directly implicated in his death."
"Had Ballard received adequate and appropriate medical and mental health care and supervision and intervention when he became critically ill, his death would have been prevented," the review said. "The medical and mental health care ... was so incompetent and inadequate as to shock the conscience."
Our treatment of Bradley Ballard, a diabetic prisoner at Rikers Is, was inhumane. http://t.co/eNbKeXQL7y v @Incognito33333

— U.S. Dept. of Fear (@FearDept) January 23, 2015
The city medical examiner ruled Ballard's death a homicide, saying he was killed by diabetic ketoacidosis which can happen when someone does not have enough insulin and the liver breaks down fat instead. Ballard finally perished in an area hospital after three successive heart attacks, according to AP.
READ MORE:New York City paid $428mn in NYPD civil rights settlements
The call for a federal investigation comes amid a cascade of abuse and negligence reports regarding inmate treatment at Rikers, where some 40 percent of the inmates are mentally ill, and critics argue that staff training is inadequate.
Earlier this week, a captain and several correction officers who worked at Rikers Island were fired for the brutal 2012 beating of a hogtied, shackled inmate.
Nine Rikers Island Guards & One Captain Fired For Hogtying & Beating Inmate http://t.co/yW3q0kCEXlpic.twitter.com/1VhwKwit6P

— Keegan Stephan (@KeeganNYC) January 22, 2015
Ballard's case and the February 2014 death of mentally ill inmate Jerome Murdough -- who was left in a mental observation unit that city officials said overheated to at least 100 degrees Fahrenheit -- helped spur calls for reform of how mentally ill inmates at Rikers are handled.
In December, New York Mayor Bill de Blasio's administration pledged $130 million to reducing the number of mentally ill inmates held in the prison system.
In response to the state's request for a federal probe, New York City officials said that mental health workers and jail guards have received additional training to stress more communication.
Guards and medical staff visited Bradley Ballard's Rikers cell 57 times, but did nothing as he slowly died http://t.co/bfmexGM4Wg

— Michael Schwirtz (@mschwirtz) January 23, 2015
In addition to increased training, city prison Commissioner Joseph Ponte said Rikers will have a new housing unit specifically to offer therapy to mentally ill inmates. Dr. Sonia Angell, a deputy commissioner with the city Health Department, said a Corizon mental health unit supervisor was demoted and moved to a different facility.
Corizon spokeswoman Susan Morgenstern said the company investigated Ballard's death, but she could not legally share its findings.
The state's oversight commission also called for federal investigations into Corizon and the specific facility where Ballard was held at Rikers.
READ MORE: Imprisoned Occupy activist alleges medical negligence at Rikers Island
Federal prosecutors in Manhattan sued city jail officials last month, alleging that they have not sufficiently moved to reform Rikers Island, where "force is used against adolescents at an alarming rate," according to the US Justice Department.
Last August, the Justice Department released a graphic 79-page report, which found a "deep-seated culture of violence" aimed at young offenders held at Rikers Island. The report, the result of a two-and-a-half-year investigation on conditions at jail facilities between 2011 and 2013, detailed, among other damning findings, the wanton use of solitary confinement imposed on youth.
Mayor Bill de Blasio announced in December the end of solitary confinement for 16- and 17-year-old inmates, but that move addressed just one of the 73 recommendations made by federal prosecutors to slow the violence while boosting investigation integrity and accountability. In addition, last week, solitary confinement was barred for any inmate age 21 and younger.
The federal lawsuit described a violent environment in which jail guards provoke inmate fights, beat inmates while yelling "stop resisting," pressure inmates to avoid reporting beatings, and fail to adequately investigate incident reports.
"We must have a higher expectation of performance in situations like this, and while acknowledging how difficult the officers' job is, we must also accept the need to earn back the faith and trust of the community we serve," Ponte said about the firings, according to the New York Daily News, adding that "there is no room for this type of behavior at Rikers."
Public records obtained by AP showed that New York City jail guards used force against inmates more often than ever in 2014, on average 11 times a day, even as the overall inmate population decreased. Correction officers reported using force 4,074 times last year, which is almost 1,000 incidents more than a year before.
You can share this story on social media: