Imprisoned Occupy activist alleges medical negligence at Rikers Island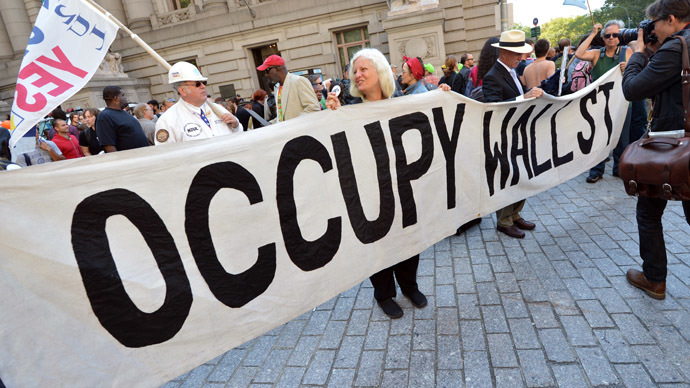 Occupy Wall Street activist Cecily McMillan was released early from Rikers Island prison complex on Wednesday – and she came out making demands.
Speaking with reporters after her release, McMillan – who was originally sentenced to three months in prison for assaulting an officer during the Occupy protests – began describing the conditions inside Rikers, and the changes inmates want to see.
According to the Huffington Post, McMillan detailed the plight of one woman suffering from Hepatitis C and liver cancer who was kept from receiving the necessary healthcare. Instead, she was directed to take heavy doses of the painkiller methadone against her will and began "coughing up blood accompanied with what we believe were chunks of her liver."
McMillan claimed that after Rikers officials ignored attempts to get this inmate help, they only responded when it was too late to do anything meaningful. Just a few days before the Occupy protester left prison, the inmate passed away.
"On the inside, I discovered a world where words like 'freedom' and 'rights' don't even exist," McMillan said, as quoted by CBS New York.
She added that multiple stories of "medical malpractice" existed, and pledged to voice inmates' concerns as soon as she was out of jail.
"Incarceration is meant to prevent crime," she said, according to the New York Observer. "Its purpose is to penalize and then return us to the outside world ready to start anew. The world I saw at Rikers isn't concerned with that. Many of the tactics employed seemed to be aimed at simple dehumanization. In the interest of returning the facility to its mission and restoring dignity to its inmates, we, the women of Rikers, have several demands that will make this system more functional."
Among these were calls for "adequate, safe, and timely health care at all times…, that COs should be required to follow the protocol laid out for them at all times…, a clear and direct means to file a grievance that will be taken seriously…, [and] that [the inmates] be provided with rehabilitative and educational services that will help [them] to heal [their] addictions and gain new skills."
This isn't the first time that conditions at Rikers have been placed under the microscope. Back in March, a mentally ill veteran was "basically baked to death" inside of his prison cell, where the temperature climbed higher than 100 degrees Fahrenheit. As RT reported then, the 56-year-old veteran was on anti-seizure and anti-psychotic medication and was placed in the mentally ill ward, yet no one had checked on his condition for hours. By the time anyone did, he had already passed away.
According to a New York Times report from March, 40 percent of the prison population at Rikers is mentally ill, with many critics suggesting the staff is not sufficiently trained to handle the situation.
As for McMillan, she may be free now, but she's currently waiting for yet another date in court, where she faces obstruction of governmental administration charges for allegedly claiming she was a friend's lawyer in order to halt his arrest. Despite her precarious situation, McMillan said she has no regrets about what she's done.
"I wish that I had gone to the beach more before the trial. I mean, other than that?… I wouldn't change a thing."
You can share this story on social media: